https://portside.org/2023-08-11/customers-allies-lead-starbucks-solidarity-day-support-workers
Author: JESSICA CORBETT
Date of source:
Common Dreams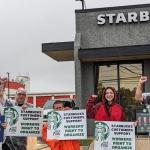 Starbucks customers and labor rights advocates across the United States on Monday led a day of action targeting locations of the coffee chain where employees have not yet joined the more than 8,500 workers who have formed unions at over 340 stores.
"We're asking Starbucks customers and allies to choose a nonunion store to support workers in their communities," explains the Starbucks Workers United (SBWU) website. "Adopting a store simply means holding a small flyering action to engage customers and passersby in the campaign through in-person connections."
Monday "is just the first of a series of national days of action to activate customers and allies to hold Starbucks accountable and demand the company lives up to their progressive values," the site adds. "Together, we'll send the message that we won't let up until Starbucks quits union-busting and starts respecting worker rights!"
Since workers at a Starbucks in New York state formed the coffee giant's first U.S. union in December 2021, the Seattle-based company has been repeatedly accused of illegal union-busting. Flyers being passed out at stores on Monday state that "Starbucks has broken labor law over 200 times."
SBWU asserted on social media that "the public deserves to know what's really going into the making of their daily sip."
Members of the New York City Central Labor Council, AFL-CIO and Writers Guild of America (WGA), East were among those armed with flyers and posters outside U.S. Starbucks locations.
According to an ABC affiliate in New York City:
In the middle of the wet Monday morning commute, there was a line outside of one Midtown Starbucks, not for coffee, but for a show of support.

"We're out here using the visibility we have to help Starbucks customers and people that like the company know that the company is preventing the workers from fighting for better pay and working conditions," said Alex Iwinski, WGA union council member.
Meanwhile, New Yorker Mike Cassaday wrote on social media that he was reminding Starbucks customers in Brooklyn's Park Slope neighborhood "that the company isn't as progressive as it claims to be."
The Chicago Federation of Labor had people at Millennium Station early Monday "educating folks about the fight for fair wages and working conditions at Starbucks!" the group said, adding that "management's union-busting is relentless and egregious."
Demonstrators used the hashtag #StarbucksSolidarity to share updates online, including from communities in Florida, Massachusetts, Nebraska, and Washington state.
"We're in Seattle with Starbucks Workers United, union partners, and Starbucks customers telling Starbucks we won't accept their union-busting anymore!" declared Fight for $15. "By unleashing one of the most aggressive union-busting campaigns in modern history, Starbucks has shown what they think of the workers who make the company run."
So far, none of the workers who have successfully formed unions at hundreds of U.S. Starbucks have been able to finalize a contract with the company.
The Minnesota AFL-CIO on Monday thanked "everyone who showed up in St. Paul this morning to talk with customers about why it's long overdue for Starbucks to negotiate a contract with Starbucks Workers United."
The Starbucks day of action comes amid a wave of labor events throughout the summer, from the ongoing actor and writer strikes to practice pickets by United Parcel Service workers who were preparing for a historic walkout before UPS finally struck a deal with the International Brotherhood of Teamsters late last month.
Such action is set to continue on the West Coast with a 24-hour strike planned for Tuesday. The Los Angeles Timesreported that "SEIU Local 721, a union representing county and city employees across Southern California, said that more than 11,000 Los Angeles city workers will participate, including sanitation workers, heavy-duty mechanics, traffic officers, and engineers."