https://portside.org/2023-09-05/media-bits-and-bytes-september-5-2023
Author:
Date of source:
Portside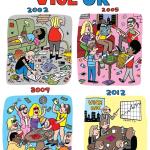 Deepmind Co-Founder is Worried
By David Shariatmadari
The Guardian
Mustafa Suleyman is co-founder of the most advanced AI research outfit in the world. From synthetic organisms to killer drones, he talks about the mind-blowing potential of artificial intelligence, and how we can still avoid catastrophe.
SAG-AFTRA Strike Expands to Video Games
By James Brizuela
Inside the Magic
SAG-AFTRA is full of actors participating in both films and shows, but the video game industry has yet to join in the strikes. Thousands of voice actors also lend their talent to video game companies, so it makes perfect sense for them to strike for a fair deal to compensate them adequately. SAG has now sent out strike authorizations to those voice actors.
Broadband Subsidy is Threatened
By Kavish Harjai
Associated Press
One of the features that President Joe Biden cited in his plan to bring internet to every home and business in the United States by 2030 was affordability. But an important federal program established to keep broadband costs down for low-income households is set to expire next year.
Africa: Sex, Lies and Social Media
France 24
Soon after Judy Kengo was sworn into office last year, the Kenyan legislator faced her first public test when a doctored photo of a lookalike kissing another woman surfaced online. There is growing evidence of women across Africa facing online disinformation campaigns aimed at discrediting their ambitions and forcing them out of politics, experts say.
By Katitza Rodriguez
Electronic Frontier Foundation
A watershed moment for protecting users against unfettered government surveillance is unfolding at the sixth session of negotiations to formulate the UN Cybercrime Convention. Broadly scoped, ambiguous, and nonspecific international cooperation measures with few conditions and safeguards are simply a recipe for disaster that can put basic privacy and free expression rights at risk.
Al Jazeera
The Canadian government has put forward regulations outlining how it plans to implement a contentious law that requires social media giants to pay news organisations for content shared on their platforms. The proposal came as Meta – the owner of Facebook and Instagram – continues to enforce a news ban in Canada in response to the legislation.
What Americans (Don't) Know About Living Digital
By Olivia Sidoti and Emily A. Vogels
Pew Research Group
Digital literacy is widely seen as an essential skill. But Americans' understanding of digital topics varies notably depending on the subject. For example, majorities of U.S. adults know what cookies on websites do and can identify a secure password. Far fewer can recognize an example of two-factor authentication – a cybersecurity practice that makes signing into online accounts more secure.
How Vice Became a Saudi Advertorial
By Simon Childs
Novara Media
The company has gone to great lengths to protect its business with Saudi Arabia, which is investing in western media in order to buff its image. Reportedly Vice has even played down security risks to LGBTQ+ staff working in the kingdom, while using vague security concerns as "a shield" to stop the publication of critical articles about Saudi.
Robotaxi Havoc in San Francisco
Driverless taxi companies Waymo and Cruise have long track records of crashes, near misses, and interfering with emergency personnel. But after spending nearly $2 million on lobbying in California, the robotaxis have been given free rein in San Francisco.
The Publishing Industry Has a New Nightmare
By Alex Kirshner
Slate
Consolidation has long been the publishing industry's buzziest, and probably spookiest, existential threat. Simply put, there are not a lot of big publishing competitors out there, and there are not a lot of different ways for them or their authors to get those books in front of people who might like to buy them.