https://portside.org/2023-09-07/hot-labor-summer-hype-or-real-shift-mood
Author: Mallory Gruben
Date of source:
Northwest Labor Press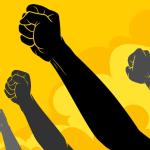 Strike: It's what every worker is thinking about right now, says Oregon AFL-CIO President Graham Trainor. Roughly 11,500 Hollywood writers and 65,000 actors are out on strike together for the first time in 63 years. Starbucks baristas are flexing the strike muscle almost weekly on short-term walkouts demanding a fair first contract. And 340,000 Teamsters at UPS just won historic gains as the company backed down in the face of their enthusiastic preparations to shut the company down.
"It stoked that momentum," Trainor said. "There is no group of (union) workers now that is looking at their contract expiration or gearing up for bargaining that doesn't have strike on their mind."
The Los Angeles Times named the moment "hot labor summer," and labor activists nationwide have adopted that phrase, updating last year's "Strike-tober" as a way to describe the stepped up pace of strike and near-strike situations.
Cornell University's Industrial and Labor Relations School found that work stoppages in 2022 were up 53% from 2021. That comes amidst a 57-year high approval rating for unions and a surge of union election petitions filed with the National Labor Relations Board.
Despite all that, the percentage of American workers represented by a union has continued to decline and reached 10.1% last year, the lowest level since the 1920s. And workers in highly watched campaigns at Starbucks and Amazon still don't have first contract agreements. So how hot is this hot labor summer, really? Is it hype? Wishful thinking? Or is there a real shift under way?
To answer that question and understand this moment in the labor movement, the Labor Press spoke with labor leaders, union activists, and a professor.
'Radicalizing' economics
In his role with the University of Oregon's Labor Education and Research Center (LERC) Gordon Lafer researches government economic policy and its effect on the workforce. He looks to economic conditions to explain the uptick in labor activity: In the last 40 years, it's gotten harder for workers to find jobs that offer decent wages, health insurance, and retirement plans, he said.
At 71%, the approval rating for unions is at the highest it's been since 1965, according to Gallup. That's likely because workers see unions as a means towards living wages and benefits, Lafer said. On average, for every $1 a union member earns, a non-union worker earns 85 cents, according to the Bureau of Labor Statistics (BLS).
But a shrinking middle class plus high union favorability doesn't account for the surge of labor activity on its own, Lafer said. Both those factors have been around for more than a decade. What's special about this moment is a tight labor market in the wake of a "radicalizing" pandemic, Lafer said.
"For nurses and supermarket workers … they were required to work under such tough and dangerous conditions for so long, and now their employers continue to mistreat them or not hire enough workers," Lafer said. "Also working from home was radicalizing. … Having the experience of, 'Oh, I can be trusted to do my job. I don't need somebody over my shoulder telling me what to do,' was freeing in a way people don't want to go back."
On top of that, right now there are more jobs than people to fill them. For the last year and a half the unemployment rate has hovered around 3.5%, the lowest it's been since 1948. So workers aren't as worried about getting fired for unionizing their workplace or going on strike because they know they can easily find another job. (Although it's illegal under federal labor law to fire workers for unionizing and technically illegal to fire them for striking, these are anti-union tactics employers use, and they've stymied union drives in the past, Lafer said).
In other words, workers can demand better wages and working conditions without facing serious consequences — and that's what they're doing, said Trainor, the Oregon AFL-CIO president.
"Workers have gotten more sophisticated with the way they are using their voices and their collective power," Trainor said. "and they are actually going out and winning life-changing contracts."
Union struggles getting broad attention 
Trainor said one example is the tentative agreement nurses at Providence Portland reached recently. That agreement increases wages between 17% and 27% over two years. It called hospital executives' bluff that any agreement after a strike would be less lucrative.
Big wins like that are amplified by media coverage, Trainor said. And it helps that many union wins of late have received attention nationwide.
Think of 2021 with the Mondelez-Nabisco strike that spanned five cities, including Portland, Trainor said. The strike caused shortages and emptied shelves of brand name products like Oreos and Ritz Crackers. And it won the support of the American public. As actor Danny DeVito put it in a tweet, "No contracts, no snacks." People who paid attention to the strike watched Nabisco workers  earn raises, secure a $5,000 ratification bonus, and preserve some of the best benefits out there for production workers.
With so many notable strike actions in the last three years, there's a new enthusiasm for what collective action can do, Trainor said. 
"Had there been maybe similar economic conditions but less high-profile stuff happening in the labor movement, I'm not convinced workers would feel as powerful as they do now," he said. "Excitement breeds excitement. Bravery breeds bravery. Bold action breeds bold action."
Young, militant workers
Much of the excitement in the labor movement right now comes from a crowd of young and militant workers, said Jamie Partridge, a retired union letter carrier who joined the Portland chapter of Democratic Socialists of America (DSA) several years ago. Partridge, 74, has been a labor activist since the late 1970s and continues to model solidarity as an active volunteer organizer at rallies and on picket lines across the metro area.
"I'm like the grandfather," Partridge says, "because I'm there at all of (the rallies). I'm teaching them chants that are like 50 years old and watching them learn Solidarity Forever. It makes me cry. That's a 100-year-old song. So I see that generation as carrying on the movement."
Partridge points out that younger generations came of age in a time of bad economic conditions and surging social movements. They formed Occupy Wall Street encampments to get the word out that the interests of the bottom 99% of income earners diverge from those of the top 1%. They organized against racial injustice in 2014 around Ferguson, Missouri, and again in 2020 after the murder of George Floyd.
Washington State Labor Council President April Sims says young people see the labor movement as an ally in those fights because unions have long been advocates for economic equality and racial justice.
"More and more young people in particular but workers everywhere are realizing if you care about climate justice and income inequality and worker dignity and reproductive freedom and racial equality and immigrant rights, there is no better place to be than in the labor movement, because our work is at the center of all of those things," Sims said. 
The labor movement started as a fight for "bread and roses," Sims said, meaning workers deserved not just necessities like bread, but luxuries like roses.
Today, the Washington State Labor Council advocates for laws that support immigrant workers seeking citizenship, abortion rights, access to affordable housing, and the transition to clean energy. The council in July launched Climate Jobs Washington, a coalition of labor unions that will focus on how to address climate change and racial and economic inequality by creating union jobs in the renewable energy industry.
"I think that is leading to this resurgence of excitement and organizing for workers, because it's not just about wages, benefits and working conditions. It's about all of the things that keep our communities whole," Sims said.
More, shorter strikes
Tyler Fellini, 34, works at Portland Jobs with Justice, a coalition of labor, faith, community organizations, and individual activists. He spent his 20s and 30s helping with "community organizing" and mutual aid projects, such as the Free Lunch Collective, a volunteer group of individuals that prepares and delivers sack lunches to Portland's homeless. Last year when he was working at New Seasons, he helped start the New Seasons Labor Union.
Fellini said the social uprisings he and his peers grew up with served as a "strength test of getting more and more militant." Now, they're more willing to strike because they see collective action as a powerful tool to force change.
"People like the idea of punching up at the boss," Fellini said. "We are not here to politely ask at the table. We are going to demand these things."
Partridge, the lifelong union activist, says he's seeing young workers walk out on short duration strikes related to non-economic actions more often than their parents' generations did. For example, when managers at one Oregon Starbucks store took down an LGBTQ pride flag, baristas walked out for one-day picket. 
That's pushing up the number of strikes on Cornell University's labor action tracker, which uses media coverage and other sources to document strikes and work stoppages too small to be tracked by the federal government's Bureau of Labor Statistics (BLS). (Since the 1980s, BLS has only kept statistics on work stoppages of 1,000 or more workers).
But more strikes doesn't necessarily mean a stronger labor movement, said Lafer, the labor researcher. Not one of nearly 350 unionized Starbucks stores has won a first contract, despite countless strikes across the nation. And it's unclear whether the budding Amazon Labor Union has enough strength to win concessions from a trillion-dollar corporation with global influence, Lafer said.
"Those (new independent) unions don't have the power to force the company to sign a fair contract, so the question is how you can bring together the kind of organic, democratic energy people have seen in independent organizing, with the power to take on big corporations that I think can only come from bigger organized unions," Lafer said. "That's something that hasn't been figured out yet."
Finding a solution requires thinking strategically about where to focus labor's energy, Lafer said.  A union's strike power comes from the economic strain it can cause for an employer, Lafer said. A one-day strike by 20 retail workers is less powerful than a one-day strike by 340,000 Teamsters that deliver packages to all kinds of businesses, Lafer said.
"Even though this is a good time, unions are still way overspent and under-resourced compared to the type of resources put into anti-union campaigns," Lafer said. "That makes it really important to find a strategic place and concentrate resources."
Unions expanding to new sectors
Young workers have helped expand the reach of unions by looping in sectors that historically have not been represented, often with new independent unions, said Fellini, the Portland Jobs with Justice worker. That includes retail and food service workers, like those at REI and Starbucks.
"Some of the older, more resourced unions are seeing what's happening and they are throwing their resources behind it," Fellini said.
Take Starbucks Workers United, for example. Although young baristas led the shop-by-shop organizing, their union is an affiliate of Workers United, which is a division of Service Employees International Union (SEIU). And SEIU has financially supported their campaign, paying for a nationwide bus tour to publicize their struggle, for example.
In the past, unions avoided working together on campaigns because it could lead to "turf challenges," said Trainor, the Oregon AFL-CIO president. Now he sees them partnering more often. In fact, a group of organizers from several different unions in Oregon meets regularly to talk about pooling their resources for joint projects, Trainor said. And last year the National AFL-CIO launched its Center for Transformational Organizing, a group of strategists, organizers, and researchers that are planning to launch large-scale, multi-union campaigns to organize entire sectors of the economy.
"Showing up for these workers, no matter what union they've chosen to connect themselves with, it can breed a lot of goodwill and trust," Trainor said. "At the end of the day, any group of workers who are dreaming of a better life, we have the responsibility to show them the power of holding a union card."
The Oregon health care sector is one sector that's been "on fire" with new organizing and cross-union solidarity, Trainor said. This year the Oregon Nurses Association has added thousands of members — including doctors, physical therapists, and other clinicians — with organizing drives, and it led the state's first nurses strike in decades.
Not every sector is seeing the same uptick of activity. Oregon Building Trades Council Executive Secretary Robert Camarillo said he's not necessarily seeing more work stoppages. Sheet Metal Local 16 overwhelmingly passed a strike authorization because negotiations reached impasse, but almost every other trade has a favorable contract in place.
"Is it a hot labor summer? Maybe in other sectors," Camarillo said. "We have seen some good contracts negotiated in the last couple of years. That's a good thing."
Still, Camarillo says, the mood has clearly shifted.
"When I got into the workforce, we just tolerated bad behavior from employers," Camarillo said. "Today's workforce, what I'm hearing as I talk to workers, is they want better. They know what they want. They know there's options out there, and they are not afraid to leave."
Mallory Gruben is Northwest Labor Press Staff Reporter
The Northwest Labor Press is an independent, union-supported newspaper. The print edition is mailed out twice a month to about 45,000 members of more than 80 unions in Oregon and Southwest Washington. The online edition has been maintained here at nwlaborpress.org since 1997.  There are few other publications like it. Founded in 1900 by a consortium of trade unions, it's one of America's oldest and last remaining labor movement newspapers.  Our focus is on the Portland metro area, Oregon, and the Pacific Northwest, but we also report on national and global issues.
Unions are vehicles for promoting and defending the interests of working people. At the Northwest Labor Press, we believe unions are most effective when they have an active membership, an engaged community, and an informed public. Hence our mission: to provide accurate and timely information on the issues that matter most to union members and working people.