https://portside.org/2023-09-14/wisconsin-democrats-push-agenda-restore-worker-rights
Author: Erik Gunn
Date of source:
Wisconsin Examiner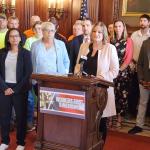 Flanked by a phalanx of union members in trades ranging from carpentry to teaching, Democrats in the Legislature rolled out a 10-bill collection Thursday to enshrine workers' rights in state law after a decade and a half of measures rolling back those rights.
"The people of our country are rising up and standing together to demand better wages, benefits, treatment and a higher quality of life," said Rep. Katrina Shankland (D-Stevens Point) at a news conference to announce the initiative.
She pointed to union organizing, activism and contract fights at Colectivo and Starbucks coffee shops, Leinenkugel brewery and UPS as well as the prospect of a looming job action by the UAW in the auto industry.
"Right now, union popularity is soaring, with seven out of 10 Americans having a positive view of labor unions, because labor unions are getting real results that improve both the economic and safety conditions for the workers they represent," Shankland said.
"As our state continues to grapple with a historic worker shortage, putting forward pro-worker policies is not only the right thing to do, it's the smart thing to do. We know that pro-worker legislation will help us recruit and retain the skilled workforce needed for our workers, businesses, economies and communities to thrive."
From pioneering worker rights to wiping them out
Draft legislation in the Democratic package started circulating Thursday afternoon with invitations for cosponsors. The proposals were assembled by the legislative Democrats' labor working group, including Shankland, Reps. Tod Ohnstad (D-Kenosha) and Christine Sinicki (D-Milwaukee) and Sen. LaTonya Johnson (D-Milwaukee).
Sinicki praised Wisconsin's history of advancing worker protections, from the nation's first unemployment compensation law to the birth of the American Federation of State, County and Municipal Employees in the state — "the first union to give public employees a voice in the workplace," Sinicki said.
"There was a time in our history when policymakers in this building believed in and supported our workforce," she added. "But as you know, things have changed in the past 15 years."
Sinicki recounted the history of legislation enacted under Gov. Scott Walker — stripping public employees' bargaining rights with the 2011 law known as Act 10, passing the 2015 state "right-to-work" law that doesn't allow unions to require that the workers they represent pay dues, and repealing Wisconsin's prevailing wage law. That law had required contractors on government construction projects to pay their employees based on the wages for the majority of workers in their trades.
She blamed Act 10 for worsening teachers' jobs, creating a shortage of teachers in the state and for making the jobs of prison employees more dangerous. The right-to-work law sent private sector union representation down three times as fast as in the rest of the U.S., she said. And ending the prevailing wage requirement sent construction wages down by 6% as executive compensation soared.
The loss of a prevailing wage law also reduced construction apprenticeships, Sinicki said, contributing the the shortage of building trades workers today.
Undoing Act 10 and 'right-to-work'
The package of proposed bills that the Democrats began circulating Thursday includes three that would reverse each of those Walker-era measures: restoring public employee collective bargaining, repealing the right-to-work law and reinstating the prevailing wage law.
In addition the package includes a bill to restore project labor agreements on state and local government projects, which were also outlawed in 2017 under Walker.
Three other bills would repeal state laws that block local governments from enacting local labor standards. One would allow municipalities and other local governments to pass laws that require employers to offer certain benefits or requiring them to follow certain requirements for work hours, overtime or wages. Another would permit the enactment of local minimum wage ordinances, and a third would permit the enactment of local family and medical leave ordinances.
Of the remaining bills, one would bar employers from asking job applicants about their salary history and from discriminating or retaliating against employees exercising their rights in connection with that provision.
Another would enable employees or job applicants to sue in court on grounds of pay discrimination. The final bill would prohibit employers from imposing non-compete agreements on their employees.
"I mean, if you're a Jimmy John's worker, you shouldn't be barred from working at a different sub shop," said Wisconsin AFL-CIO President Stephanie Bloomingdale. "I mean, come on, this is common sense."
Praising the package as "a start to restore our rights and meet future challenges for workers," Bloomingdale added, "There is more to be done."
Making a play for GOP support
With Republicans holding a supermajority in the Senate and just a few seats shy of that number in the Assembly, Shankland acknowledged the difficulty of advancing the measures, but said she wasn't giving up on getting bipartisan support for at least some of the agenda.
"Given that Republican legislators were primarily the ones to enact these poor reforms that hurt workers, it is going to be a challenge to get them on board," she said. "But we're committed to trying. I will personally be sitting down with my colleagues across the aisle and asking them if they'd like to work with any of us."
In an interview, she asserted that data shows the Walker-era laws harming workers' rights have also harmed the economy.
"We know we have a demographic issue in Wisconsin — our workforce is aging," Shankland said.  "And we believe that the key to the workforce shortage is treating workers with the dignity and respect they deserve and have earned through their loyalty and hard work and productivity."
Shankland said that she is sincere about seeking GOP support.
"I do want my colleagues across the aisle to join us in enacting these pro-worker bills, because at the end of the day, their constituents are workers, their constituents are working families."
At the same time, she said, the legislation is "showing what our agenda would look like if we were in charge."
Ending the tipped minimum wage
In a similar vein, Democrats on Wednesday announced a renewed initiative to outlaw lower minimum wages for tipped employees. Federal and state laws allow employers to pay tipped employees, such as restaurant workers, nearly $5 an hour below the current $7.25 minimum wage. The law includes a condition that tips must raise those employees' hourly pay to the full minimum — a requirement that is often not enforced, according to critics of the system.
"Everyone is entitled to a living wage, and we shouldn't have an industry where workers have to rely on the arbitrariness of tips to live that right," said state Rep. Francesca Hong (D-Madison), an author of the legislation to end the separate $2.33 minimum wage for tipped employees.
Sen. Chris Larson (D-Milwaukee), a co-author of the proposal, said tips have their roots in the post-slavery era in the U.S.
Rebecca Meier-Rao, executive director of Worker Justice Wisconsin, explained that newly freed Black people were hired with no wages, expected to live solely on customers' tips. "That idea was codified in the first federal minimum wage law that was passed in 1938," she said.
Meier-Rao said that more than two-thirds of tipped employees are women and suffer higher rates of harassment at work. After California outlawed a lower wage for tipped employees, "they have half the rate of sexual harassment because they're not relying on approval or the whims of people for their livelihood," she added. "Tipped minimum wage is a racist and a sexist practice. It is not fit for human beings who have intrinsic dignity and worth."
In an interview, Larson acknowledged that "for now" the bill might an uphill battle. But he said it's an opportunity to show the agenda he and his colleagues have with the prospect of new legislative maps that could reset the Legislature with its gerrymandered and lopsided representation.
"Once that happens," he said, "I think there's going to be a floodgate that's going to be opened."
Deputy Editor Erik Gunn reports and writes on work and the economy, health policy and related subjects, for the Wisconsin Examiner. He spent 24 years as a freelance writer for Milwaukee Magazine, Isthmus, The Progressive, BNA Inc., and other publications, winning awards for investigative reporting, feature writing, beat coverage, business writing, and commentary.
The Wisconsin Examiner is a nonpartisan, nonprofit news site offering a fresh perspective on politics and policy in our state. As the largest news bureau covering state government in Madison, the Examiner offers investigative reporting and daily coverage dedicated to the public interest. We take our inspiration from the motto emblazoned on a ceiling in our state Capitol: "The Will of the People Is the Law of the Land."
The Examiner is part of States Newsroom, a national 501(c)(3) nonprofit supported by grants and a coalition of donors and readers. We retain full editorial independence.