https://portside.org/2023-09-14/tidbits-sept-14-2023-reader-comments-march-end-fossil-fuels-sunday-looming-uaw-strike
Author:
Date of source:
Portside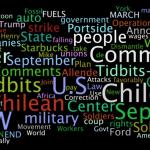 Fossil Fuels Are Not Healthy for Children and Other Living Things  -- Join the March this Sunday, September 17th
Resources:
Announcements:
Fossil Fuels Are Not Healthy for Children and Other Living Things  -- Join the March this Sunday, September 17th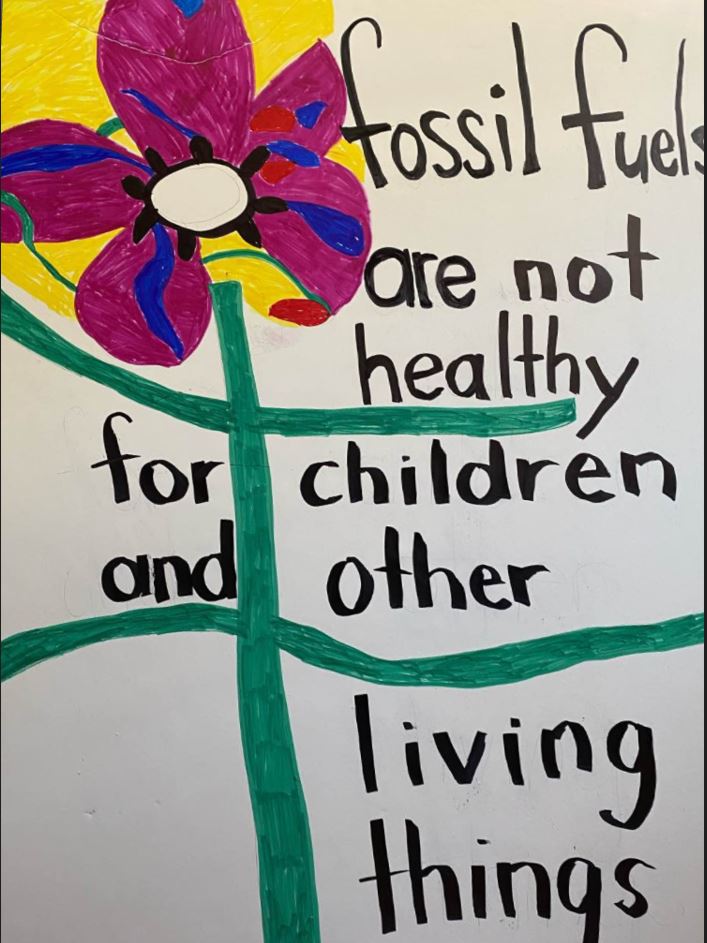 Join us on September 17th* in New York City as we march, rally, and protest to demand that President Biden take bold climate action. Biden must reject new fossil fuel projects, phase out fossil fuel production, and declare a climate emergency.
Re: 'Corporate Media Will Always Side With CEOs': Sanders Rips Coverage of Looming UAW Strike  
If the UAW strikes, you can support the striking workers and their families by:  not automatically accepting mainstream media coverage as true or complete; not crossing their picket line, and -- with or without a strike -- not buying Teslas cars build by nonunion labor.
Michael Henry Starks
Posted on Portside's Facebook page
Re: Why a 4-Day Workweek Is on the Table for Autoworkers
(posting on Portside Labor)  
19.00 an hour to paint cars 70 hours a week to survive.
People want real lives beyond a workplace.
I certainly did in my life.
My interests outside the shoppe were more important than bottles and bank deposits.
Simultaneously I liked the shoppe- but theatre,union,family, politics were all more important.
I think a lot of hard working people are being denied today and there will be political consequences sometime in my daisy days.
Edward Cloonan
Re: Sara Nelson: Attacks on Abortion Rights Are Attacks on All Workers  
The connection is even greater than stated.
Forced pregnancy is slavery; many of the other issues raised describe slavery. All at a time that low-paid workers are being forced into greater and greater slavery by forced working conditions.
Arlene Halfon
      =====
It would nice if the AFL-CIO would adopt this position. Way overdue.
Holly Syrrakos
Posted on Portside's Facebook page
      =====
Don't listen to extreme MAGA and extreme NARAL, please sign the 2024 Florida Constitutional Amendment Ballot Initiative supported by Planned Parenthood and the ACLU and restore Roe v Wade.
Lawrence Rockwood
Posted on Portside's Facebook page
Trickle Down Economics  --  Explained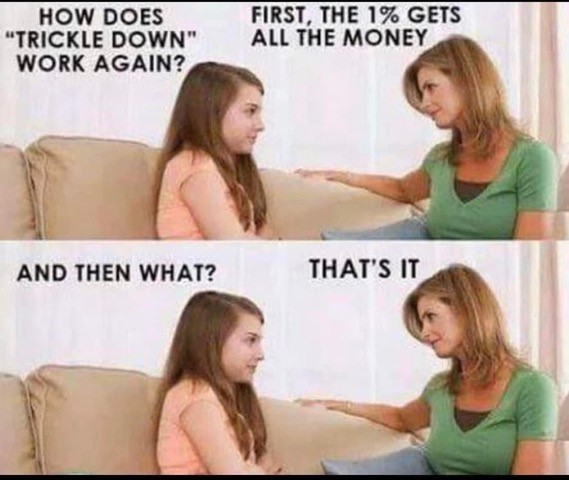 Re: How the War on Poverty Stalled  
(posting on Portside Culture)  
Did it stall or was it stalled?
Tracy Ann Essoglou
Posted on Portside's Facebook page
      =====
We don't have a war on poverty, we have a war on the poor.
Ben Cupp
Posted on Portside's Facebook page
Re: Smart Ass Cripple: How SSI Keeps People Poor  
Do you have a petition that we could sign and send it to our Congresspeople and senators?
Molly Hauck
Lots of Evidence  --  Cartoon by Mike Luckovich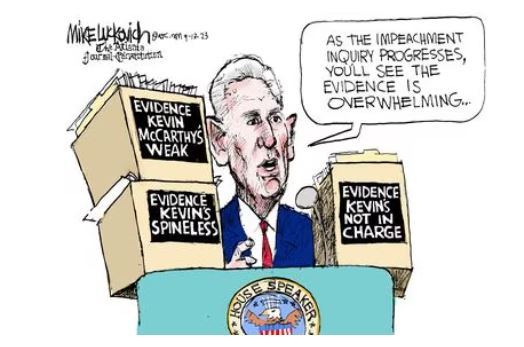 Mike Luckovich
September 13, 2023
Atlanta Journal-Constitution
Re: Will Starbucks' Union-Busting Stifle a Union Rebirth in the US?
(posting on Portside Labor)  
The changes in regulations that the NLRB has recently implemented are important, but they will never get Starbucks to the table.  And there will not be significant labor law reform until Senate Democrats get rid of the filibuster.
So it looks to me like Starbucks workers won't get a contract until a majority of shops, union or not, are willing to go on strike simultaneously on a national level--and stay on strike until Starbucks agrees to a basic national contract.  Such a strike will  take a major organizing drive and resources from SEIU and Workers United (with support from other unions and the AFL-CIO).
But that could mean not only justice for Starbucks workers--it would almost certainly set off an explosion of organizing at Amazon, Trader Joe's and many, many more companies across the country.  A new dawn for the American Labor Movement!
David Newby
Posted on Portside's Facebook page
Re: Global Left Midweek – Africa and France  
the situation in former French colonies in Africa is growing more dire by the day. I found this piece and was struck by its detailed analysis. Using e-translators, I was able to take it in, no easy task. There is nothing in our common ideology that gets us closer to the heart of world-shaking developments in Africa. Read and consider.
Ethan Young
Posted on Portside's Facebook page
Syphilis-zation  --  Cartoon by Mike Stanfill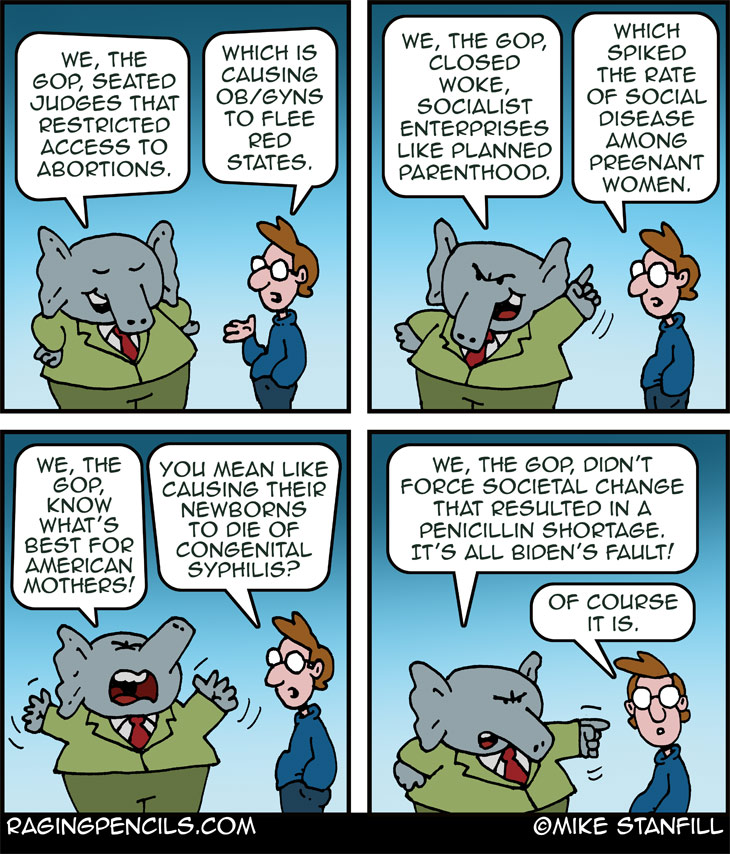 Mike Stanfill
September 14, 2023
Raging Pencils
Re: The Movement and the Mayor
Really great article!
L A Kurth
Re: Teaching SNCC: The Organization at the Heart of the Civil Rights Revolution  
SNCC was a part of the movement CORE was older and initiated the freedom rides the movement was a national movement of Black people which included things such as the Harlem Rent strikes Let's teach the true history
Thomas Porter
      =====
How can Sanchez even be thinking of writing about SNCC without mentioning Kwame Ture / Stokely Carmichael https://www.history.com/topics/black-history/stokely-carmichael
You have to wonder... No mention in article.
Hopefully his students will look into it and show him up.
Diana G. Collier
Editorial Director
Clarity Press, Inc.
2625 Piedmont Rd. NE, Ste. 56
Atlanta, GA. 30324
https://www.claritypress.com
Ahead of potential UAW strike, automakers rake in record profits - UAW-automakers negotiations pit falling wages against skyrocketing CEO pay  (Economic Policy Institute)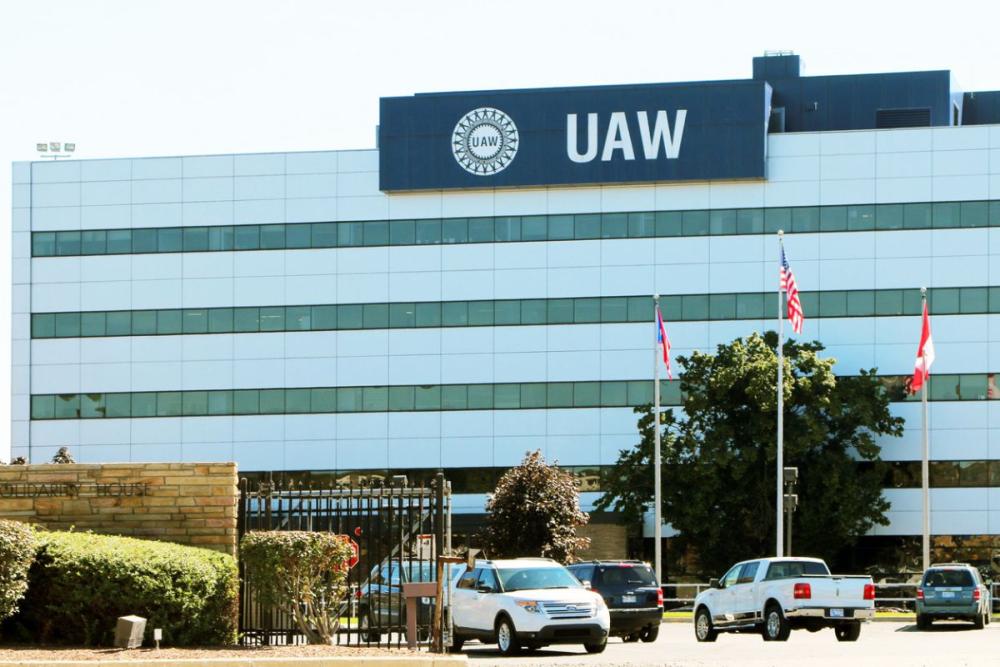 United Auto Workers (UAW) members at Ford, GM, and Stellantis are poised to strike this week when their contracts expire tonight. Profits at the three Detroit automakers skyrocketed 92% from 2013 to 2022, totaling $250 billion. Forecasts for 2023 expect more than $32 billion in additional profits.
By contrast, autoworker concessions made following the 2008 auto industry crisis were never reinstated. These concessions included a suspension of cost-of-living adjustments. As a result, workers' wages in the union and nonunion sector alike are falling further behind inflation.
UAW-automakers negotiations pit falling wages against skyrocketing CEO pay
U.S. auto companies have the means to invest in EVs, pay workers a fair share, and still earn healthy profits
Key takeaways:
Profits at the "Big 3" auto companies—Ford, General Motors, and Stellantis— skyrocketed 92% from 2013 to 2022, totaling $250 billion. Forecasts for 2023 expect more than $32 billion in additional profits.
CEO pay at the Big 3 companies has jumped by 40% during the same period and the companies paid out nearly $66 billion in shareholder dividend payments and stock buybacks.
Autoworker concessions made following the 2008 auto industry crisis were never reinstated, including a suspension of cost-of-living adjustments. As a result, workers' wages in the union and nonunion sector alike are falling farther behind inflation: Across the U.S., auto manufacturing workers have seen their average real hourly earnings fall 19.3% since 2008.
Broadly sharing profits with workers will be even more critical as the industry focuses on becoming greener—both in what and how they produce cars and trucks. The Big 3 firms are set to receive record taxpayer-funded incentives to support their expansion into electric vehicle (EV) manufacturing. EV transition policies and the economic and climate potential they promise will not be sustained if auto workers and auto communities are again asked to sacrifice good jobs.
1225 Eye St. NW, Suite 600
Washington, DC 20005
Phone: 202-775-8810 • epi@epi.org
We Are Not Your Soldiers! - Scheduling Fall Class Visits by Anti-War Veterans  (World Can't Wait)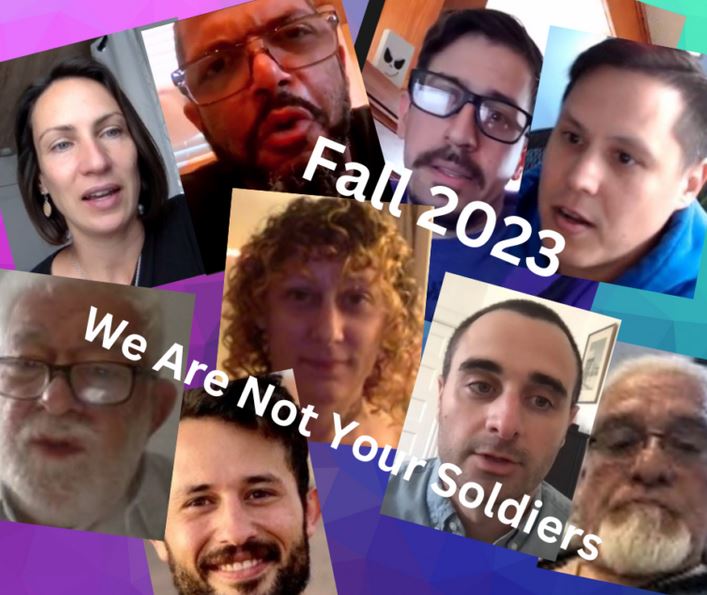 As the autumn semester begins, We Are Not Your Soldiers is ready to set up a time with teachers and professors to visit classes and engage in dialog with students during this 2023-24 school year. Our speakers, all veterans of the U.S. armed forces are prepared to share their experiences and knowledge and answer questions from the students. The need to stop U.S. aggressive militarism and wars against peoples around the world remains urgent. 
While openly sharing experiences of time in the military is very difficult, the presenters feel an urgency to do so as that is not what is done by recruiters. It's important as well for young people who are not considering enlisting but who are unaware of U.S. military history or entanglements as is the case in most of society in this country. Students need to know realistically what they may face if they join up, not a glossed-over picture that ignores the traumatization which often starts right in boot camp and, if the recruit goes on to active duty, can lead to facing a life-time dealing with guilt. Issues of morality are raised when considering what it means to live in a country with 800 bases located around the world. What does that mean for the interests of humanity and our planet?
We will be doing a mix of in-person and remote visits depending on the location. We can go literally anywhere remotely. Get in touch to see if you're in an area where we can have a direct appearance. There is no fee charged to the educator or school!
Contact us as soon as possible so we can get your class/es on our schedule. If you desire, we will work with you to prepare for the visit and/or to follow up. Email wearenotyoursoldiers@worldcantwait.net, call 347-581-2677 or message us on Facebook. If you are not involved in education yourself, please be sure to share this information with a friend or family member who is.
We Are Not Your Soldiers Speakers:
…And, in case you missed it, please listen to the podcast or watch the video of the Aug. 15, 2023 interview on Talk World Radio of Debra Sweet and Miles Megaciph about We Are Not Your Soldiers and our work to further reduce military recruitment.
50 Years Ago Democracy Died in Chile — Poster of the Week  (Center for the Study of Political Graphics)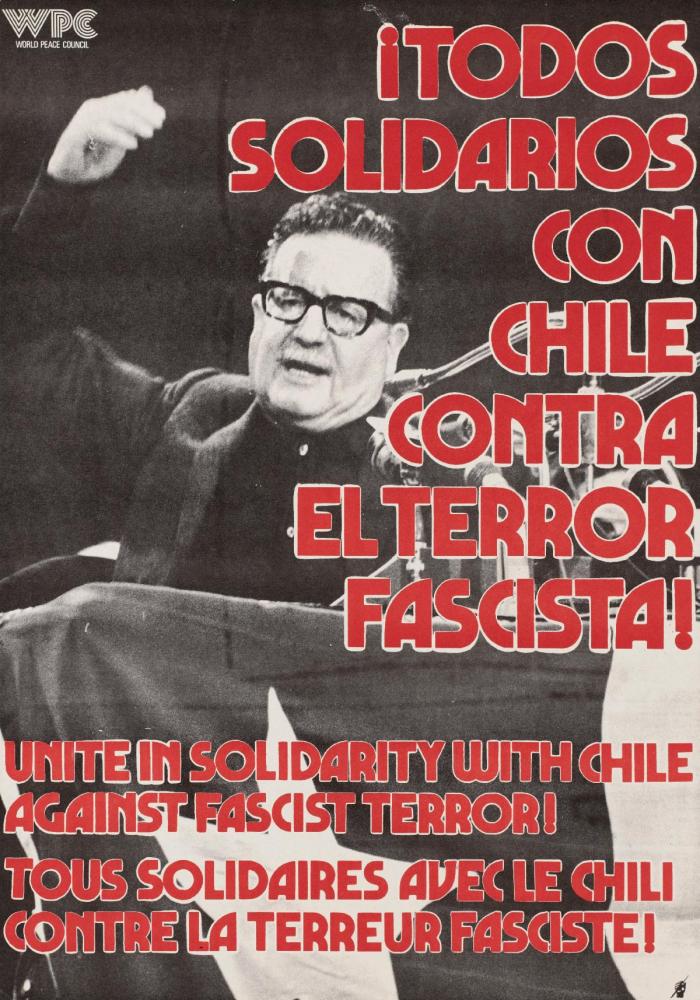 ¡Todos Solidarios con Chile Contra El Terror Fascista!
Unite in Solidarity with Chile Against Fascist Terror!
World Peace Council
Salsedo Press
Offset, Circa 1980s
Chicago, IL
66957
Monday, September 11, 2023, marked the 50th anniversary of the United States-engineered coup-d'état in Chile. This was the first September 11th that lives in infamy.
On that date in 1973 the democratically elected government of President Salvador Allende was violently attacked by the Chilean military led by General Augusto Pinochet, destroying Chile's first socialist government and instituting nearly two decades of brutal military rule. 
Over the next 17 years, Pinochet's military dictatorship killed or "disappeared" more than 3,000 people, and arrested and tortured 40,000 political prisoners. Thousands more fled into exile or remain missing. 
Prior to the Chilean coup, the U.S. had grown concerned about the spread of communism and socialism in Latin American countries following the start of the Cold War. As a result, Salvador Allende, a self-proclaimed Marxist and a member of the Chilean Popular Socialist Party, was targeted by U.S. officials, including former President Richard Nixon and Henry Kissinger. They perceived his pledge to nationalize the mostly U.S.-owned copper companies in Chile as a threat to the U.S. economic interests and would contribute to the spread of socialism in Latin America. 
The Chilean coup marked the start of Operation Condor, a covert U.S.-planned and supported state terror network that joined eight military dictatorships in the Southern Cone countries of South America–-Argentina, Chile, Uruguay, Bolivia, Paraguay, Brazil, and Ecuador. 
In the 1970s, Henry Kissinger, Secretary of State in the Nixon and Ford administrations, was a major architect of Operation Condor, a campaign of political repression involving assassination, torture, and intelligence operations. The program aimed to eradicate alleged socialist and communist influence and ideas and to destroy active or potential opposition movements against the participating governments. Due to its clandestine nature, the precise number of deaths directly attributable to Operation Condor is unknown, but the death toll is estimated to be over 60,000. 
U.S. military and intelligence officials secretly collaborated with Operation Condor and provided organizational, intelligence, financial, and technical assistance to the operations. 
Although the U.S. spent hundreds of thousands of dollars against Allende's presidential campaign, he narrowly won the presidency in 1970. Nixon and his allies continued to devote millions of dollars to obstruct Allende's ability to govern, and they eventually succeeded—by funding and training the Chilean military—in overthrowing Allende's democratically elected government three years later.  
Many families of the victims continue to call for justice and accountability from the Chilean government. This past August, the Chilean government announced the first official search for the disappeared victims of the violent state-sponsored kidnappings. The remains of 307 people have since been identified and recovered, over 1,100 people are still missing.
With the death of Allende came the death of democracy in Chile. The coup led to the dissolution of the Chilean Congress, the suspension of their constitution, and sent shockwaves through Latin America, raising concerns about the threats to democracy in the region.
Recommended Viewing:
"Missing," 1982 film based on the true story of Charles Horman, a young American writer and filmmaker who was "disappeared" during the early days of the Chilean coup. Directed by Academy Award winning Costa-Gavras and Starring Jack Lemmon, Sissy Spacek, and David Clennon.
References:
Center for the Study of Political Graphics
3916 Sepulveda Blvd, Suite 103
Culver City, CA 90230
Chilean Peña for Historical Memory - Ithaca, NY - September 16  (Chilean Solidarity Committee for the Recuperación de la Memoria Historica)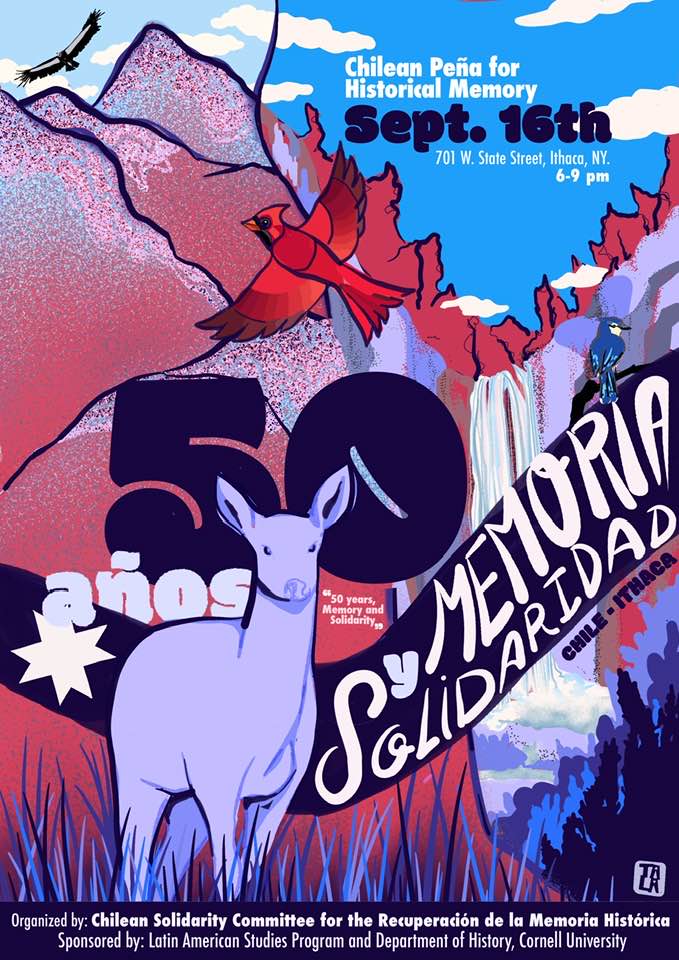 Abortion Rights and the Future of State Constitutions - Virtual Event - September 19  (Brennan Center for Justice)
As the U.S. Supreme Court retreats from protecting many civil rights, it has opened a vacuum for state courts to fill. State constitutions, which often include rights not mentioned in the U.S. Constitution, have taken on new importance. There has been a flurry of state court activity since the Supreme Court's June 2022 ruling in Dobbs ended the federal constitutional right to an abortion.
With so much at stake, the Brennan Center for Justice has launched State Court Report, offering context and commentary about notable state cases, legal trends, and cutting-edge scholarship. On the State Court Report website, newsletter, and in events, experts will take a closer look at state constitutional rights litigation and the consequences for American democracy.
Join us for a live virtual panel exploring the aftermath of Dobbs and its implications for state courts and constitutions on Tuesday, September 19, at 6 p.m. ET. Panelists include Cheri Beasley, former chief justice of the North Carolina Supreme Court; David Cohen, a reproductive rights scholar at Drexel University; and Alicia Bannon, director of the Brennan Center Judiciary Program and editor in chief of State Court Report. Emily Bazelon of the New York Times Magazine and Yale Law School will guide a conversation on the role of state courts in adjudicating reproductive rights cases, as well as the future of state constitutionalism.
Produced in partnership with the Birnbaum Women's Leadership Center
Speakers: