https://portside.org/2013-07-21/proposed-nc-budget-ends-teacher-tenure-pays-tuition-vouchers
Author: Lynn Bonner
Date of source:
News & Observer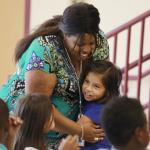 Legislators are set to vote on a historic $20.6 billion budget this week that would have the state take a giant step toward further privatization of education, end teacher tenure, and compensate victims of the government eugenics program.
Teacher assistants take a hit in the budget released Sunday, which reduces state spending on them by $120 million, or about 21 percent. The budget ends funding for the embattled Rural Economic Development Center, whose longtime president, Billy Ray Hall, resigned under pressure last week. The budget creates a division focused on rural economic development within the state Department of Commerce.
At UNC schools, out-of-state students would see tuition increases of as much as 12.3 percent next year. Tuition at community colleges will increase $2.50 per credit hour this year, bringing the cost to $71.50 per credit hour for in-state students.
The House and Senate passed separate budgets last spring that spent about the same amount of money, but represented different priorities. The budget released Sunday represents a compromise between the two chambers.
The budget year began July 1. The state has been running on a stop-gap budget that expires at the end of the month. Budget negotiations stalled this year while top elected officials negotiated a package of tax cuts, which legislators approved last week.
Legislators talked of ending the legislative session this week, after taking budget votes Tuesday and Wednesday.
The budget that House and Senate budget writers agreed to Sunday includes a $10 million program that would allow families that meet income guidelines to use taxpayer money for private school tuition for their children, starting with the 2014-2015 school year. This week, the legislature is set to give final approval to a voucher for children with disabilities that would pay as much as $6,000 for private school tuition or for therapy for home-schooled children with disabilities.
"I'm really excited," said Darrell Allison, president of Parents for Educational Freedom NC, a group that supports the income-based "opportunity scholarships" and the tuition payments for students with disabilities.
The broad voucher program didn't start this year, he said, because there wasn't enough time to get it up and running before school starts.
Private schools and charter schools offer options for children whose needs aren't met by public schools, he said.
"I think we're seeing the door opening for some of these families," Allison said.
The budget is a disappointment for public school supporters.
"We're just paddling backward as fast as we can go," said Yevonne Brannon, a volunteer with the group Public Schools First NC. "This budget reflects a very aggressive campaign to privatize public education and dismantle the teaching profession."
The budget includes no raises for state employees or teachers, but they will get an extra five days of vacation.
The state ranks low in average teacher salaries, and the budget hurts the profession and recruitment, said Rodney Ellis, president of the N.C. Association of Educators.
"It's a sad day in North Carolina when educators and districts and our communities are going to suffer behind a budget that certainly had the potential to do far better in public education," Ellis said.
Eugenics compensation
After years of debate and reports, the state would compensate victims of the government eugenics program. From the 1920s to the 1970s, the N.C. Board of Eugenics oversaw the sterilization of nearly 7,600 people.
Many were poor, or were labeled "feeble-minded" or promiscuous. Most of the victims are no longer alive, but a few years ago, when compensation seemed possible, the state began to help people find out whether they were sterilized under the auspices of the Eugenics Board.
Elaine Riddick, a woman who was sterilized as a girl and has been on a long campaign for compensation, said in an interview last week she hoped the state would finally agree. She was gravely disappointed last year when Senate Republicans rejected the idea.
Riddick said she would use her money to help disabled children or pregnant teenagers.
"That is my dream," she said.
The budget sets out $10 million to be shared by "each qualified recipient." Payments will be made on June 30, 2015.
Last year, more than 170 people were confirmed sterilized under the program.
Victories for both leaders
Tillis and Berger can claim wins in the compromise budget.
Eugenics compensation and vouchers are priorities for Tillis, a candidate for U.S. Senate. Berger has tried for more than a year to end teacher tenure.
Provisions in the budget end teacher tenure by June 30, 2018. All teachers will have one- to four-year contracts instead.
"Together, members of the House and Senate have carefully crafted a plan that smartly invests in key priorities such as education and public safety, while fulfilling our shared commitment to fiscal responsibility and accountability in state government," Berger said in a statement.