https://portside.org/2013-08-14/indefinite-solitary-confinement-violates-human-rights
Author: By Angela Y. Davis
Date of source:
Sacramento Bee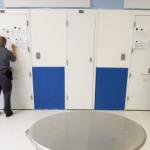 California prisoners are now in their 33rd day of a hunger strike; what they are risking their health and possibly their lives for is basic: an end to indefinite solitary confinement, a practice that most countries recognize as a violation of basic human rights.
Yet both Gov. Jerry Brown and California Department of Corrections and Rehabilitation Secretary Jeffrey Beard are intransigent in their refusal to engage in honest negotiations with the prisoners.
Theirs is a system deep in crisis, mired in decades of lawsuits challenging numerous violations of the legal rights of prisoners that have yielded relatively little in terms of fundamental change. Headlines from the last month alone reveal the inability of current leadership to respect the most basic rights of California prisoners:
On Aug. 2, in spite of assertions by Brown that prison conditions have improved, the U.S. Supreme Court refused to delay a court order for California to release nearly 10,000 prisoners by year's end to improve conditions in state prisons.
The three-judge panel overseeing the state's prisons ruled that California must cut its prison population to deal with unconstitutional prison conditions such as substandard medical and mental health care caused by overcrowding. The CDCR is appealing this decision yet again.
On July 29, medical experts filed a report to a federal court monitor documenting substandard health care at Corcoran State Prison that represented "an ongoing serious risk of harm to patients" that results in preventable deaths. There was no comment from the Governor's Office.
On July 7, the Center for Investigative Reporting broke a story about the fact that 148 women in state prisons received tubal ligations without required state approvals from 2006 to 2010. Former prisoners say doctors pressured women into being sterilized and targeted those whom prison officials deemed likely to commit crimes in the future. Brown offered no comment.
On July 1, California corrections officials reluctantly agreed to move up to 2,600 prisoners at risk of contracting valley fever out of Pleasant Valley and Avenal state prisons after being ordered to do so by U.S. District Judge Thelton Henderson.
The judge was critical of the department's handling of valley fever outbreaks within its prisons, saying the death of 36 prisoners over the last six years "clearly demonstrated (the state's) unwillingness to respond adequately to the health care needs of California's inmate population."
Again, no comment from the governor or the CDCR.
Instead of closing the prisons because of high health risks, Asian prisoners are being transferred to those prisons because of statistically lower "risks."
Those with the power to make changes have dug in their heels, insisting that there is no crisis.
It comes as no surprise that we are asked to believe that the CDCR does not really hold prisoners in solitary confinement because they may have access to radios or televisions. We shouldn't be surprised that the death of Billy Sell, a participant in the hunger strike for two weeks until the day before he died, is officially considered a death "unrelated to the hunger strike."
We shouldn't be shocked when Beard attempts to cover up the inhumanity of keeping prisoners in solitary for decades with no hope of release by calling the hunger strike "a gang power play."
It's important to remember that the United States stands alone in its extensive use of indefinite long-term solitary confinement; in Britain, solitary is banned for more than three weeks. In Pelican Bay, more than 500 people have been held in solitary for more than 10 years, and more than 78 have been held in solitary for more than 20 years.
There is a growing human rights movement across the country, led by prisoners and their families, that names this practice for what it is: torture. Some states like Illinois and Mississippi have closed or drastically downsized their solitary confinement units without any threat to institutional safety.
The California prisoners' hunger strike is a courageous call for the California prison system to come out of the shadows and join a world in which the rights and dignity of every person is respected.
[Angela Y. Davis is professor emeritus of history of consciousness and feminist studies at the University of California, Santa Cruz.]