https://portside.org/2013-08-19/colombian-labor-protest-challenges-president
Portside Date:
Author: Dan MolinskiI
Date of source:
The Wall Street Journal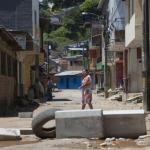 BOGOTA, Colombia—Truckers, coal miners, coffee farmers and other workers united Monday in a strike that was among the biggest labor protests in Colombia in years and a challenge to President Juan Manuel Santos.
Organizers said at least 100,000 people, mainly in mining and agriculture, participated in the first day of the indefinite strike. The government estimated that fewer than 50,000 took part. The count was hampered because many businesses were already shut Monday for a national holiday.
The strike is the latest a series of labor protests over the past year in Colombia, which is struggling with an economic slowdown after three years of robust growth. Mr. Santos and his conservative government also have their hands full with peace talks that began last year with the country's main rebel group, the Revolutionary Armed Forces of Colombia, or FARC.
Mr. Santos, who will likely run for re-election next year, had urged workers for the past several weeks to call off the strike. On Thursday, frustrated by their refusal, he called them "useful idiots" who were being manipulated by powerful political interests against him.
Unlike recent protests in neighboring Brazil that were concentrated in the main cities, the strikes in Colombia are mostly taking place in remote areas and small towns that organizers said were being ignored by the central government.
"All the government cares about is attracting to Colombia the large foreign mining companies and other multinational firms," said Luz Stella Ramírez, executive director of the National Confederation of Colombian Miners.
Truckers parked their 18-wheelers in the middle of several highways around the country, stringing up hammocks on nearby trees and refusing to move. Six main highways were blocked, and at least 22 protesters were arrested, officials said.
Among the most powerful groups striking were coffee farmers. Coffee was once Colombia's most important export before being overtaken by oil and coal, and it still provides a living to some 570,000 families. Growers are upset about a near-40% drop in international coffee prices over the past year. The government promised higher subsidies to coffee farmers in March, but the farmers said that isn't enough.
Some coffee growers said that while they would participate in the strike, they planned to continue to work the fields.
Coal and gold miners, meanwhile, were demanding that the government abolish new rules requiring all mines to be licensed regardless of how small or remote they are.
President Santos said such rules were necessary to do away with illegal, environmentally dangerous mines run by leftist rebel groups and criminal gangs that are finding gold mining to be nearly as profitable as drug trafficking. Protesters charge the new rules were intended to clear the way for foreign mining companies.
Rebel FARC leaders, in a statement from Havana where the peace talks are taking place, voiced their support for the labor strike Monday, calling the protests a valid response to "neoliberal economic policies."
The government was aiming for a peace accord by November that Mr. Santos said could bring final peace to Colombia after a five-decade armed conflict, but the talks have suffered setbacks and Mr. Santos has indicated a deal might not be reached before the end of the year.
Colombia, once deemed a failed state with rampant drug trafficking and powerful leftist guerrilla groups seeking to overthrow the government, has made strides over the past decade against drugs and insurgencies, bringing in record levels of foreign investment and providing economic growth rates of about 5% a year since 2010.
But the economy may grow as little as 3% this year, the Colombian central bank says, in part because of lower prices for many of the commodities the country produces, including coffee and coal. At the same time, Colombia continues to have one of the highest unemployment rates among major Latin American economies, at around 11% in the cities.
Tens of thousands of miners began their strike nearly a month ago, but it wasn't until this week that other sectors, including health workers, joined in. Also participating were some workers from Colombia's three most powerful labor federations, whose members oversee such unions as teachers and oil workers.
Ms. Ramírez, of the mining group, described the strike as likely the biggest since the 1970s, when angry workers presented a similar united front.
In the central state of Boyacá, in the Colombian heartland where most of the country's potatoes are grown, farmers threw rocks at trucks whose drivers sought to defy the strike and deliver their cargoes to Bogota, RCN Radio reported.
"We arrested two people who were throwing the rocks," Gen. Rodolfo Palomino of the National Police told the radio station. "The highway is now cleared and safe for travel."
Write to Dan Molinski at Dan.Molinski@dowjones.com