https://portside.org/2013-09-03/dispatches-culture-wars-were-still-dreaming-edition
Portside Date:
Author:
Date of source:
Portside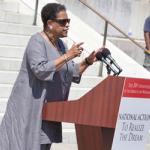 At `Realize the Dream' March, Women Speak at Last
By Adele M. Stan
August 25, 2013
RH Reality Check
At a rally marking the 50th anniversary of the 1963 March on Washington for Jobs and Freedom at the Lincoln Memorial on Saturday, Myrlie Evers-Williams finally completed a mission assigned to her by tragedy a half-century ago. Then, little more than a month after her husband, Medgar Evers, president of the NAACP's Mississippi chapter, was slain in his driveway as his children watched, the young widow was the only woman scheduled to speak at the podium from which Dr. Martin Luther King, Jr. would deliver his best-remembered line: "I have a dream." But Myrlie Evers, as she was known then, missed her turn at the microphone, stuck in traffic on her way from the airport.
The late Dorothy I. Height, the longtime leader of the National Council of Negro Women, related that "no women were allowed to speak [at the 1963 march]." Height had helped to plan that original march, but was deprived of a turn at the podium. Aside from the singer Mahalia Jackson, who performed that day, Height was the only woman seated on the platform next to the podium. At Saturday's commemoration, Evers-Williams not only had her turn, but also had a lot of female company.
On Miley Cyrus, Ratchet Culture and Accessorizing With Black People
By Dodai Stewart
June 20, 2013
Jezebel
[Note from Moderator: the article below was written a few months ago but came to our attention now because it was cited often in commentary about Cyrus' recent performance at the MTV Music Video Awards]
A lesson from Miley Cyrus's new video: If you want to look "cool" and "edgy" and "tough," just steal the styles and dance moves of black people. The new pseudo-thugged out Miley has been percolating for a while; from her twerking unicorn suit video to her appearance on stage at a Juicy J show, the former Disney darling seems drawn to specific elements of a specific form of hip-hop. Not socially-conscious hip-hop. Dirty South/crunk hip-hop associated with strip clubs, pimps and drug dealers. The track Miley popped her ass to at his show, "Bandz a Make Her Dance," is specifically about hanging out in the company of strippers. Miley seems to delight in dancing much like these strippers do: Fun. But basically, she, as a rich white woman, is "playing" at being a minority specifically from a lower socio-economic level.
We've tackled the use of people of color in the background before; it's a theme that persists, but remains wrong. White people have been mimicking black people for fun and profit from Al Jolson to Amos n' Andy to Elvis, but let's not get it twisted: The exchange and flow of ideas between cultures can be a beautiful thing. If Miley is inspired by gold teeth and bounce music and has friends who are rappers, that's not a problem. But Miley is very privileged to be able to play dress up and adorn herself with the trappings of an oppressed/minority culture. Blackness is not a piece of jewelry you can slip on when you want a confidence booster or a cool look. And playing at being poor - while earning a profit by doing so - is just distasteful.
Race Conversation We're Already Having
By Peniel E. Joseph
August 20, 2013
The Root
Whether or not we want to admit it, Americans are finally engaging in a national conversation about race and democracy.
But it's not happening in a single town hall forum televised on C-SPAN or through a Twitter chat hosted by President Obama, with millions tuning in. No, this conversation has been happening week after week, month after month, all summer on the steps of the Supreme Court, in the halls of Capitol Hill and in small forums around the country leading up to the 50th anniversary of the March on Washington.
Indeed, the collective conversation that some called for in the wake of the George Zimmerman verdict has actually been replaced by organic discussions as Americans react to a slew of events -- from Supreme Court decisions to presidential press conferences to Justice Department decrees. And each one reminds me that this is what democracy looks like when it's working. "Colorblind" racism in contemporary America substitutes rhetorical equality for genuine racial justice. More perversely, it accuses those who dare to mention race of being racist.
By Joel Salatin
August 18, 2013
Cornucopia
Why do we need more farmers? What is the driving force behind USDA policy? In an infuriating epiphany I have yet to metabolize, I found out Wednesday in a private policy-generation meeting with Virginia Democratic gubernatorial candidate Terry McCauliffe.
The big surprise occurred a few minutes into the meeting: US Secretary of Agriculture Tom Vilsack walked in. And here is what he told us: for the first time-2012- rural America lost population in real numbers-not as a percentage but in real numbers. It's down to 16 percent of total population.
I'm sitting there thinking he's going to say that number needs to go up so we have more people to love and steward the landscape. What could be the most important contribution that increasing farmers could offer to the nation? Better food? Better soil development? Better care for animals? Better care for plants?
Here's his answer: although rural America only has 16 percent of the population, it gives 40 percent of the personnel to the military. He said rural kids grow up with a sense of wanting to give something back, and if we lose that value system, we'll lose our military might. So folks, it all boils down to American military muscle. The reason for more farms is to make sure we get people signing up at the recruitment office. That America's farms are viewed by our leaders as just another artery leading into military might is unspeakably demeaning and disheartening.
Uruguayan Workers Build A Popular Community Television Channel
By Aram Aharonian
August 29, 2013
ALAI
Uruguayan workers have made a significant step in the struggle for the democratization of words and images, by making public their request for a community television channel. In the short presentation video in the public hearing that took place Monday August 26, where the "companion" channel competing for a frequency was one of business groups posing as a non-profit association, the presenter asked, in an aside, "what do workers know that would allow them to request a television channel?" And the answer came immediately: "They have always made television, we workers made television."
In the presentation, it was clear that the objective of the community digital television channel of the trade union congress Plenario Intersindical de Trabajadores - Central Nacional de Trabajadores (PIT-CNT) is to facilitate social dialogue and citizen involvement of and for all Uruguayans, based on the triad of informing, educating and entertaining, with an ethic based on the defence of human rights, solidarity, mutual respect, elements for building citizenship and democratic coexistence, and of esthetics that recognize and privilege the plurality and the diversity of the Uruguayan people.