https://portside.org/2013-09-23/dozens-injured-200000-bangladesh-garment-workers-demand-wages-100-month
Author: RT
Date of source:
RT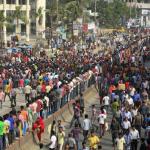 Dozens of people were injured in clashes in Bangladesh as thousands of garment workers rallied to demand a minimum wage of US$100 per month. Over 100 factories were forced to shut down as protesters attempted to attack plants that remained open.
Police used rubber bullets and tear gas against rock-throwing demonstrators as the violent protests entered their third day.  
Abdul Baten, police chief of the Gazipur industrial district, told AFP that nearly 200,000 workers had joined the demonstrations. 
Workers are demanding an almost threefold increase to their monthly salaries – from the current 3,000 takas ($38) to 8,114 takas ($100).
Factory owners recently offered a 20 percent pay rise to employees. Workers rejected the offer, calling it "inhuman and humiliating." Employees then resorted to vandalism, blocking major roads, damaging vehicles, hurling stones at factories, and burning furniture taken from nearby buildings.
One worker, Laizu Akhter, also called for the body of a co-worker purported to be missing to be returned to his family, AP reported. 
"Our major demand from them is to return the dead body. We demand their punishment. Additionally, we demand an increase of our monthly wages," she said.
"We work to survive but we can't even cover our basic needs," another protester added, as quoted by Reuters.
According to police, the brutal protests mainly took place in the Gazipur and Savar industrial areas, where hundreds of apparel units that produce clothing for global brands are located.
There have been conflicting reports regarding the number of those injured in clashes with law enforcement, but at least 60 people - including six policemen - were wounded.  
In Gazipur, angry workers attacked a camp of security officials deployed to guard Colossus Apparel Limited, injuring four of them. The employees looted eight rifles and ammunition, according to Bangladeshi Financial Express (FE). Four of the weapons were reportedly later recovered. 
It was reported that owners of between 100 to 150 garment factories were forced to suspend production for the day. 
The Bangladesh Garment Manufacturers and Exporters Association asked the government to intervene in the escalating situation.
"We need to run our factories. We demand authorities ensure security to continue productions," S.M. Mannan, vice president of the association, said after a Monday meeting with a cabinet minister and worker representatives. He noted that the closure of apparel units would lead to a loss of money for the association and could affect its ability to pay workers ahead of next month's Eid-al Adha Islamic festival. 
The government is currently in talks with unions and factory owners regarding a new minimum wage.
Bangladesh's garment industry employs around four million workers and brings the country about $20 billion a year - approximately 80 percent of the nation's export earnings. 
Following a string of deadly accidents – including the April collapse of a factory building which killed over 1,100 people – the Bangladeshi government, industrialists, and global brands have been under pressure to reform the industry.