https://portside.org/2013-11-05/anti-foreclosure-activists-put-blackrock-hard-place
Author: Sarah Jaffe
Date of source:
In These Times UpRising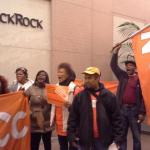 The pink granite on the floor and walls of BlackRock's New York City headquarters at 52nd Street and Park Avenue provided excellent acoustics for the protest chants that echoed through it Wednesday afternoon, as members of New York Communities for Change (NYCC) and the Home Defenders League took the investment management company to task for suing Richmond, Calif. after the city pledged to use eminent domain to save its residents from foreclosures.
"A lot of these companies try to hide under cover of darkness," Skipp Roseboro, one of the NYCC members at the action, told In These Times. "We're trying to call attention to their actions."
NYCC members made up a good part of the 30 or so people who walked in a picket line through BlackRock's lobby, waving NYCC flags and holding signs that declared "The big banks took our homes away through predatory lending. Now, we're taking them back."
Jean Sassine of Queens Village held a letter from the Home Defenders League to BlackRock CEO Laurence Fink, whose $75.8 million salary makes him the highest-paid financial services CEO in the country, and who admitted before a crowd at a public event earlier this month that if something was not done about "wage compression" and foreclosures, "we're going to have a greater `have' and 'have-not' society."
"Mr. Fink knows that keeping neighborhoods together should be a priority but has decided to fight the city of Richmond," Sassine declared in the lobby of BlackRock, his words echoing off the granite and from the mouths of his colleagues in the "people's mic" style of crowd repetition. "He has decided to make BlackRock a leader in doing the wrong thing."
The protest was just one of several actions taking place across the country on Wednesday, coordinated by the Home Defenders League in solidarity with Richmond and its underwater homeowners. The city of Richmond has put forth a plan to seize 624 homes under its right of eminent domain - which requires the city to pay market value for the homes. Because this market value is less than the mortgages on the homes, which banks have refused to write down, this action would allow the city to sell the homes back to the homeowner at a lower rate, thereby lowering their mortgage payments and preventing foreclosure.
The approach has its critics even among progressives - political writer David Dayen has noted at the New Republic and Salon that the private, for-profit firm providing capital for the plan, Mortgage Resolution Partners, is in the game to make money, and has an interest in helping the many homeowners who are underwater, but current, on their mortgage payments rather than the worst-off ones who are seriously delinquent. Even in Richmond, where they are taking homes with both up-to-date and delinquent payments, they've been criticized for looking at quite expensive homes.
But the letter NYCC brought for Fink and BlackRock, provided to In These Times by NYCC, notes that banks could avoid having the properties seized if they would negotiate "mutually beneficial resolutions" with homeowners and the community by discussing what a fair purchase price for the loans would be in a voluntary sale. Eminent domain, in other words, is the stick now being brandished by Richmond to get banks to come to the table and negotiate - since the carrots of major federal bailouts didn't work.
As Dayen has written, the banks and financial entities in question - BlackRock, PIMCO, and Wells Fargo among them - have dug in their heels and sued the city rather than accept the offered price. Fink argues that preventing foreclosures is not an appropriate public purpose for eminent domain. Instead, he suggests that cities use the privilege in ways that were "for the better of the whole than the few," as when L.A. tore down a neighborhood to build Dodger Stadium in the 1950s. Conservatives and the finance industry, Dayen notes, are ready to take this fight all the way to the top  - possibly to the Supreme Court.
Embattled homeowners like Sassine can't hope to match the resources BlackRock and the rest of the finance industry can bring to bear, so they're hoping a bit of public shaming will help. "BlackRock is not a commercial bank. They don't have storefronts that regular people visit," he said, so it's harder for everyday people to understand their role in the ongoing mortgage crisis. BlackRock doesn't issue loans - instead, the company is an investor in financial products backed with Richmond mortgages. 
Sassine got involved with NYCC because his own Queens Village home is in foreclosure. He works in the film industry, which means his employment is often temporary to begin with, and money has been tight since the financial crisis. "We got into trouble when I got laid off at the same time as my wife needed surgery," he told In These Times. "We had to choose between paying the mortgage and health insurance."
He thought that JP Morgan Chase, who owned his mortgage at the time, would be able to work with him so that he could keep paying, so he applied for a mortgage modification. Over the next five years, he says, Chase gave him every reason in the book why his application wasn't accepted: "Your signature's expired, you didn't sign on the correct line, we need new tax returns, we need a new pay stub" - and his own health deteriorated.
Somewhere in there, his mortgage was sold to Wells Fargo, something he said he wasn't notified of until just recently, when his mortgage servicer, a company called Ocwen, told him that Wells Fargo had turned down his modification request. Wells Fargo also took the lead on the lawsuit that BlackRock and others joined against the city of Richmond.
Sassine thinks the lawsuit is mostly for intimidation's sake. "They want to scare cities out of being proactive [through] litigation," Sassine said. To show the giant company that they're not scared, he and other homeowners facing foreclosure rallied around the country to bring BlackRock's part in the crisis into the light. Richmond might be the first city taking action, but the foreclosure crisis continues to affect people like him all over America.
The protesters were finally chased out of the building after about 20 tense minutes, with security guards growing increasingly more hostile, raising their voices and threatening people with arrest, as they waited for police to arrive. The guards flatly refused to ask a BlackRock executive to come accept the letter from Sassine on Fink's behalf, saying "He's not going to come down with all these people here."
According to Zack Lerner, an organizer with NYCC, one guard told the group that an executive might have met with them if they'd only been one or two people, but not the whole crowd. Yet, Lerner said, BlackRock has refused to meet with individual homeowners to discuss their underwater loans - so they brought a large group to make their point heard. 
To Mimi Pierre Johnson, a Long Island resident who finally got a mortgage modification from JP Morgan Chase after seven years of fighting, preserving community is the entire point. "The people are going to win!" she told the crowd after they exited the lobby. "Ask Jamie Dimon!"
That last, of course, refers to the record $13 billion settlement that Dimon and Chase agreed to pay to the Justice Department to settle investigations into the mortgage-backed securities the company sold before the 2008 financial crisis.
Johnson told me that keeping people in their homes and preventing foreclosure benefits everyone involved. The banks get rid of toxic mortgages, the homeowners get to stay and the city continues to receive tax revenue instead of dealing with blighted, vacant, bank-owned homes. That's plenty of community benefit, she thinks, to justify using eminent domain if the banks won't come to the table. "[Richmond's plan] should be win-win for everyone," she said.
[Sarah Jaffe is a staff writer at In These Times and the co-host of Dissent magazine's Belabored podcast. Her writings on labor, social movements, gender, media, and student debt have been published in The Atlantic, The Nation, The American Prospect, AlterNet, and many other publications, and she is a regular commentator for radio and television. You can follow her on Twitter @sarahljaffe.]