https://portside.org/2013-11-12/dispatches-culture-wars-dreams-and-nightmares-edition
Portside Date:
Author:
Date of source:
Portside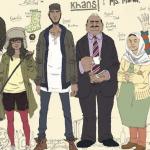 Silicon Valley Dreams of Secession
By Andrew Leonard
October 28, 2013
Salon
When Silicon Valley executives start borrowing metaphors from "The Godfather" maybe we should start to pay closer attention. On Oct. 19, while laying out his vision for the techno-utopian future, Balaji Srinivasan, the co-founder of a genomics company that does DNA testing, compared Silicon Valley's impact on the established power centers and industries of the United States to that infamous scene in which the Mafia convinces an L.A. studio boss to give a coveted movie role to a friend of la famiglia.
"By accident, we put a horse head in their bed," said Srinivasan, with a slight smile.
Think about that, for a second. Srinivasan, in the course of explaining why he thinks the technological elite could and should opt out of American politics, cited the murder of a horse by ruthless mobsters as a definition of Silicon Valley disruption. It's hard to read that message as anything else but, do what we say, or else.
Mighty, Muslim and Leaping Off the Page
By George Gene Gustines
November 5, 2013
New York Times
In February, as part of a continuing effort to diversify its offerings, Marvel Comics will begin a series whose lead character, Kamala Khan, is a teenage Muslim girl living in Jersey City.
No exploding planet, death of a relative or irradiated spider led to Kamala's creation. Her genesis began more mundanely, in a conversation between Sana Amanat and Steve Wacker, two editors at Marvel.
Kamala will face struggles outside her own head, including conflicts close to home. "Her brother is extremely conservative," Ms. Amanat said. "Her mom is paranoid that she's going to touch a boy and get pregnant. Her father wants her to concentrate on her studies and become a doctor." Next to those challenges, fighting supervillains may be a respite.
The creative team is braced for all possible reactions. "I do expect some negativity," Ms. Amanat said, "not only from people who are anti-Muslim, but people who are Muslim and might want the character portrayed in a particular light."
"Homeland" has a Muslim Problem
By Daniel D'Addario
November 4, 2013
Salon
In the current season, a CIA analyst played by the Iranian actress Nazanin Boniadi has changed the temperature on "Homeland" without doing much of anything. Boniadi's character, Fara Sherazi, is explicitly a potential threat; in a show whose very nature lends itself to constant betrayal, the camera lingers over her rather anodyne presence as though her hijab signals treason in the offing. (This leer was particularly pronounced in the most recent episode, during which Fara's typing on a computer was treated almost lasciviously by the "Homeland" camera.) Indeed, the heretofore heroic character Saul (Mandy Patinkin) lectures Fara, early in the season, about how disrespectful her choice to wear a traditional religious garment is. Some other shoe will almost certainly drop, this being a series that burns through seasons' worth of plot in a few episodes - but even if it doesn't, "Homeland" has created an atmosphere of paranoia around Fara that says more about its creators' viewpoints than it does about what Americans think of Islam.
NFL Player Quits Because, You Know, Noam Chomsky
By Eugene
November 11, 2013
Critical Theory
John Moffit, an American football player for the Denver Broncos, has walked away from a multi-million dollar contract after studying the works of Noam Chomsky and the Dalai Lama.
Moffit was on contract with the Denver Broncos until 2014, where he was expected to make another $1 million dollars for the remainder of his contract. Moffit announced on his Twitter https://twitter.com/Moffitt74 that he was saying goodbye to football for good.
The AP notes that Moffit's worldview changed after reading the works of the Dalai Lama and Chomsky over the last few years while in school.
While he played football at the University of Wisconsin, Moffit studied sociology. He hopes to become a public figure in philosophy and politics. The AP reports:
"Moffitt said he's looking forward to speaking his mind on the radio and in podcasts he's going to produce. He said he has plenty of opinions to share on everything from philosophy to politics, although he has less to say about sports."

The Washington Post's Richard Cohen Isn't The Only Columnist Confused By The De Blasio-McCray Marriage
By Alyssa Rosenberg
November 12, 2013
ThinkProgress
The Washington Post's Richard Cohen made headlines this morning in a column, ostensibly about New Jersey Governor Chris Christie's presidential chances, that took a strange turn when he began to discuss the racial attitudes of the kinds of voters Christie and Sen. Ted Cruz will have to win over. "People with conventional views must repress a gag reflex when considering the mayor-elect of New York - a white man married to a black woman and with two biracial children. (Should I mention that Bill de Blasio's wife, Chirlane McCray, used to be a lesbian?)," Cohen wrote.
The couple, it seems, has become a useful litmus test less for imaginary conservative voters in the forthcoming Republican primaries, than for prominent columnists at significant American publications.