https://portside.org/2013-12-12/tidbits-december-12-2013
Author:
Date of source:
Portside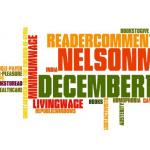 Remembering Nelson R. Mandela - "One for the Ladies"
Here's one for the ladies. I was lucky to hear Mandela speak several times in the year leading up to his election 1993-1994, but I met him only once at a big garden party in Cape Town following the opening of the parliament in February 1996. I had just returned to South Africa with my adult son, Nate, for a period of fieldwork and we were surprised and unprepared for an invitation to what we thought would be a casual affair rather than a gala occasion with limos and a gorgeous array of MP guests in their New South African haute couture of flowing robes, tunics and silk shirts. Embarrassed in my leather sandals, I ducked inside a large canvas tent to hide and, head-down, I collided into the body of the President himself. When I looked up and saw this amazing tower of royal beauty, strength, and dignity, I fell to my knees and kissed his hand, tears flowing spontaneously.
Gently but firmly Madiba pulled me up and tucked my arm under his saying that he needed some assistance while walking to the podium outside. He chatted all the way but I was as mute as a giraffe. Throughout that evening, whenever he saw me he teasingly pointed to his cheek as if he were wiping away tears and then shook his finger - No! No! He was quite a flirt.
But here's what he had to say to the women who had gathered together at a meeting of the ANC Women's League in Athlone in 1994 just weeks before his election. As the women joyfully danced and ululated, Mandela silenced them to say that he had a message he wanted them to take home to their husbands. "Tell your husbands that Nelson Mandela says that the time has come and the tables are turning. They too must change. Mandela wants them to wash their wives underwear!" Were we hearing things right? Yes, we were. He repeated the words "Now it is their turn to wash the hand-washables. Say that Mandela wants our men to show gratitude to their wives by washing their underwear." He meant it and the mass of women collapsed in delighted laughter. ?
Nancy Scheper-Hughes
Professor of Anthropology
University of California, Berkeley
I am prompted to submit this by the recent Portside piece by John Nichols, who referred to Nelson Mandela's appearance at a UAW convention in 1990. On that 1990 tour, Mandela also visited a national AFSCME convention, held in Miami, to which I was a delegate. Appearing with Mandela was John Ernstzen, of the South African Municipal Workers Union. Addressing the convention delegates, Ernstzen noted, with some very sharp words and clear criticism, that many ex-Cubans in Miami were in the streets, protesting Mandela's presence in their adopted city. (That Fidel Castro had publicly supported Mandela during his years of struggle against South Africa's racist apartheid regime made Mandela the enemy of these new US citizens. Mandela had made no secret of his appreciation of Castro's support.) Responding to Ernstzen's comments, the international president of AFSCME, Gerald McEntee, felt it necessary to say that he appreciated the South African unionist's right to his opinions, but that they were not entirely shared by Mr. McEntee. This led to one of the few truly inspiring moments in my many years of attendance at national union conventions. In his remarks, Mandela noted that despite McEntee's cautions, every word of ERNSTZEN'S remarks were welcome and appreciated as was Mr. Castro's long-time support.
Judy Shattuck
Past president AFSCME 1695, AFSCME 3211
Re: A Political Obituary of Nelson Mandela
I would like to add one comment to all the memories of Mandela - and that is to remind folks that we have a prisoner of at least 27 if not more years, here in the U.S. with the same type of stamina, determination, self-education. His name is Mumia Abu Jamal, and he is as unjustly imprisoned as Mandela was.
Phyllis Mandel
Posted on Portside's Facebook page
====

While personal biography is important in analyzing political movements, it does not explain it in its fundamental motion. To understand history, including political movements, one needs a class analysis. Nelson Mandela was an instrument of the African National Congress, which was substantially led by a class of proto-bourgeois Black Africans. Subjected to a particularly vicious oppression, unlike other national movements in Africa where accommodations were made to a local elite, the ANC made common cause with the South African Communist Party and could legitimately claim to represent the interests of the Black masses. It was militant and revolutionary, as reflected in the Freedom Charter. But the limitations of the revolution because of the class character of the leadership became increasingly evident, so that today the ANC is a party to the oppression of the masses. Barbara Ransby, a most respected writer, and in particular someone who has written a sympathetic biography of Eslanda Robeson, is probably aware of this. It needs to be stated.
Joseph Kaye

Re: Republic Windows ex-CEO gets 4 years in prison
More CEO's should be jailed!
Anita Long
Posted on Portside's Facebook page
====
This is what should happen to the banker and Wall Street CEO's that bankrupted millions.(Think that my old home town can teach the rest of the country - jail to the bankers and corporate thieves that ruined the lives of millions of working class and middle class people throughout the country.)
Jay Schaffner
Posted on Portside's Facebook page
Re: A Minimum Wage of $10.10 Would Lift a Family of Three Out of Poverty
Surely Portside isn't proposing that anything less than $15.00 an hour is unacceptable. Maybe the word "poverty" and it's level need to be further defined and then redefined. $10.10 = $21080 per year. Are you seriously going to say that that's enough money to get a family of four out of poverty. How much do you calculate this family spends in shelter for the year?
Phyllis Mandel
Posted on Portside's Facebook page
====

At $15 an hour, the increased income generated would lift many boats as well as the economic battleship.
Margie Bernard
Re: The Backroom Deal That Could've Given Us Single-Payer
I just un-subscribed to Portside over this thoroughly dishonest article. First, it did not even pretend to be about its headline - the "backroom deal" that could have given us single payer. No such deal is documented. Second, it ignores the Democratic primary, in which the single-payer issue was debated - and resolved by voters. One Democratic candidate ran on a single-payer platform - and got less than 5% of the Democratic primary vote. Obama consistently campaigned - and won - on a pledge that his health reform would not disrupt the employer-based system that most people still favor. That meant keeping the private insurance companies. It was no "backroom deal," but the winning platform of the Democratic Party in 2008.
Over and over, Obama said that if we were starting from scratch, single-payer would be worth considering, but that it would be too disruptive right now. The Affordable Care Act is EXACTLY what Obama campaigned on in 2008. Agree or disagree, no honest journalist can write about the issue without acknowledging this very public pledge made by Obama throughout the 2008 campaign. It wasn't a "backroom deal," it was a campaign promise, made to voters not insurance companies.
This sleazy article assumes facts it cannot prove (backroom deals), in order to pretend to facts that do not exist - and ignores Obama's public record on single-payer, the results of the Democratic primary - and the platform of the entire Democratic Party. I am a supporter of a single-payer system, but lies, fairytales, and made-up analysis don't help get us there. So if this represents Portside's standards of truth and journalism, this is one progressive who has no use for you.
Scott Alarik,
People's Republic of Cambridge.
====

The backroom deal described here sounds almost too good to be true. But assuming that it is accurate (as to administrative and other savings), there is a way that private insurers might stay in business and therefore not need to be "bought out."
I am a Medicare recipient who gets health-care via a Medicare-Advantage plan which is administered by a health-insurance company. I know nothing of the economic realities except that I pay largish "co-pays" rather than 20% of medical costs as provided in government-run Medicare.
My point is that commercial health-insurance companies are already PART of MEDICARE and could remain part of "single-payer" if the government preferred that possibility to the alternative of paying $240B in a "buy-out".
By the way, I do not see that health-insurance companies have a "right" to business, and hence have no "right" to be "bought out" for $240B or for any other price.
If the government offers a Medicare-like program to all Americans, those same Americans would be free to ALSO buy health-insurance from commercial companies (double insurance). "Single-payer" would not formally shut down the health-insurers, though it would be expected to reduce their business drastically.
But if the "buy-out" is a political move, then, indeed, paying $240B to the shareholders (or other owners) of the health-insurance industry in return for their self-destruction might get agreement from shareholders which would not be available from CEOs (who'd be in line to lose their huge salaries).
Peter Belmont
Re: Geneva-Iran, Geneva-Syria: Why not a Geneva Conference for Palestine?
As long as Israel has the U.S. as it's shield there will never be a 2-state solution. They want all the land for future expansion & what they call "defense of their borders". The only way there will ever be peace in the ME is for a 2-state solution. It's time for a world boycott like what was done in S Africa. As long as Israel's proxys in Congress allow Israel to dictate our foreign policy things won't progress. In the meantime they're happy to run out the clock -- when the Palestinians who were forced to relocate have died.
Linda Read
Posted on Portside's Facebook page
Re: Indian LGBT Activists Outraged as Supreme Court Reinstates Gay Sex Ban
This was reported on NPR this morning during the BBC News Hour. Shashi Tharoor said the government filed an affidavit (amicus brief) supporting upholding the Delhi High Court decision.
He noted the chances the national parliament will take this up are nil.
One wonders if our "Right" didn't have a hand in this. Consider Uganda, where we know of their presence. (You may recall the expulsion of that country's once significant Indian community...but that may be a stretch of a factor.)
Bruce Rosen
Re: Austerity is Wreaking Havoc, But the Left Can Unite to Build a Better Europe
Why doesn't anyone draw the inference that a debt-ridden country like the Ukraine would face similar restrictive measures once included into the European Union?!
Aaron Libson
Living Wage Fight Spreads to Domino's - in Northern Manhattan
24 Domino's Deliverymen Fired After Living Wage Protest, Politicians Say
By Nigel Chiwaya
December 9, 2013
DNAinfo New York
Two uptown politicians are taking aim at a Hudson Heights Domino's pizzeria that they say fired employees who participated in a living wage protest.
Twenty four Domino's delivery workers were laid off from the 736 West 181st St. pizzeria Saturday evening, and city Councilman Ydanis Rodriguez and Assemblywoman Gabriela Rosa say the firings were in retaliation to the employees' participation in the Dec. 5 march.
According to the politicians, the store management demanded the workers work extra hours in the kitchen over the weekend, depriving them of tips while paying them only $5.65 per hour. When the workers refused, they were sent home and informed of their terminations the next morning.
"This move by Domino's Pizza [reeks] of cowardice and injustice," Rodriguez said in a statement. "If these multi-billion dollar, multinational fast-food corporations seek to continue operating in this city, they should know that we will always stand for workers' rights."
Added Rosa: "Domino's deplorable act of retribution shows how fearful it is of an organized workforce. We will continue to fight every day until these hardworking employees have their jobs restored."
The outraged politicians picketed the Domino's with the fired employees on Sunday and are holding a candlelight vigil in front of the shop Monday night at 6 p.m.
Almost two hundred fast food workers took part in the Dec. 5 protest, which was part of a nationwide movement to demand higher wages. The Washington Heights protest took place in front of the 181st Street McDonald's - where workers picketed over a lack of air conditioning in July - before moving north to Domino's.
[Thanks to Nan Rubin for sending this to Portside.]

For your reading pleasure - Books to Give (or Keep) - recommendations from Labor Notes
by Alexandra Bradbury
December 11, 2013
Labor Notes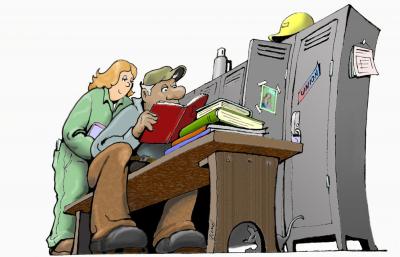 Here are 10 new labor books we reviewed this year, and a slew of classics, too. Cartoon by Bill Yund.
Are you hunting for the perfect gift for the labor bookworms on your list - and you know they've already read all the classics?
Or maybe you're hungry for reading material to tide you over till the upcoming release of Labor Notes' new book, How to Jump-Start Your Union: Lessons from the Chicago Teachers?
Either way, we're here to help. Here's a recap of the great new books Labor Notes has reviewed thus far in 2013:
Barbara Garson's fascinating and readable Down the Up Escalator: How the 99% Live in the Great Recession, introduces characters ranging from a laid-off hedge fund manager ("the living cliché of this recession") to an immigrant worker still looking for her chance to get in on the next big capitalist scheme. Garson tells how they, and many others, coped with the crash - and explains the whole securitized, derivatized implosion of the economy in a way that's easy to follow, putting the blame where it belongs.
Those who've read Garson's earlier books are fans partly because of her chatty, self-deprecating tone, the way she inserts her own knowledge, lack thereof, personal history, and reactions into the story. It keeps us engaged as we're slowly educated about how the bankers and their allies crashed everything.
- See more at Labor Notes.

Suggestion for Year-end Giving - Davis-Putter Scholarship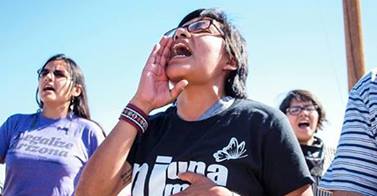 Funding students working for social change
Please consider supporting the students of the Davis-Putter Scholarship Fund when deciding on your year-end giving - it's a great way to strengthen multiple movements with one gift! Our grantees work for peace, racial and immigrant justice, LGBTQ rights, worker rights and organize to put an end to mass incarceration, police brutality, gentrification and US imperialism! Visit www.davisputter.org to make a donation today.
Carol Kraemer
Shostakovich For The Children Of Syria - Carnegie Hall, New York - January 13
A Concert for the Children of the Syrian Civil War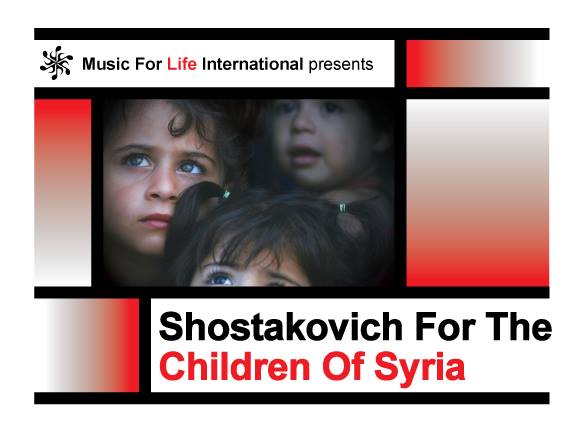 Monday, January 13, 2014 at
Carnegie Hall
57th Street and Seventh Avenue
New York, New York
Get tickets here
Dmitri Shostakovich
Symphony No. 7 "Leningrad"
Net proceeds to benefit Doctors Without Borders humanitarian programs in Syria
George Mathew, Artistic Director and Conductor
Elmira Darvarova, Concertmaster
Principal Musicians from The New York Philharmonic, MET Orchestra, The Philadelphia Orchestra, Buffalo Philharmonic, Orchestra of St. Luke's, Orpheus, American Symphony Orchestra, American Composers Orchestra, and others.
Remarks by Sophie Delaunay, Executive Director of Doctors Without Borders/Médecins Sans Frontières (MSF) in the United States
www.childrenofsyria.org

10% Group Discount for 6+ tickets, email ticketing@childrenofsyria.org