https://portside.org/2013-12-26/tidbits-december-26-2013
Author:
Date of source:
Portside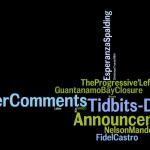 Choir Flashmobs for Mandela - Hamba kakuhle Tata Madiba (1918 - 2013)
December 15, 2013
The Daily Beast
Hamba kakuhle Tata Madiba - Go well Father of the Nation, Nelson Mandela
 
The Soweto Gospel Choir paid tribute to Nelson Mandela, flashmob-style outside a Johannesburg Woolworths. The choir posed as shoppers and workers while singing Johnny Clegg's 'Asimbonanga.'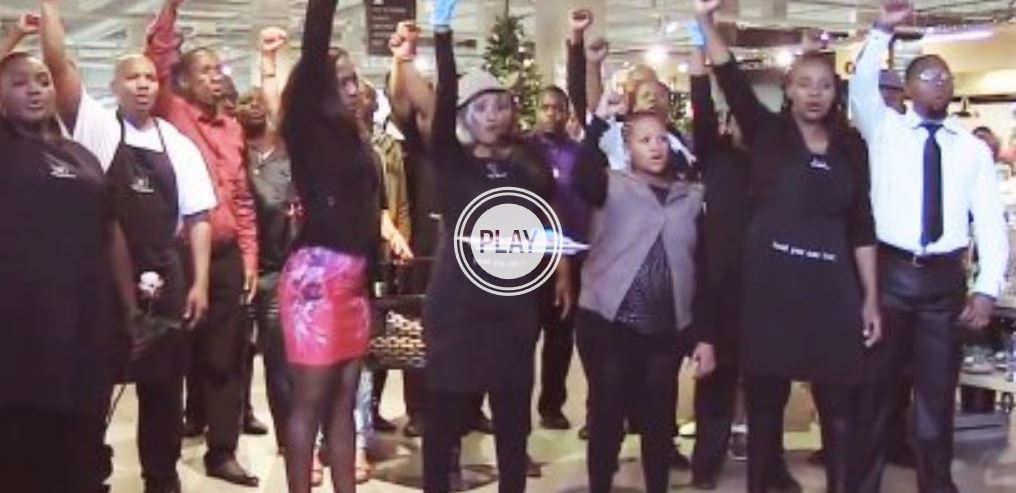 Re: The Progressive 'Left' vs. Bill Keller's Disastrous 'Center-Left'
I wish this piece had been more explanatory and less polemical.  The tone comes across as snide.  One other point:  I don't know why we would designate Clintonian policies as center-left.  What is left about the kinds of trade agreements Clinton promoted?  Ross Perot's critique of NAFTA was on target, and he wasn't left at all.  I want to understand how we can re-industrialize the U.S.  I want to know how we can create real jobs that create social wealth in the U.S.  I want to know how we create equity in education.  Dean Baker raced through his ideas in his response to Keller.  Let's take time to explain to people who aren't already "initiated".  Thank you.
Bruce Kanze
Re: Lessons from the Christmas Truce of 1914
Thanks for publishing this, very strong and moving. Note that Pope Benedict XV called for a Christmas Truce. It wasn't altogether spontaneous.  Would you pass this on to him with my thanks!
Tom Cornell, Catholic Worker
     ====
My Father was a WW1 Vet and, even thought he was in the Navy, he was wounded with the Black Lung because, he was in the so called black gang on coal fired ships. He was classified as DAV and, received a check every month from the VA. His Brother, my uncle was gassed in France and died at a young age of 55 from it.
I was raised Lutheran in a German Church. I remember a question asked of the pastor, that if killing is a sin, how come we have wars and, put people to death in the electric chair (back than it was the way to kill people).
The answer came as a surprise to me was that is such cases God makes exceptions and law rules. Dumb answer.
My Family is a family off veterans. One of my Great Nephews had two tours in no win wasted war in Iraq and, one tour in Afghanistan. He is now in Kosovo. My turn came as a Marine in Vietnam. My Brother-in-Laws were WW2 Vets.
War is a useless way to death but, our leaders still don't get it.
Morris Edward
Re: The Socialist Origins of the Pledge of Allegiance
An absolutely GREAT piece---one I will happily share with many.
peace---and a Happy Holidays,
john pietaro
Re: MSNBC Hosts Quiet in Union Dispute, AFL-CIO Suggests
Maddow et al is way too smart to fall into this trap. Here's the deal: Peacock was approached by GOP ppl to "make this story happen"--if Maddow et al doesn't speak out against MSNBC, they get labeled as sellouts. If they do speak out, they get fired & replaced by MSNBC's "second tier" commentators.
They should let their friends in other media hammer this story and have those outlets explain the double jeopardy position that Peacock/MSNBC has put them in.
Linda Read
Posted on Portside's Facebook page
Re: Radicals in City Hall: An American Tradition
Dreier seems to conflate a Trotskyist who won as a socialist with "progressives" like de Blasio who actually oppose socialism. While elected progressive liberals are also welcome, it's overreaching to lump them together with actual radicals like Sawant.
The oldtime SP history provides a more relevant alternative, even though in city halls they turned out to be "sewer socialists"
 
Mike Munk
     ====
     
The jury is still out-- WAY out --  re DiB's degree of progressivism.  The proof will be in the pudding.  Excuse me if I haven't drunk the Kool-Aid just yet.    Given that he was Hillary Clinton's main man in NYS for her successful carpetbagging Senatorial run , and  his happiness at getting her support and that of decidedly unprogressive Cuomo this year, one is entitled to one's doubts ...
Tom Gogan
Re: Mandela is Dead Why Hide the Truth about Apartheid?
From years of experience we know that Fidel is-was an excellent stylist in Spanish, and most of his public essays have been carefully translated. Obviously, because it's newsworthy, this one was rushed into print, so much so that the meaning is often difficult to follow. Can't a Spanish speaking person at Portside get hold of the original and retranslate this? Or has someone else already done so?
John (Franklin) Crawford
     ====
     
this is the worst translation I have ever seen.
José Soler
     ====
     
Wow....this should not have been printed. The translation is so bad as to be pitiful. Really. Take it back to the translator...a real one and then republish it. I so wanted to read what Fidel has to say but could hardly make sense of it. Anyone up there read it first?
Matt Weinstein
     ====
     
Re: Corrected: Mandela is Dead. Why Hide the Truth About Apartheid?
The previous translation looked like unedited machine translation, and I found it pretty appalling that you would publish it.  I'm very glad you've published this version.
Many thanks,
Louise Popkin
"World War II broke out on September 1, 1939 when Nazi-fascist troops invaded Poland and struck like a lightning over the heroic people of the USSR, who contributed 27 million lives to preserve mankind from that brutal massacre that ended the lives of 50 million persons."
When Fidel Castro opens his article with a statement like this, one might question his veracity. If I recall correctly, it was the Poles who were slaughtered and the Soviets split up Poland with the Nazis after they signed a non-aggression pact. But I was never employed as a historian by Stalin, so I might be wrong.
BTW, I do not mean to defend US and other nation's support of apartheid, but really.
Steven A. Levine
Posted on Portside's Facebook page
Re: Kim the Third
 
John Feiffer at "Foreign Policy in Focus" seems to have developed a bad case of astigmatism.
 
Treason is punishable by death or life imprisonment in many countries.  In fact, people have been rightly or wrongly executed for treason even in that towering example of virtue, the United States.  Sometimes, the pretext is flimsy or false.  The Rosenberg case comes to mind.  Recently, drones have extended this example of virtue to include citizens considered guilty of treason in far off lands.
 
The ancillary aspects of Jang Sung Taek's character, alluded to but not specified by Feiffer, include embezzlement of millions in state funds to support his womanizing and gambling habits in foreign countries.  Much of this colorful detail was brought forth by his wife, the sister of the late Kim Jong Il.  The lack of enthusiastic clapping at a meeting was a minor expression of distaste by DPRK authorities, but seems to be major enough to receive top billing by Feiffer.
 
Feiffer admits that Taek had been plotting a coup since 1990, which had involved high-level defector Hwang Jeong Yop and others.  If that is not treason, maybe Feiffer has another definition.  What does all this have to do with Shakespeare?  How does Feiffer know that Shakespeare was never performed in Pyongyang?  He is writing here for propaganda effect, not for political understanding of Korean historical realities.  As to current DPRK realities, his speculations are suspect.
 
The fact, never to be forgotten, is that the DPRK was born from colonial exploitation, revolution, and war.  It has been the constant target of boycott, espionage, and propaganda of the Feiffer type and worse.  Sixty years after its intervention in the Korean civil war, the US still refuses to sign a peace treaty, let up on the crushing boycott, or stop the slanderous interpretations of many events involving the DPRK.  Everyone in that country lost relatives due to US military action, as over 10% of the population perished, and few buildings were left standing.  The result has been a culture twisted and stressed almost beyond our comprehension, with a collective psyche constantly reliving horrors of the past.  And vowing never to be crushed again.  The frequent air raid drills, the children trained to operate machine guns and throw grenades, and the fledgling nuclear program are all testament to the siege mentality that can be traced to US policy towards Korea since the 50s.  If you can manage to go there and have a look (it is possible, I have), you might be reminded of Sparta, but not Shakespeare.
 
Dave Ecklein
Join us Jan. 7 for "No Separate Justice" Launch in New York City

Please join us on January 7 at 7 p.m. at Judson Memorial Church in NYC for an important panel that will launch a new public initiative titled, "No Separate Justice: A Post-9/11 Domestic Human Rights Campaign." This new public education campaign aims to shed light on and end a pattern of human rights and civil liberties abuses in "War on Terror" cases in the criminal justice system.
A focal point of this new campaign will be monthly vigils held outside the Metropolitan Correctional Center (MCC) in lower Manhattan, a federal prison where people accused of terrorism-related offenses have been held in solitary confinement for years, even before they have been tried. (These monthly vigils will begin on Monday, February 3 at 6 p.m., and continue on the first Monday of every month at the same place and time.)
What: Panel & Launch "No Separate Justice: A Post-9/11 Domestic Human Rights Campaign"
When: Tuesday, January 7, 7:00 - 9:00 p.m.
Where: Judson Memorial Church, 55 Washington Square South, New York, NY
Who:
Liliana Segura (former editor at The Nation Magazine),
Pardiss Kebriaei (CCR),
Faisal Hashmi (brother of Syed Fahad Hashmi who is currently in solitary confinement),
Tarek Ismail (Columbia University Law School), and others.
RSVP at noseparatejustice@gmail.com, and please invite your friends through the facebook event page. Like the No Separate Justice Campaign on facebook to help it grow.
This event is co-sponsored by the Center for Constitutional Rights, Educators for Civil Liberties, CUNY School of Law's Creating Law Enforcement Accountability & Responsibility (CLEAR) Project, Amnesty International USA. It will include discussion of the case of Syed Fahad Hashmi, who is currently serving a 15-year sentence at the federal "supermax" prison in Colorado on material support charges, and efforts by the Center for Constitutional Rights to challenge his inhumane conditions of confinement. Panelists - including family members, lawyers, and researchers - will show Fahad's treatment is part of a pattern of rights violations in other "War on Terror" cases.
I hope to see you there.
Thank you for your continued support.
Sincerely,
Vincent Warren
Executive Director, Center for Constitutional Rights
Esperanza Spalding Unveils Protest Song & Video Calling For Guantanamo Bay Closure
By David La Rosa
November 18, 2013
The Jazz Line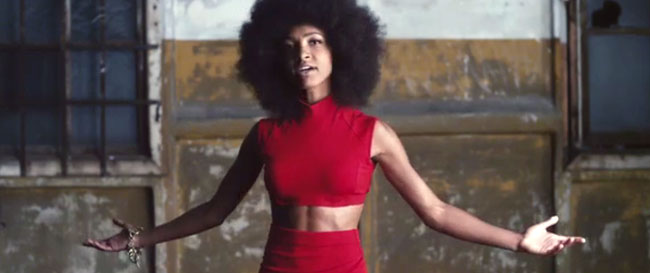 Esperanza Spalding has unveiled a new protest song and video calling for the closure of the Guantanamo Bay detention camp.
The Grammy award-winning vocalist, bassist, and composer poses the question "What does `in the name of freedom' really mean?" as she joins human rights groups and people around the world in leading a fresh call for the permanent closure of Gitmo in the song "We Are America."
The song lyrics are powerful, and show a poignant reflection on the legal and moral state of Gitmo, with Spalding singing: "They're taking no part in the hostile activities, don't they deserve equal justice and civility, if this so-called great nation can't take responsibility, then in god we trust is an exercise in futility."
The music video for "We Are America" is just as powerful as the song itself, highlighting the rhetoric politicians have used to pander to the public's interest while taking very few steps to actually address the issues at hand. The video also features a number of special guests, including Janelle Monáe and Harry Belafonte, holding up cards with their own thoughts on Gitmo.
Of the 800 people -some as young as 15- who have had the misfortune of calling Gitmo home, only seven people have ever been convicted of any crime. 164 people remain in the camp today , and more than half of them have already been cleared for release after U.S. intelligence agencies voted unanimously that it was safe to send them on. And yet, they remain behind bars classified as "Non-Persons" in Cuba - A foreign country with no diplomatic ties to the United States of America.
Speaking about her motivations, Spalding wrote the song after hearing about the hunger strikes at the camp:
"I was touring in Europe, and I was appalled and embarrassed about what was happening. When I returned home, I remember I started researching online to see what I could do about it, and I saw that I could download this action pack."
While hunger strikes have happened on and off since 2005, the strikes at the beginning for 2013 marked the first time a majority of Gitmo detainees participated, stirring up media attention about the force-feeding of prisoners and forcing President Barack Obama to re-affirm his intent to close the camp. However, after her enthusiasm on the closure of Gitmo wasn't matched by her local senator, Spalding decided to take matters into her own hands.
"I did call my representative and Senators. In fact, I got a letter back from one Senator who basically said that she was not going to proactively deal with it but that they would `keep my comments in mind', or something like that. But I really wanted to do more," Spalding said.
Esperanza hopes listeners will contact their senators and congressmen, calling on them to support the Guantanamo Bay provisions of the National Defense Authorization Act. The act is passed yearly to fund the U.S. Military, however this year there is a special provision which would remove many of the delays in transferring and releasing Gitmo Detainees.
Watch the "We Are America" music video below: