https://portside.org/2014-01-14/california-drought-threatens-farmers-ag-workers-cities-and-you
Author: Haya El Nasser
Date of source:
Aljazeera America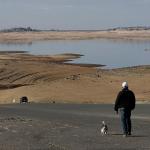 LOS ANGELES — The 20 people who work full time for Fresno County farmer Joe Del Bosque are on winter break now. But he is not sure they will have jobs to return to, let alone the 300 temporary workers he usually hires to harvest melons.
"I'm worried about my workers," said Del Bosque, who farms 2,000 acres in a region known as the nation's food basket because it produces almost half the fruits, vegetables and nuts on America's tables.
"Right now we're not sure if we're going to bring them back or how many … Crops are all in jeopardy right now,'' he said. "This is the driest year in 100 years."
California is entering the third year of a drought, and Gov. Jerry Brown is under pressure to declare a drought emergency that could ease pumping restrictions. It is a huge problem for the state's vital agriculture sector and one that farmers are starting to protest about. On Thursday, Del Bosque will lead hundreds of farmers to the steps of the state Capitol in Sacramento to demand solutions, from relaxing water restrictions imposed by environmental laws to facilitating water transfers from districts that have it to those who don't.
"We've got to go up there and rattle their chains," Del Bosque said. "We're actively looking for water from other sources … Because of supply and demand, we could end up paying four or five times more — exorbitant."
Reservoirs store water that flows from the snow pack in the Sierra Nevada, but many are at less than 50 percent capacity. A recent survey of the water content in the snowpack in the Sierras found it at 20 percent of average for this time of year.
"That's rather dismal," said Nancy Vogel, spokeswoman for the California Department of Water Resources. "If we don't get big storms to build up that snow pack, we can't expect much in reservoirs."
Harsh realities
drought, California, Folsom Lake, Gold Rush, agriculture, Jerry Brown
Children explore remnants of an old gold-rush town that was flooded in 1955 by California's Folsom Lake but reappeared as the water level fell.  Jose Luis Villegas/Sacramento Bee/MCT/Landov
Water shortages are affecting urban areas too. Voluntary and mandatory water restrictions are in effect in Northern California cities and counties. Mendocino declared a state of emergency. The city of Folsom's 72,000 residents are under mandatory water restrictions: Limit lawn watering to twice a week, use a shutoff valve on hoses when washing cars.
Meanwhile, in Santa Cruz, residents can't wash paved surfaces and may be cited if they water their yards between 10 a.m. and 5 p.m. Local restaurants may serve water only on request, and swimming pools may not be drained and refilled. If the drought continues, restrictions will get tighter, said Eileen Cross, the city's community-relations manager.
"We are asking for a 20 percent cutback in water use," said Sue Ryan, public information officer for Santa Cruz. Folsom Lake, the city's primary water source, is at a near-record low. The water level is so low that it uncovered the ruins of a 19th century gold-rush community inundated in 1955, spurring souvenir hunters to flock to the site.
State officials are concerned these conditions are likely to spread as the drought goes on. "If it stays dry, certainly more water districts and cities will have to impose conservation measures," Vogel said.
"We're in the middle of what potentially is looking like a huge catastrophe," said Ryan Jacobsen, chief executive of the Fresno County Farm Bureau. "We're looking at some very harsh realities, as far as water allocations."
The San Joaquin Valley is at great risk, especially on the west side, which relies largely on the runoff from the mountains. On top of that, some farmers are feeling the squeeze from federal pumping restrictions in place to protect endangered species like the delta smelt. A salmon restoration project in the San Joaquin River has also curtailed water supplies.
"Possibly hundreds of thousands of acres of land will go fallow," Jacobsen said.
Fall planting of lettuce in Fresno County, which provides 95 percent of the nation's head lettuce, was half what it was the previous year, he said.
Ripple effect
For Del Bosque, the hardship has been worsened by previous cuts in water supply. He had to deal with an 80 percent reduction in 2013 and said, "We have very little water to carry into this year." His first priority will be to save his permanent crops — almond orchards and the asparagus to be harvested in March. "We have to find water for them to survive."
That may mean giving up on planting cantaloupes in April and May. The drought's effects will ripple far beyond the fields. Consumers can expect tighter supplies and higher prices for some fruits and vegetables by summer. And farm suppliers will feel the pinch.
"We buy boxes — over a million boxes a year — to pack our cantaloupes," Del Bosque said. "That may be reduced or may not happen."
Southern California, which also draws water from the northern part of the state, is not feeling the squeeze as much because it built more storage in recent years and its Metropolitan Water District was able to stockpile in wetter years. Warm, dry and windy conditions are raising fire worries, however.
Farmers who will rally in Sacramento this week are pushing for expanded storage capacity in Northern California to help ease shortages in northern counties and the Central Valley.
"Most of the dams and storage projects were built more than 50 years ago, when we had less than half the population," Del Bosque said.