https://portside.org/2014-02-05/whole-foods-employee-fired-after-cps-snow-day-prompting-protest
Portside Date:
Author: By Stefano Esposito
Date of source:
Chicago Sun-Times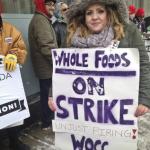 Whole Foods Market takes pride in its global giving, but one former employee at the Boystown location said the grocery store chain showed her no charity when it fired her last week.
About 40 people gathered in the wind and snow Wednesday morning outside Whole Foods' Midwest regional headquarters in River North, supporting single mother Rhiannon Broschat, who said she was fired last week after choosing to stay home with her "special needs" child instead of going to work during the bitter cold on Jan. 28.
Chicago Teachers Union President Karen Lewis was among those supporting Broschat, 25, who lives in the Logan Square neighborhood.
"We have companies that claim to have family values," Lewis said. "We have a government that claims to promote family values, and yet, when we see what family values are, they do not look like what happened to Rhiannon. . . . Rhiannon's son needed her. And if we don't hear the voices — the needs of children, then I don't even know why we are selling food."
Broschat, who said she'd worked at Whole Foods for about two years before she was fired, said she was a good, reliable employee who found herself in a bind when Chicago Public Schools canceled classes on Jan. 28 — a day she was scheduled to work. On weekends, her mother is available to look after her son, Alexander, but Broschat was unable to find care for her boy on that particular Tuesday and called her employer to let them know, she said.
Broschat said the store called her the following day. "They told me I was terminated due to abusing their attendance policy," Broschat said.
She added: "With me having a son, there should be a policy instilled where working single mothers need a little bit of leniency and understanding, and I feel that just didn't happen to me."
Allison Phelps, a spokeswoman for Whole Foods in Chicago, said the company doesn't discuss specific current or former employees.
"Everyone has personal reasons or unexpected events that occasionally cause us to be late or miss work; recognizing this, our attendance policy in the Midwest region of Whole Foods Market is designed to provide support for our team members when these things happen. This includes a combination of excused and unexcused absences to provide the most flexibility," Phelps said in a statement. "Excused absences include illness (with a note from a medical provider), death in the family, jury duty, catastrophic events or city-wide weather disasters. Each team member is allowed up to five unexcused absences or 'points,' in a six-month period. No singular attendance event would cause a team member to be separated, and excused absences are not included in the 'points' system. Team members approaching their limit of unexcused absences receive warnings and reminders, and those who exceed their limit are separated."
Because most people made their way to work that day, the company didn't consider Jan. 28th the type of weather disaster that would merit an excused absence.
Broschat said she's worked for other retail companies, but never experienced so severe penalties for days missed due to legitimate excuses.
"I didn't do anything wrong, except stay at home with my son when it was cold, and I made the right decision," said Broschat, who is a full-time college student.
Despite her experience, Broschat said she wants her job back — and back pay.
Email: sesposito@suntimes.com
Twitter: @slesposito