https://portside.org/2014-05-29/new-voices-change-us-cuba-policy
Author: Bill Faries and David Lerman; DeWayne Wickham
Date of source: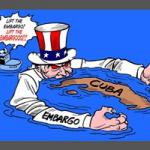 Open Letter to President Obama: Support Civil Society in Cuba
http://www.supportcubancivilsociety.org
Dear Mr. President,
Your administration has taken several important steps to support the Cuban people by opening travel for Cuban-American families, expanding remittances, and enabling purposeful travel for more Americans. Those policies have fostered direct contacts between the United States and the Cuban people, provided a lifeline for average Cubans, and empowered Cuban civil society. As a result, Cuban society and U.S. society are sharing more information and are more connected today than in the past fifty years.
Now more than ever the United States can help the Cuban people determine their own destiny by building on the U.S. policy reforms that have already been started. Such efforts would seek to provide openings and opportunities to support the Cuban people in their day-to-day economic activities, and in their desire to connect openly with each other and the outside world and to support the broad spectrum of civil society, independent, non-state organizations created to further individual economic and social needs irrespective of political orientation. Doing so not only promises to deepen the contacts between the U.S. and Cuban society, it will also help Cubans increase their self-reliance and independence. But timing matters and this window of opportunity may not remain open indefinitely. At the same time, the U.S. is finding itself increasingly isolated internationally in its Cuba policy. In the current political climate little can be done legislatively, but the Obama Administration has an unprecedented opportunity to usher in significant progress using its executive authority at a time when public opinion on Cuba policy has shifted toward greater engagement with the Cuban people while continuing to pressure the Cuban government on human rights.
The undersigned members-individuals from the private sector, think tanks, non-governmental organizations, and foundations- acknowledge and appreciate the steps you have taken to improve U.S. - Cuban relations. We further propose the following recommendations that you, Mr. President, can take through executive authority to deepen the changes already underway by giving greater freedom to private organizations and individuals to directly and indirectly serve as catalysts for meaningful change in Cuba.
1. Expand and safeguard travel to Cuba for all Americans
1. Expand general licensed travel to include exchanges by professional organizations, including those specializing in law, real estate and land titling, financial services and credit, hospitality, and any area defined as supporting independent economic activity.
2. Expand travel by general license for NGOs and academic institutions and allow them to open Cuban bank accounts with funds to support their educational programs in Cuba.
3. Authorize U.S. travelers to Cuba to have access to U.S.-issued pre-paid cards and other financial services-including travelers' insurance-to expand possibilities for commerce with independent entrepreneurs and safeguard people-to-people travel.
2. Increase support for Cuban civil society
1. Allow unlimited remittances to non-family members for the purpose of supporting independent activity in Cuba and expand the types of goods that travelers may legally take to the Island to support micro-entrepreneurs.
2. Establish new licenses for the provision of professional services to independent Cuban entrepreneurs.
3. Authorize the import and export of certain goods and services between the U.S. private sector and independent Cuban entrepreneurs.
4. Allow U.S. NGOs and other organizations to lend directly to small farmers, cooperatives, self-employed individuals, and micro-enterprises in Cuba.
5. Permit family remittances to be used as credits or equities in Cuban micro-enterprises and small farms.
6. Allow U.S. academic institutions to issue scholarships for exceptional Cuban students.
7. Allow for Cuban entrepreneurs to participate in internships in U.S. corporations and NGOs.
8. Promote agricultural exchange studies between U.S. based NGOs and private cooperative farms in Cuba.
9. Authorize the sale of telecommunications hardware in Cuba, including cell towers, satellite dishes, and handsets.
10. Authorize general travel licenses for the research, marketing and sale of telecommunications equipment.
11. Authorize telecommunications hardware transactions to be conducted through general license in the same manner as existing transactions for agricultural products.
3. Prioritize principled engagement in areas of mutual interest
1. The Obama Administration should engage in serious discussions with Cuban counterparts on mutual security and humanitarian concerns, such as national security, migration, drug interdiction, and the environment, among others. The United States should leverage these talks to press Cuban officials on matters such as the release of Alan Gross and on-going human rights concerns.
4. The Obama Administration should take steps to assure financial institutions that they are authorized to process all financial transactions necessary and incident to all licensed activities.
John Adams, Brigadier General, U.S. Army (Retired); former Deputy U.S. Military Representative to NATO; former Assistant Deputy Chief of Staff for Intelligence, U.S. Army

Ricky Arriola, CEO of Inktel

Joe Arriola, former Manager of the City of Miami

Bruce Babbitt, former Governor of Arizona; former Secretary of the Interior

Harriet Babbitt, former U.S. Ambassador to the Organization of American States

Carol Browner, former EPA Administrator; former Director of White House Office of Climate Change and Energy Policy

Diana Campoamor, President, Hispanics in Philanthropy

Paul Cejas, former U.S. Ambassador; President and CEO, PLC Investments, Inc.

Gustavo A. Cisneros, Chairman , Cisneros Group of Companies

Jeffrey Davidow, former Assistant Secretary of State for the Western Hemisphere

Byron Dorgan, former U.S. Senator

Andres Fanjul, Fanjul Group

Richard Feinberg, former Latin American Advisor to the White House; Professor, University of California, San Diego

Christopher Findlater

Mike Fernandez, Chairman of MBF Healthcare Partners

The Right Reverend Leo Frade, Episcopal Bishop of Southeast Florida

Pedro A. Freyre, Partner, Akerman LLP

Dan Glickman, former Secretary of Agriculture; former Congressman from Kansas

Lee Hamilton, former U.S. House Chairman of the Committee on Foreign Affairs and the Permanent Select Committee on Intelligence

Jane Harman, Former Congresswoman

David Hernandez, Co-Founder and CEO of Liberty Power

Vicki Huddleston, U.S. Ambassador (retired); former Chief of the U.S. Interests Section; former Director of Cuban Affairs at Department of State

Peter J. Johnson, Associate to David Rockefeller

Eduardo Mestre, Senior Advisor at Evercore; Board member of Avis Budget and Comcast Corporation

Marcelino Miyares, President MM Communications Inc.

Moises Naím, Senior Associate, Carnegie Endowment for International Peace John Negroponte, former Deputy Secretary of State; former Director of National Intelligence Michael Parmly, former Chief of U.S. Interest Section, Havana

Ralph Patino, Civil Trial Attorney; Futuro Fund Board Member

Jorge Pérez, Chairman, CEO and Founder, The Related Group

Ambassador Thomas Pickering, former Under Secretary of State for Political Affairs

David Rockefeller, Honorary Chairman, Americas Society/Council of the Americas

Christopher Sabatini, Senior Director of Policy, Americas Society/Council of the Americas; Editor-in-Chief, Americas Quarterly

Carlos Saladrigas, Chairman of Regis HR; Chairman of the Cuba Study Group; member of the board of Duke Energy Corporation and Advance Auto Parts, Inc.

Ken Salazar, former U.S. Secretary of the Interior; former U.S. Senator; former Colorado Attorney General

Susan Segal, President and CEO, Americas Society/Council of the Americas

Ambassador Charles Shapiro, former U.S. Ambassador to Venezuela; President, Institute of the Americas

Anne-Marie Slaughter, President and CEO of the New America Foundation; former Director of Policy Planning for the U.S. Department of State

Hilda L. Solis, former U.S. Secretary of Labor; former Member of Congress

Enrique Sosa, former President of Dow Chemical North America

Admiral James Stavridis, Commander of U.S. Southern Command 2006-2009; Supreme Allied Commander NATO 2009-2013; Dean of The Fletcher School at Tufts University

Alan Stoga, President/Founder, Zemi Communications; Vice Chairman, Americas Society

Strobe Talbott, former Deputy Secretary of State

Arturo Valenzuela, former Assistant Secretary of State for Western Hemisphere Affairs; Professor of Government and International Affairs, Georgetown University

Alexander Watson, former Assistant Secretary of State for Western Hemisphere Affairs

George Weiksner, Vice Chairman, Credit Suisse
The above signatories have signed this letter in their personal capacities; they do not reflect the views of their company, organization or university, current or past.
Open Letter to President Obama: Support Civil Society in Cuba
Cuba Embargo Under Pressure as Obama Urged to Ease It
By Bill Faries and David Lerman
May 29, 2014
Pedestrians walk past a dress shop in Old Havana.
credit - Photographer: Greg Kahn/Getty Images // Bloomberg News
A political consensus against trade with communist Cuba that has prevailed in Washington for half a century is showing signs of cracking.
As the head of the U.S. Chamber of Commerce, the world's biggest business lobby, visits the Caribbean island this week, support is growing for an easing of trade restrictions and an increase in academic and cultural exchanges.
While few are advocating a full lifting of the embargo or the restoration of diplomatic relations, almost four dozen former government officials, retired military officers and business leaders wrote an open letter to President Barack Obama this month urging him to ease some constraints.
In another indication of the shifting mood, Cuban-American sugar producer Andres Fanjul -- part of a family long associated with support for the embargo -- signed the letter, which asks Obama to use his presidential powers to authorize more import and export licenses, among other steps.
"This is a moment to act," Fanjul, executive vice president of the West Palm Beach, Florida-based Fanjul Corp., said in an interview. "It's important to expand opportunities to build relationships between the American and Cuban families."
Supporters of further easing the 52-year embargo by executive order see a window of opportunity after the U.S. midterm elections in November, said Carl Meacham, director of the Americas program at the Center for Strategic and International Studies in Washington.

U.S. Chamber of Commerce President and Chief Executive Officer Thomas Donohue, center
'Window for Action'
"You're seeing, slowly but surely, a ratcheting up of the pressure," said Meacham, who served as the senior adviser for Latin America and the Caribbean on the Senate Foreign Relations Committee. "The window for action starts with the election and finishes around the first quarter of 2015."
The momentum for change was on display today, when Tom Donohue, president and chief executive officer of the U.S. Chamber, gave a speech at the University of Havana aimed at encouraging economic change in Cuba and an eventual lifting of the trade embargo. He was to be accompanied by Steve Van Andel, chairman of Amway Corp. and Marcel Smits, chief financial officer of Cargill Inc.
Donohue's visit to the island, his first in 15 years, came after the Cuban government passed a law this year to attract more foreign investment and President Raul Castro eased travel restrictions on Cubans, including some dissidents.
Chamber's Donohue
"Through the new investment law, Cuba is inviting foreign partners to invest in new sectors of the economy," Donohue said in prepared remarks. "Approval of the law suggests that Cuban leaders understand what a powerful tool for economic development and job creation foreign direct investment can be."
Photographer: Adalberto Roque/AFP/Getty Images -- A ship is docked at the Mariel port in Artemisa Province, Cuba.
Citing in particular a change in attitudes toward the embargo "among younger generations of Cuban-Americans," Donohue called on Obama to "create new avenues for imports and exports of goods" and services, "starting with Cuba's new private sector."
Obama has acted on Cuba before, reversing some restrictions put in place by his predecessor, George W. Bush, after taking office in 2009. Obama's moves were denounced by lawmakers such as Representative Ileana Ros-Lehtinen of Florida, a Cuban-American Republican, who hasn't wavered in her opposition to any easing of sanctions against the regime in Cuba, 90 miles (145 kilometers) from Florida.
Having outlasted 10 U.S. presidents so far, Cuba's Castro brothers are approaching their 90s. Raul Castro, 82, has vowed to step down after his term ends in 2018, while 87-year-old Fidel Castro is seldom seen in public anymore.
Momentum Cited
Longtime Cuba watchers such as Wayne Smith say the approaching end of the Castro regime, shifting political dynamics in the Cuban-American hot spot of Florida, amid generational change, and an eagerness among some in the U.S. business community for trade have combined to make an opening possible.
"It shows the way the thing is moving," said Smith, a former U.S. chief of mission in Havana who served as executive secretary of President John F. Kennedy's Latin American Task Force a half-century ago. "Fewer and fewer people are sticking with the old policy. There's a lot of momentum."
The Obama administration continues to weigh how best to encourage positive change in Cuba, according to a State Department official who asked not to be identified discussing policy deliberations. The U.S. has taken steps to encourage greater access for Cubans to the Internet and social media and has started talks with the Cuban government to set up direct mail service between the countries, the official said.
Menendez Opposed
The biggest obstacle to any White House movement on Cuba may be Senator Robert Menendez, the son of Cuban immigrants who is chairman of the Foreign Relations Committee.
In advance of Donohue's speech, the New Jersey Democrat wrote a letter criticizing him for reaching out to a Cuban government that Menendez said "jails foreign business leaders without justification, violates international labor standards, and denies its citizens their basic rights."
"Such conditions hardly seem an attractive opportunity for any responsible business leader," Menendez wrote.
Another barrier is Cuba's continued imprisonment of former U.S. government contractor Alan Gross, who was arrested on spying charges in 2009 after taking telecommunications equipment to the island.
Even with such objections, the Obama administration "by and large does want to move forward," said Richard Feinberg, a former adviser on Latin America to President Bill Clinton.
'Positive Change'
"They see positive changes on the island, both in the private sector and among the middle class," said Feinberg, who served on the National Security Council staff from 1993 to 1996. Feinberg signed the letter urging an easing of the embargo, as did prominent figures such as former Ambassador Thomas Pickering and former Director of National Intelligence John Negroponte.
Raul Castro has worked to diversify Cuba's economy as its ally and benefactor Venezuela struggles with a faltering economy and anti-government protests. Cuba received about 90,000 barrels a day of subsidized oil from Venezuela in 2013, according to state-owned oil company Petroleos de Venezuela SA.
Brazilian construction company Odebrecht SA is upgrading the port at Mariel, China's Xinjiang Goldwind Science & Technology Co. is building 34 wind turbines for the government and the European Union is in talks over a political accord with the Castro government.
'On the Ground'
"It's better to be present on the ground than be absent," said Tomas Bilbao, executive director of the Cuba Study Group, a Washington-based organization that backs a loosening of sanctions. "I'd rather Cuba depend on us than on Venezuela or China."
Cuban dissidents on the island are divided over whether the measures called for in the Obama letter will help or hurt their cause. Jose Daniel Ferrer, head of the Union Patriotica de Cuba, which records almost daily detentions of activists, said in a statement that it's "not right for people or institutions, in search of economic benefits, to seek engagement at this time."
Miriam Leiva, a former diplomat during Fidel Castro's rule whose husband was imprisoned for more than a year before dying in exile last year, said more exchanges will help the Cuban people be better prepared for life on the island after the Castros are gone.
"More Americans should come," Leiva said in a May 16 interview in Miami. "Cuba is going to change. The government doesn't want it to undergo great change, but it's impossible to keep that society closed."
[To contact the reporters on this story: Bill Faries in Miami at wfaries@bloomberg.net; David Lerman in Washington at dlerman1@bloomberg.net . To contact the editors responsible for this story: John Walcott at jwalcott9@bloomberg.net; Andre Soliani at asoliani@bloomberg.net ]
U.S. Misses Out on Cuba Investment
By DeWayne Wickham
May 26, 2014
Let's hope Chamber of Commerce visit this week helps end embargo.
HAVANA — Rosa Grillo arrived at the Christopher Columbus Cemetery clutching three small bouquets of flowers and the jagged bottoms of three water bottles she had turned into vases. The flowers were for the Cuban grandmother, and namesake, she never met.
Grillo, the operator of a small public relations firm in Silver Spring, Md., had come to this sprawling burial ground in the Vedado section of Cuba's capital, the final resting place for more than 2.5 million people, to honor the wishes of her mother, who died in 2003.
In the years since a Fidel Castro-led revolution installed a communist government here, access to this place for Americans has been held hostage to the ups and downs of U.S. policy toward this forbidden land. Nothing symbolizes the madness of the longstanding rift between the United States and Cuba more than the constantly changing rules that govern the ability of Americans to travel to this island, which at its closest point is just 90 miles from the southern tip of Florida.
"My mother cried for years for home," Grillo, who has two brothers, told me. "She wanted to bring us here, but she either couldn't get money to come or the clearance from one government or the other."
Recently, travel between the USA and Cuba has gotten easier. Shortly after taking office, President Obama loosened the travel ban. Obama removed all restrictions of travel by Cuban Americans to this island and expanded opportunities for other Americans to come here. Last year, Cuba stopped requiring its citizens to get an exit visa to leave the country.
But Grillo, 59, worries that these positive changes will be rolled back before she can afford to return with her daughter, who has yet to visit their ancestral homeland. And she has good reason to worry.
Since 1977, when President Carter ended the first travel ban, the freedom of Americans to travel to Cuba has been a political roller coaster ride — with the restrictions loosening and tightening nearly every time the Oval Office changed hands. During this time, Cuba was slow to lift the limitations on foreign travel by its citizens.
"I think both governments have done stupid things. But they need to stop this squabbling and respect each other — and the U.S. needs to end the embargo," Grillo said. While she now can visit Cuba as often as she wants, Grillo doesn't understand why other Americans don't have the same freedom to travel to Cuba.
And neither do I.
The U.S. travel restrictions and embargo against Cuba have morphed into a blockade against U.S. businesses that ought to be this island's leading economic partners. Instead, Spanish companies are building many of the hotels that are a part of Cuba's surging tourism industry. Most of the new cars on the streets of Havana are being built in China, not Detroit. Last year, a British company signed a contract to build a golf course resort in Cuba, complete with condos and a hotel. Firms from Canada, Spain and China are competing for a chance to build some of the 15 other golf resorts that Cuban tourism officials envision across the island.
All this might explain why a U.S. Chamber of Commerce delegation will visit Cuba this week.
The strong argument against pumping money into Cuba's economy disappeared when Cuban Americans were allowed to travel to the Caribbean island as often as they want and take an unlimited amount of money there.
Now it's time for a sensible policy, one that will make Rosa Grillo happy.
[DeWayne Wickham, dean of Morgan State University's School of Global Journalism and Communication, writes on Tuesdays for USA TODAY.]