https://portside.org/2014-07-10/tidbits-july-10-2014
Author:
Date of source:
Portside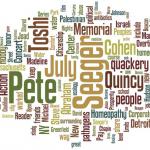 Re: Protesters Block Buses Carrying Undocumented Immigrants in California
Perhaps more timely today given the tide of 'unaccompanied minors'...would be Woody Guthrie's ballad, "They were only deportees"...as Latinos continue to stream north to escape the chaos wrought by the US appetite for drugs and its desire to maintain a chain of 'banana republics' from which it can control local destinies and launch incursions into an increasingly independent South America.
Salima Fellah
Posted on Portside's Facebook page
Re: Detroit Citizens Vow Direct Action to Protect Their Right to Water
Like Portside, don't like what is going on with the crackdown on water customers in Detroit. Wait, is "customers" a word that should even be used when it comes to water? I wonder, devoid of all the money spent on collections, attorneys, consultants, billboards, legacy patronage jobs, no show jobs, etc. (the last two of which certainly can't be blamed on the current regime, just to set the record straight), how much does it really cost to update and maintain the infrastructure for effective water treatment and delivery in Detroit and surrounding areas? We talk a lot about abusive practices at the individual level, and of course abuse needs to be addressed, but what about institutional level abuse. Isn't it abuse to shut off the water to any human habitation, where they may be vulnerable people such as children, pregnant women, people with disabilities, the frail elderly and people with no jobs, cars or adequate transportation?
Michael A. Dover
Posted on Portside's Facebook page
Re: Families of Slain Israeli and Palestinian Teens Turn to Each Other for Comfort
Congratulations "Portside" that you published Sigal Samuel's moving piece about the families of the slain Israeli & Palestinian teens comforting each other. If the two governments would only understand that air attacks and rockets can never be a solution only an aggravation of the conflict. Honest exchanges and dialogue are the way forward. Hidden agendas are the way backwards.
Hans von Sponeck, exUN
Re: Hobby Lobby: The Sequel Is Much Worse
Time to organize boycotts. I have never seen a Hobby Lobby in NY, but isn't Eden foods sold at many health food stores? Be interesting to get locations of all the businesses who refuse to provide coverage for birth control.
Anne Johnson
==========

Re: Unions Backing Historical Peoples Climate March
It is UAW Region 9A, not 9 which has endorsed. Please let the author know and please issue a correction.
Scott M. Sommer
New York Sub-Regional Director
UAW Region 9A
256 West 38th Street -- 12th floor
New York, New York 10018
Re: It's Time to Update Overtime Pay Rules
As a lawyer, I informally check with people who worked over the 4th weekend as to whether they had received double time..
To a person they said NO, and looked at me as if I were nuts..
without legal personnel committed to fair labor practices at the enforcement level, all the statistics and executive orders in the world are useless.
Howard Romaine
Re: Individual Actions Are Doomed to Failure: Coalition Asks for Global Action on Antibiotics
The call for action to protect antibiotics from the rapid development of resistance is an important first step only. What is at stake is that the age of antibiotics - roughly a century in the relation between our species and the microbial world - may have run its course and we need new strategies. Potential pathogens now can spread more rapidly - a matter of a day or two instead of weeks to months, industrial agriculture has created great habitats for migrating birds to share their pathogens with domestic flocks, hospitals are foci of infection where pathogens may share genes. Possible new directions should be based on evolution and ecology.
For instance, if we treat serious cases therapeutically but mild cases palliatively, natural selection would favor the milder genotypes. Or, the study of microbial communities in our bodies can lead to the design of communities of microbes that jointly can resist invasion by novel pathogens. The study of invasions by exotic species has always been a focus of plant ecology and aquaticecology. Any program for national or regional development must include investigation of "how will this affect our relations with potential epidemics?", the epi impact statement.
Oppression and poverty create vulnerabilities to infectious and non-infectious disease, and impact the immune systems. We have to be able to ask, how does the pancreas live under neocolonialism? Or, study the adrenals in a racist environment. And how will any new therapy affect the evolution of the microbes we already share? Since, especially in poor countries, people often carry several pathogens at once, co-infection and its management is at least as urgent an object of research as the quest for magic bullets for single diseases. And every school of public health needs departments of evolutionary ecology and social epidemiology.
Richard Levins,
Harvard School of Public Health
Re: Homeopathy was quackery in 1796, it was quackery in 1988, and it will still be quackery in 2096
I look forward to your articles. But why do you waste time attacking alternative treatments? Do you want to go along with the status quo and keep people tied to the multi billion dollar drug industry? Homeopathy is based on the same principles as vaccine theory. I have used it with good results. People should be given more and more options to keep themselves healthy - massage, yoga, nutrtion, herbs . Please don't keep supporting the multi billion dollar drug industry who wants the 99% to stay sick, so they can keep malling profits!
Nina Howes
====

I was raised in homeopathy. Now I'm 74, and still don't have a family doctor because I don't get sick. A bunch of my friends from grade school, high school and college are dead, so its too late to ask what kind of medicine they used, but I bet it wasn't homeopathy. That does not show cause and effect, of course, but it's not like I lead a healthy lifestyle, whatever that is. Ideas?
Steve Lane
====

Well, this is a load of bunk, and I'm certainly surprised to see it posted by you guys.
Lorraine Suzuki
====
This is not up to your usual standards. There may be a good argument why homeopathy doesn't work but it would be scientific and this article is not. It is all straw man arguing and ad hominem.
Richard Curtis
====
Hm. Homeopathic remedies helped my dog relax during a recent car trip. Sure, that's just one instance, but scientifically speaking, it's evidence that homeopathy works.

Dennis Formento
Slidell, LA
Re: Is There a Ma Joad for the Piketty Era?
Interesting, but give me a break. Just accept the book for what it is, a fictional interpretation of a very real situation.
Claire Carsman
====
Is it a coincidence that Ma Joad and Elizabeth Warren are both Okies?
Marvin Gladstone
Re: Rethinking the Fourth of July
As-Salaam Alaikum. It is a profound article. Actually I had read it years ago....a few times. Thanks.
Siraj
Re: Full Employment and the Path to Shared Prosperity
Long article but found it quite interesting
Judith Lesner
Posted on Portside's Facebook page
The idea is great but a listing would be more clear showing the top 10 & the various amounts spent. Also, include a totals category.
Steve Kramer
Re: The Limits of Corporate Citizenship: Why Walgreen Shouldn't Be Allowed to Influence U.S. Politics If It Becomes Swiss
Smart corporate tax lawyers are constantly seeking and finding ways to dodge taxes. This below is one of the latest. Be aware that the globalization of business has squeezed out most of the Mom and Pop businesses into bankruptcy and turned the middle class into mindless consumers of unneeded items manufactured elsewhere. Be aware of where you shop, of what you put into deep pockets at some tax haven, and whether all you and your community gets back for making the rich richer is political propaganda for electing their chosen candidate.
NO business of corporation should, not international and not national, should be legally entitled to influence the election of politicians. That is certainly not what the country was founded for.
Be aware.
Seeger Family's Memorial Concert Series for Pete and Toshi
I hope many of you will be planning to be at one or more of these great events to honor Toshi and Pete Seeger -- five days of celebration: Thurs, July 17 thru Mon July 21st. All Free!
See you here and there
Connie Hogarth
Seeger Fest Events Calendar
Five-Day Seeger Fest: Concert And Memorial For Pete Seeger
Thursday, July 17, 8:30pm:
Hudson River Park Trust presents Pete Seeger: The Power of Song, an Emmy-award winning documentary on Pete Seeger's life as a musician and activist.
Pier 46 & The Hudson River, NYC.
Riverside screening with a Q&A before film with producers, musicians in the film, and Pete Seeger's grandson.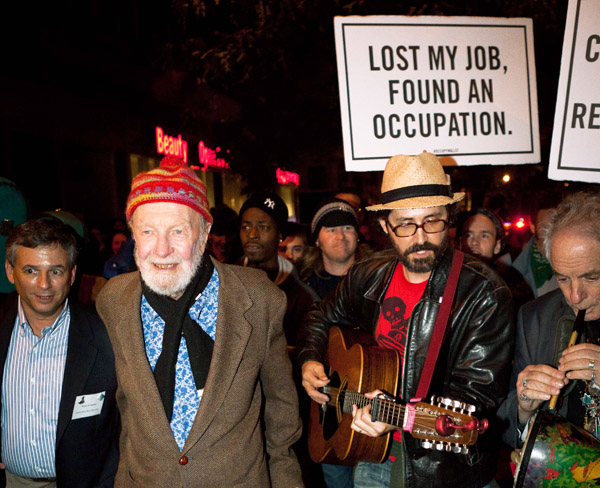 Pete Seeger at Zuccotti Park, October 21, 2011 joining forces with Occupy Wall Street
Friday, July 18, 7pm:
Bardavon Opera House presents A Memorial Service for Pete Seeger
Bardavon Opera House, 35 Market Street, Poughkeepsie, NY 12601
Limited Seating, Reserve Tickets at www.bardavon.org.
Friends and family gather to share memories, stories and songs.
Saturday, July 19, All Day:
Events throughout the Hudson Valley and the Hudson Valley that honor Pete and Toshi Seeger's commitment to community.
Beacon Sloop Club presents a song circle and potluck supper in honor Pete and Toshi.
5 to 8pm: Beacon Sloop Club, 2 Red Flynn Dr., Beacon, NY 12508
The Ashokan Center presents a square dance commemorating how the Seegers met.
8pm: Ashokan Center, Olivebridge, NY
Rocking the Boat presents music, food and rowing boats in celebration of the lives of Pete and Toshi.
Noon to 6pm: Lafayette Street and Edgewater Rd., Bronx, NY
El Taller Latino Americano presents film and photography by Pete and Toshi Seeger.
8pm: 2710 Broadway, New York, 10024
(third floor walk-up - NOT wheelchair accessible)
Sunday, July 20, 4pm:
Lincoln Center Out of Doors presents A Memorial Concert for Pete & Toshi Seeger
Lincoln Center Out of Doors, Amsterdam and W. 62St., NYC
Artists who worked with Pete and Toshi Seeger come together to honor their friends and mentors.
Musicians include: David Amram, Tom Chapin and Chapin Sisters, Jimmy Collier, Guy Davis, Emma's Revolution, Sarah Lee Guthrie and Johnny Irion, Kim & Reggie Harris, Michael Moore, Holly Near, Paul Winter Consort,Bernice Johnson Reagon, Toshi Reagon, Martha Redbone, The Vanaver Caravan, Dar Williams & Dan Zanes, Peter Yarrow (of Peter, Paul and Mary)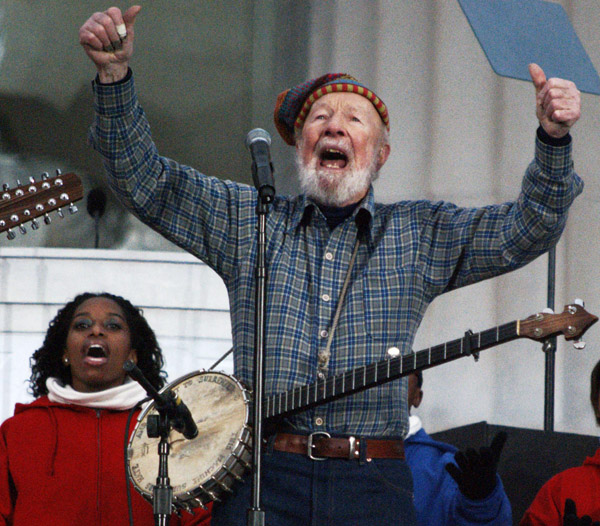 Pete Seeger at Obama inauguration, January 2009.
Monday, July 21 at 6 PM:
City Parks Foundation presents New Songs of Justice: An Evening Honoring Pete Seeger
SummerStage, Rumsey Playfield (near E. 69St. and 5th Ave.) Central Park, NY
Hip Hop, Punk, Indie-rock and folk artists come together to in tribute to Pete Seeger.
Musicians include: Anti-Flag Acoustic, Aurora Barnes, Toni Blackman, The Chapin Sisters, Rebel Diaz, Steve Earle, Michael Glablicki of Rusted Root, Sarah Lee Guthrie and Johnny Irion, DJ Kool Herc, James Maddock, Elizabeth Mitchell, Mike + Ruthy, Nyraine, Amanda Palmer Solo Acoustic
Abe Cohen, Quincy, Massachusetts Human Rights Activist Dies at 97
June 25, 2014
The Quincy Sun
Abraham Cohen, 97, of Quincy, died Sunday morning, June 22, 2014, in Greenfield.
He had recently moved to Greenfield to live with his son David and daughter-in-law Judy Atkins. Abraham was born in Malden, Sept. 22, 1916, eldest son of the late Hyman and Fannie Cohen and later brother to William. Like his parents, he was a lifelong socialist and a fighter for peace, justice and equality for all people.
One of his first political actions as a young boy was passing out leaflets in protest of the coming execution of Sacco and Vanzetti. Abraham graduated from Quincy High School and then attended and graduated from the Massachusetts College of Optometry in 1937. He served in the U.S. Army as a medic from 1942 to 1946 reaching the rank of Captain. He was wounded once and captured twice, but talked his way out of capture both times.
On returning from the war, he married Madeline Siva, whom he met as a teen when they both worked at Camp Intending. Abraham then began a new career as a maker of monuments, starting the United Granite Co., in Quincy, with friends.
During the 1950s, he and Madeline suffered constant harassment from the FBI because of their progressive political beliefs. In 1956, he was called before the Massachusetts Commission on Un-American Activity with which he refused to cooperate. Years later, he received a citation from the city of Quincy honoring his commitment to justice and his refusal to bow to political pressure.
In the 1980s, he and Madeline and many others worked to overcome racial discrimination in housing in the city of Quincy. Their suit against the city helped pave the way to open public housing in Quincy to minorities. During his life, he was also president of the Jewish Community Center and was active with the Community Action Program in Quincy and was a founder with Madeline of the South Shore Coalition for Human Rights.
Abraham is survived by his daughter, Nancy Cohen and her partner Norman Christopher sen of Chicago, Ill.; his son, David Cohen and his wife Judy Atkins of Greenfield; and his beloved granddaughter, Mandy Cohen of Los Angeles, Calif. He is also survived by many nieces, nephews and cousins; as well as dear friends.
Memorial gifts can be made to the organization of your choice. Abraham was particularly interested in the work of Heifer International and Friends of the Thomas Crane Public Library.