https://portside.org/2014-08-06/front-lines-climate-crisis-gathering-calls-new-economy
Portside Date:
Author: Sarah Lazare, staff writer
Date of source:
Common Dreams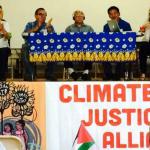 "Power without Pollution. Communities United for a Just Transition."
That is the theme of an international gathering that kicked off Wednesday in Richmond, California, bringing together of hundreds of people on the front-lines in the fight against environmental destruction and social inequality to tackle the ambitious question: how do we build an economy that works for people and the planet?
Under the Banner of a campaign called "Our Power," participants hail from dozens of organizations representing indigenous peoples, people of color, and working-class white communities that collaborate through the Climate Justice Alliance. Three days of conversations and strategizing will conclude Saturday with a day of action to highlight local alternatives to fossil fuel dependence. Organizers say the gathering builds towards for the Peoples Climate March and Summit, which is slated for the UN Climate Summit in September in New York. But the convergence aims at something broader: connecting local, national, and international struggles of the marginalized and dispossessed to chart a collective path towards a "just transition" towards a new economy.
"Our growth-driven, global economy is about to crash the planet. Communities on the front lines of this crisis have been feeling that for a long time," Michelle Mascarenhas-Swan, co-director of Climate Justice Alliance, told Common Dreams. "Now we are in a moment of transition, but what is not clear is whether justice will be part of that transition. It is critical for communities on the front-lines to be leading the transition so solutions don't throw anyone under the bus. No community, place, or home is a sacrifice zone."
The gathering takes place in a Bay Area city that under threat of becoming such a zone, facing problems of pollution and poverty that negatively impact public health, including a fire in 2012 at a 112-year-old ever-expanding refinery owned by oil giant Chevron that sent 15,000 nearby residents to the hospital. But Richmond is also the site of long-term environmental justice organizing by grassroots groups including the Richmond Environmental Justice Coalition, which is co-hosting the gathering.
"Why us? We live every day on the front-lines of the climate crisis—with illnesses and the danger of explosions—and on the frontline of the economic crisis – when we can't keep money and jobs in our city," said Mey Saechao, an Asian Pacific Environmental Network (APEN) member who lives on the border of Richmond and San Pablo, in a recent press statement.
Participants represent groups spanning the globe, including the Black Mesa Water Coalition in Arizona, which is comprised of indigenous communities, and according to an organizational statement, "dedicated to preserving and protecting Mother Earth and the integrity of Indigenous Peoples' cultures" and organizing for safe, clean water and alternatives to coal-fired power plants. Topics range from organizing for food security on the local level to building a movement of mass transit riders to effective strategies for defeating climate change on a global scale.
Organizers say that key groups—Kentuckians for the Commonwealth, Cooperation Jackson of Jackson, Mississippi, and Southwest Workers Union of San Antonio, Texas—will play a critical role in helping focus the alliance's work on the U.S. south, particularly Gulf Coast communities.
"What we are talking about is the leadership of communities of color, of poor communities," Will Copeland, youth director for the East Michigan Environmental Action Council, told Common Dreams. "These are communities are traditionally viewed as less politically powerful. So we are talking about a shift in power, not just saving our own communities."
Copeland said that the gathering is critical to the work in his local community to organize on the state level against a trash incinerator in a Detroit neighborhood that is having harmful effects on public and environmental health, as well as organize for "the human right to water" throughout the city. "By coming together, we can not just take on issues one by one individually, but really call for a new economy and new way of making our livelihood, which is why the 'just transition' really resonates in Detroit," said Copeland. "We are looking for a new way where people won't get polluted at work and in their neighborhoods, where we won't have to stay unhealthy jobs."
Scientists have confirmed that people already facing socioeconomic inequalities are more severely impacted by climate change, with countries in the global south hardest hit. The gathering builds on decades of organizing among communities of color to bridge the gap between environmental and social justice movements by highlighting the links between environmental destruction, displacement, racism, and poverty.
"We are here to connect our struggles for food sovereignty, zero waste, clean community power, and finding ways for people to stay rooted in neighborhood," said Mascarenhas-Swan. "It takes roots to weather a storm, and the storm is here."
This work is licensed under a Creative Commons Attribution-Share Alike 3.0 License