https://portside.org/2014-08-14/thinking-about-robin-williams-american-humor-and-troubled-mind
Author: SAG-AFTRA; Stewart Acuff; Geoffrey Jacques; Patrick Murfin
Date of source: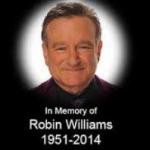 SAG-AFTRA Statement on the Loss of Robin Williams
August 11, 2014
SAG-AFTRA
Last night we all lost a union brother with the passing of SAG-AFTRA actor Robin Williams, pictured here walking in solidarity on a picket line.
credit - Joe's Union Review
Los Angeles, CA (August 11, 2014)---SAG-AFTRA joins the world in mourning the sudden passing of Robin Williams. A two-time Screen Actors Guild Award recipient, Williams was consecutively honored for Outstanding Performance by a Cast for The Birdcage and then for Outstanding Performance by a Male Actor in a Supporting Role for his inspirational portrayal of Sean Maguire in Good Will Hunting.
After spending time at the prestigious Julliard School, Williams became a union member in 1977. He first rose to fame as the beloved alien Mork in the popular series Mork & Mindy and entertained and inspired generations as a stand-up comedian before moving audiences in the classic Dead Poets Society.
Said SAG-AFTRA President Ken Howard, "I am deeply saddened to hear of Robin Williams' death. He was a performer of limitless versatility, equally adept at comedy and drama, whether scripted or improv. With his incomparable manic style, he could appeal to adult sensibilities in a stand-up comedy routine or elicit giggles from children as the voice of Genie in Aladdin. Outside of his career, he used his considerable talents to raise money for charity. He was not only a talented man, but a true humanitarian. It's such a tremendous loss."
Robin Williams: Remembering the joy he gave us in life.
By Stewart Acuff
August 13, 2014
Stewarts Blog
"No matter what people tell you, words and ideas can change the world," Robin Williams. A friend named Paul Gagnon put that quote on Facebook as he puts a great quote up every day.
Robin Williams lived that quote. Before his death he was one of the entertainment industry's most progressive performers. He financially and vocally and energetically supported progressive ideas and causes and Democratic political candidates time after time after time.
He and Billy Crystal and Whoopi Goldberg did a series of annual televised fundraisers for homeless people called Comic Relief. I think I still have the t-shirt. The shows were hilarious. How could we not be with three of our greatest funny people? But it was Robin that I kept waiting to come back on stage. His riffs on anything were amazing.
Robin chose to do movies that opened up deeper or unexpected truths to us all. He was wonderful as Patch Adams playing a doctor who treats people not just disease, mirroring the real Patch Adams, my friend Dr. Neil Shulman in Atlanta who's a brilliant doctor and a tireless organizer and advocate for healthcare for all. His performance as the US Army disc jockey in Vietnam was both hilarious and a warning about the horror of war and the ultimate horror of wars of choice. Of course, there are many other examples.
His riffs on George Bush were biting and satisfyingly true:
"It's the end of the reign of George the Second. The reign of error is over."
"What will [Bush] do when he leaves the White House? A speaking tour is out of the question."
Robin Williams was one of us progressives with a heart of love and compassion, a commitment to justice and to the human race, and a commitment to creating a more perfect union.
His great struggles became our great misfortune. Like so many brilliant and creative people he suffered from addiction, which he certainly battled. He also suffered from a probably interrelated disease of depression which eventually overcame him. I am way too familiar with both these diseases. They are debilitating and often terminal. And I am way too familiar with the too often result of suicide. Robin did not choose to be an addict or alcoholic or suffer from depression or to take his own life. These are all diseases which can be treated, but like any incurable disease require constant vigilance and support.
If you suffer as Robin did, get help right now, today. These are diseases not weaknesses. Do not wait.
And do what's right by Robin. Remember his brilliance and the joy he gave us in life.
[Stewart Acuff is the Organizing Director of the National Union of Hospital and Health Care Employees 1199 in Philadelphia. He served as the Organizing Director of the AFL-CIO from 2001-2008. He worked as Chief of Staff of the Utility Workers Union of America until May, 2012.]
The Troubled Genealogy of Robin Williams
By Geoffrey Jacques
August 12, 2014
As we think about the legacy of actor and comedian Robin Williams, we should not allow ourselves to bypass a singular and significant aspect his background. While it is risky to speculate on what role, if any, the peculiarities of an artist's family history might play in the construction of his or her art, it is equally risky to proceed as if such history plays no role whatsoever.
Robin McLaurin Williams is descended from one of the most important white supremacist politicians in the history of the country. His great-great-grandfather on his mother's side was Anselm J. McLaurin, a Democrat who served as the U.S. Senator from Mississippi from 1894 to 1895 and from 1900 to 1909. Senator McLaurin was also the first governor of Mississippi elected under the notorious "Mississippi Plan" constitution of 1890, serving from 1896 to 1900. McLaurin was a delegate to the convention that wrote that constitution, which disfranchised the African American population of that state. This was the constitution that introduced the poll tax (later outlawed by the 24th Amendment to the U.S. Constitution) and the infamous "understanding clause," in which "literacy tests" were conduced under the supervision of local registrars. Prospective voters were "tested" on their knowledge of the state constitution. As Herbert Aptheker pointed out long ago in his famous essay America's Racist Laws (1951), these tests weren't conducted in public places, but in white people's homes, and the registrars had sole discretion as to what "understanding" meant.  The "Mississippi Plan" became the model on which the entire white supremacist movement to disfranchise African American voters was based. Even today, this model serves as a template for the restriction of voting rights that is gaining traction in the South and elsewhere.
This genealogy might not be worth mentioning, indeed talking about it at all might be considered, by some, an act of bad taste. However, the Clarion-Ledger of Jackson, a Gannett newspaper, writes of Williams's "blue-blooded Mississippi roots" with pride. It goes without saying that Clarion-Ledger reporter Therese Apel does not mention that those roots are also soaked in the bloody post-Reconstruction reestablishment of white supremacy in that state 130 years ago (she only mentions that McLaurin introduced a failed provision to disfranchise men who were convicted of spousal abuse); or in the establishment of a mode of restricting voting rights, whose legacy haunts us to this day.
It is perhaps worth mentioning, in this connection, that it was 50 years ago, on August 4, 1964, that the bodies of Mississippi Freedom Summer activists James Chaney, Andrew Goodman, and Michael Schwerner were found in that state, as Wikipedia says, "buried beneath an earthen dam," about 80 miles from Brandon, where McLaurin started his political career, in 1869, as a twenty-one year old district attorney.
Still, pointing to this genealogy might be of little significance, except that it might serve as a window into thinking about some aspects of Williams's art, both in terms of its emotional tenor and its style. Williams was a master of parody, masquerade, imposture, and of the grand, theatrical, faux self-denigrating gesture, honing these into effective tools of his comedic art. His style recalled, in many ways, the conventions of "blackface" minstrelsy, a theatrical and peformative form that, in addition to its racist content, consisted of a complicated network of speech and gestures that acted as a sort of relay of signification. The old "blackface" minstrelsy was, in fact, an act in which white performers satirized enslaved black performers who were themselves satirizing the social graces of their masters.
Williams's genius was to strip this style of its racist frame of reference while leaving us with those essential features that made minstrelsy funny despite its sordid social connotations. He imbued his work with that pathos that is generic to the figure of the clown; yet his pathos had an edge to it that seemed to refer to a decadence that lived just beyond the horizon. Maybe a more detailed examination of his performance style would show us how his gestures carry within them an emotional tenor that echoes the loss and decay that one finds at the heart of the work of artists like Faulkner, Welty, Harper Lee, Tennessee Williams, and many other classic Southern white writers. The multiple masquerades Williams offers in his portrayal of the "Scottish nanny" in the film Mrs. Doubtfire (1993) constitute just one example from among an extraordinary range of characters, personas, and performances that give us - if we choose to be sensitive enough viewers - a glimpse into how this outstanding artist used a complicated and troubled personal legacy in the service of laughter.
[Geoffrey Jacques is a poet, critic, and teacher who writes about literature, the visual arts, and culture. His research interests include modernist poetry and poetics, African American literature and culture, and the postmodern city. His books include A Change in the Weather: Modernist Imagination, African American Imaginary (University of Massachusetts Press, 2009), and the poetry collection Just For a Thrill (Wayne State University Press, 2005). His writings have appeared in many periodicals, including Art Forum International, The Black Scholar, Freedomways, Radical Teacher, NKA Journal of Contemporary African Art, Killens Review of Arts and Letters, Black Renaissance/Renaissance Noire, Cineaste, Cover Arts New York, New York Newsday, and the Journal of Popular Music Studies.]
Robin Williams and the Tears of a Clown
By Patrick Murfin
August 12, 2014
Heretic, Rebel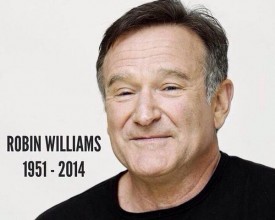 The sudden death of Robin Williams yesterday, an apparent suicide in his California home, shocked and stunned so many of us.  Like Elvis Presley or John Lennon he was a cultural figure of such enormous talent and influence he felt almost like family to many of us.  And it was reflected in the anguished reactions I read from folks of all ages, background, and attitudes in a flood of Facebook postings and comments.
From the beginning, Williams defied convention.  Comedians and other artists are expected to come from outsider cultures and battle their way up through hard times and adversity over a long haul. Robin McLaurin Williams was born in Chicago on July 21, 1951, into an affluent and thoroughly WASP family.  His father was a senior executive at the Ford Motor Company.  His mother was a former Southern belle descended from turn of the 20th Century Mississippi Governor and Senator Anselm J. McLaurin.  He was raised in the Episcopal Church, the religious bastion of the American elite, and remained, as he described it, a "semi-faithful" communicant for the rest of his life.
He spent most of his boyhood among the other privileged children of auto industry nabobs in the toney suburb of Bloomfield, Michigan and attended Detroit Country Day School.  When Ford transferred his father to California the family settled into a very comfortable home in Woodacre in Marin County.  He attended one of the best public schools in the state, Redwood High School.
As a child, outside the family Williams was painfully shy and withdrawn.  Inside the safety of his home, he entertained his mother with imitations of his grandmother, a Southern Grand Dame.  At Redwood he became involved in the theater program and both found himself and blossomed.  He found he could be everything on stage that he could not bring himself to be in social situations.
After graduation he briefly attended Claremont Men's College and then Marin College where he took theater classes.  At the age of 22 in 1973 he became one of only 20 students nationwide admitted as a freshman to Julliard School's Drama Division in New York City.  Among his classmates was Christopher Reeve with whom be became exceptionally close life-long friends.  Perhaps it was a similarity of backgrounds - Reeve came from a wealthy New York family strewn with distinguished ancestors on both sides.  The two were the only students selected to personally be instructed by school founder John Houseman [in the] Advanced Program that year.  Williams excelled at Julliard and impressed faculty and fellow students alike.  He left the school in 1976 to pursue a professional career.
Some actors struggle for years just to get cast in bit parts before a breakthrough role comes along.  Almost immediately he was cast in the ensemble for a prestigious, but doomed, project, the Richard Pryor Show on NBC.  In addition to Williams, among those who did sketches with Pryor in the comedy variety show were Tim Reid, Sandra Bernhard, Edie McClurg, and Marsha Warfield.  The show was canceled after only four airings amid bitter disputes over censorship between the network and its star.
But the brief exposure grabbed the attention of producer Garry Marshall who called him in for an audition.  When ushered into Marshall's office and asked to sit down, Williams sat on his head and riffed his way through the routine interview questions.  Marshall was so impressed he created a character for Williams, the zany alien Mork for a guest appearance on his hit series "Happy Days" in 1977.  Williams improvised much of his dialog and his physical comedy shtick.  He was an immediate fan favorite.
Marshall had no problem selling ABC Television on a spin-off series.  Mork and Mindy debuted on September 14, 1967, and co-starred Pam Dawber as the extraterrestrial's Boulder, Colorado, roommate.  The show was built to accommodate Williams's improvisational style and clicked with audiences due to the goofy chemistry between the two leads.  Mork concluded each episode with a report to his boss Orson on the Planet Orc explaining what he had learned about earth signing with Nan-Nu Nan-Nu, which became a cultural buzzword. The show was an enormous top-three hit for the network in its maiden season.
Then network executives started tinkering with it to disastrous results.  First they moved the show from Sunday night where it had ruled the airway to Thursday, opposite CBS hit Archie Bunker's Place, a continuation of All in the Family.  Then they began tinkering with the show, jettisoning many first season regulars and shifting emphasis from Mork's attempts to understand human culture to a romance between the leads.  Over the next three years ratings slipped every year as the network frantically tried more changes designed to rein it into the mold of a more convention sit-com.
In season four, with Mork now married to Mindy, he lays an egg from which Jonathan Winters, Williams's personal comedy idol and another master of improvisation, emerges as the couple's son.  Despite the talent of all involved, the twist was too bizarre and viewers lost interest.  Finishing a disastrous 60th place in the Nielsen Ratings, the show was canceled and concluded its run on May 27, 1982.
Mork and Mindy made Williams a star, earning him a Golden Globe for best actor in a comedy series in 1978.  But some thought the end of the show would be the end of his career, that he would become so identified by the character that he would not be able to find new parts.  But Williams had already established himself as one of the leading stand-up comedians in the country and had been touring during series hiatus since its first year.
HBO, the cable network known as the home of recently released A-list Hollywood films, wanted to branch out into producing original programing.  In 1978 he became one of the first comedians with his own stand-up comedy special on the network, Off The Wall.  He would return to the network for two more highly rated specials, An Evening with Robin Williams in 1982, and Robin Williams: Live at the Met in 1986.
As Mork and Mindy was taking off, Williams married Valerie Velardi on June 4, 1978.  The couple had one son, Zachary Pym, born in 1983.  The marriage dissolved acrimoniously when Williams was publicly sued for "knowingly transmitting the herpes simplex virus to a cocktail waitress with whom he had an extramarital affair.  The divorce was finalized in 1988 after 10 years of marriage.
During those years the often manic Williams was known for his hard partying.  He drank, but his drug of choice was the nose candy of the Disco Era, cocaine.  John Beluchi was a close running buddy. Beluchi died of an overdose on March 5, 1982 in Bungalow 3 at the Chateau Marmont on Sunset Boulevard in Hollywood.  Williams had visited him earlier in the day.  His death stunned Williams, who checked himself into rehab on August 9, 1982 after testifying in a Grand Jury investigation into his friend's death.  He would remain sober for 20 years.
Although Williams had a small part in the obscure and raunchy sketch comedy feature, Can I Do It 'Till I Need Glasses? in 1977, his film career didn't really take off until he was cast as the lead character in Robert Altman's highly original re-imagination of Popeye with Shelley Duvall as Olive Oyl in 1980.  It did reasonably well at the box office, but lost money due to its high production costs, which included the construction of an entire town.  Critics were divided between those who hated it with a serious contempt and those who found it utterly charming.  I am in the latter category.  I loved it then and still do when I catch it on TCM.
Two years later Hollywood sat up and took notice when Williams took on a more serious part in the dramedy, The World According to Garp, based on the beloved novel by John Irving.  The self-acknowledged "hairiest man in the world" had to shave his whole body to appear as the teen-age wrestler at an elite prep school where his single mother, played by Glenn Close, was the school nurse, whose unusual manifesto makes her a feminist icon and a target for terrorist wackos.  The film won awards for Close and for John Lithgow for Supporting Actor as a former football player who becomes transgendered.  But as the anchored center around which many characters and events revolve Williams was a subtle revelation himself.
In 1994 Williams revisited a familiar theme - an alien trying to make sense of and adjust to America in Paul Mazursky's Moscow on the Hudson, which the poster accurately summarized:
America is sometimes a strange place even for Americans. Let alone for Vladimir Ivanoff, a Russian defector with a black roommate, a Cuban lawyer, and an Italian girlfriend. Who's learning to live with Big Macs, cable TV, hard rock, softcore, unemployment and a whole new wonderful word for him. Freedom.
In preparation for this part Williams spent months learning to play the saxophone and to speak Russian, becoming proficient in both.
Williams catapulted to the front ranks of American movie starts with a riveting performance as military disc jock, Airman Adrian Cronauer in Good Morning, Vietnam, a film that swung from hilarious comedy to the abject terror of war and a sharp critique of the whole American experience in Southeast Asia.  It showed him a master at mixing high comedy with pathos like no other performer since Charlie Chaplain.  His performance won him another Golden Globe and his first Academy Award nomination.
In 1989 Williams put in his first entirely dramatic performance in the highly acclaimed Dead Poets Society, in which he played the idealistic English teacher at a wealthy prep school who inspires his students with great poetry and lives to see their lives unfold and fail as a direct result of his influence.  His students recite from Walt Whitman as the fired teacher takes his leave from them,
O Captain! My Captain! Rise up and hear the bells.
Rise up, for you the flag is flung, for you the bugle trills.
This became a widely cited epitaph for Williams himself yesterday.  The film won the Academy Award for Best Picture and Williams was nominated for Best Supporting Actor.  He was nominated in the same category for a Golden Globe and took home a BAFTA Film Award for Best Actor.
On April 30, 1989, Williams married his son's nanny Marsha Garces, who was already several months pregnant with his child.  (Zelda Rae was born two months later and Cody Alan followed on November 25, 1991).  Williams was reportedly a doting father to all of his children.  But married life was not so easy.  Marsha filed for divorce in March 2008, citing irreconcilable differences.
Williams dedicated a fair share of his time and fortune to charity work and some activism.  In 1986 he helped Bob Zmuda found Comic Relief, which has raised over $50 million for causes ranging from homelessness, battered women, Hurricane Katrina relief to  preserving world wildlife habitat.  He was generally joined by pals Billy Crystal and Whoopi Goldberg as co-hosts of the four-hour telethons aired by HBO.  Williams and wife Marsha also co-founded their own Wildflower Foundation to support many causes.  He has made himself available for scores of benefit shows and been a particular patron of St. Jude Children's Research Hospital.  He has been a long-time supporter of liberal Democrats and has spoken out on gay rights and marriage equality and more recently, income inequality.
In 1990 Williams displayed his virtuosity in two wildly different films.  Cadillac Man, in which  he played a car salesman who must sell 12 cars in two days or lose his job while his life disintegrates around him, a sharp comedy with just a bit of an edge.  Then he played Dr. Malcolm Sayer, a shy and socially inept psychiatrist overseeing a ward of helpless catatonics in a state mental hospital in Awakenings.  The part was inspired by real life experiences of Dr. Oliver Sacks, on whose book the film was based.  Directed with sensitivity by his old friend, Garry Marshall's sister Penny Marshall, the film paired him with Robert DiNiro as the first of a ward full of patients awakened by use of the experimental drug L-Dopa.  It was a restrained, almost delicate performance.  Again the movie one the Oscar for Best Picture and DiNiro won for Best Actor.  Williams was again nominated for Best Supporting Actor.
In 1991, The Fisher King,  in a surreal cult classic by director Terry Gilliam late of Monte Python, Williams played a homeless former college professor deranged by the death of his wife in an incident accidentally inspired by a radio DJ played by Jeff Bridges.  To atone, Bridges committed to helping him find an object he describes as the Holy Grail, which will re-unite him with the woman he loves.   Williams was nominated for the Oscar for Best Actor and yet another Golden Globe.
The same year he had an even bigger commercial success as an adult Peter Pan who must return to Neverland in Steven Spielberg's Hook, with Dustin Hoffman as the villainous pirate and Julia Roberts as Tinkerbelle.
Williams became one of the first big name actors to lend his talents to big screen animation character voice over in 1992.  FernGully: The Last Rainforest was the second of the two films made, but the first released.  Williams voiced Batty, a flying mammal who has lost his radar and teamed up with fairies, forest creatures, and a shrunken human hero to save their green utopia from destruction by an evil multinational corporation.  It was a cause Williams cared deeply about.  The film was an unexpected hit from a virtually unknown studio, FAI Films.  It became a widely used recruiting film for the ecology movement, but was attacked and reviled by the right wing and big business groups for "demonizing corporations."
Disney's Aladdin was an even bigger success with Williams as the wise cracking Genii.  As usual, he adlibbed many of his lines and in an unusual process animators then had to do their drawings to his quips.  William had agreed to voice the part for scale - about $75,000 for a principal part - partly out of gratitude for Disney's Touchstone Pictures having been behind Good Morning, Vietnam.  But when he contributed his work, well before the release, he was unsure about the effect of adding his voice to a cartoon on his career.  His contract with Disney called for his work to be uncredited and that his character's image not take up more than 24% of any posters and advertising.  Disney ignored their obligations, hyping Williams's participation.  And in promotion the Genie loomed far larger than any other character, including Aladdin and his princess.  Although Williams was proud of the work, he was furious with Disney for breaking their contractual obligations.  The event set off an ugly public feud and a round of expensive law suits that Williams pursued out of principle.  Genii became a hugely popular character, but Disney could not use Williams for the sequel, promotions, and television programming. Dan Castellaneta, the veteran voiceover talent who had been Fred Flintstone and was currently Homer Simpson, had to be brought in to do the part for those projects.  When former 20th Century Fox production head Joe Roth replaced the ousted Jeffrey Katzenberg, architect of the betrayal, he did some public groveling and issued formal apologies for Disney.  Satisfied, Williams agreed to voice the Genii in the third film in the Aladdin series.
He also agreed to make Jack for Disney division Hollywood Pictures.  Under the direction of Francis Ford Coppola  and featuring an all-star ensemble cast including, Diane Lane, Jennifer Lopez, Fran Drescher, and Bill Cosby, Williams played a boy who ages four times as fast as other children due to a rare genetic condition.  At the age of 10 he looked like a 40 year old.  The boy's struggle to adapt, face the teasing and torment of classmates, and face his ultimate mortality, whipsawed the movie between zany comedy and bleak melodramatics.  Critics hated it.  Audiences were more forgiving, but it was far from a hit.  This experience and studio budget slashing on his Bicentennial Man project, which he believed made the film virtually unwatchable, soured Williams on Disney once again.
But there were far more successful films in the `90's.  Mrs. Doubtfire, directed by Chris Columbus and released in 1993 was Williams's biggest commercial success yet.  He played a children's television director who would not grow up and was divorced by his wife Sally Field and deprived of the custody of his children.  To see them he becomes Mrs. Doubtfire, a grandmotherly nanny to the children.  It was a famous and unusually non-sexual drag performance that won viewers hearts and became an instant family film classic.
In 1995 Williams teamed up again with Spielberg for Jumanji, a film based on a popular children's picture book in which animals from a board game come to life and rampage through a town.  Williams played a boy who was trapped in the game for 40 years and emerges as a middle age man who must help rescue two new children who have fallen under the game's malevolent power.  Noted for its spectacular special effects and a touching back story, the film was a hit.
The following year Williams appeared in The Bird Cage, an American adaptation of the popular French/Italian film La Cage aux Folles, written for the screen by Elaine May and directed by Mike Nichols.  He was paired with Nathan Lane as one of a long-time gay couple who must pretend to be straight for the benefit of their son who wants to marry the daughter of a bigoted United States Senator.  It was an old fashioned farce with a twist and a message.  Following the release of the film, Williams became more involved in gay rights issues and causes.   The ensemble cast, which also included Gene Hackman, Diane Weist, Hank Azara, Clarisa Flockhart, and Christine Baranski, won a Screen Actors Guild Award for Best Cast.
The year 1997 brought another dramatic role, as the gentle psychologist treating a tortured working class mathematical genius who had been toiling as an MIT janitor in Goodwill Hunting, directed by Gus Van Zandt.  The movie ran the table at the Oscars: Best Picture, Best Original Screenplay for Matt Damon and Ben Affleck,  Best Actor for Damon, Best Supporting Actress for Minnie Driver, and at long last a Best Supporting Actor statuette for Williams himself.
Williams followed up with a touching performance in a surreal film in 1998.  In What Dreams May Come he played a man who was killed in an accident and searches the afterlife for his wife.  The film co-starred Cuba Gooding Jr., Annabella Sciorra, and Max Von Sydow.
The same year Williams once again played a real live doctor in Patch Adams, about an intern who treats his patients with humor and a red clown nose.  The movie was panned by critics, but a popular hit.
After playing a denizen of a Jewish ghetto in Nazi occupied Poland in Jacob the Liar and the failure of Bicentennial Man, Williams turned to much darker material for his next roles.  Perhaps he was trying to stretch his acting chops, perhaps he was exorcising some inner demons.
In One Hour Photo Williams played a lonely and repressed clerk at the photo desk of a Wal-Mart like discount store who becomes obsessed with a middle class family whose photo's he had processed for years and begins stalking them.  Later the same year he played a homicidal maniac in a small Alaska fishing village being pursued through a gray fog by a big city detective suffering from insomnia over guilt for accidentally shooting and killing his partner and getting away with an unexpected alibi.  The cop was played by a doleful Al Pacino and both deaths were being investigated by the local small town cop played by Hillary Swank.  Insomnia was a tense, but grim thriller.
In between those two 2002 films there was the excruciating Death to Smoochy, a film by Danny DiVito in which Williams played a fired and disgraced former children's show TV host who plots to kill his replacement, the bland and sunny Smoochy the Rhino, played in a purple Barneyesque costume by Edward Norton.
It was while on location in Alaska for "Insomnia," separated from his family in bleak surroundings and burdened by the heavy material, that Williams fell off the wagon and began to drink again.  He struggled with this demon while his marriage slowly disintegrated until he checked himself in to rehab again in 2006, got clean, and went public with admission of his alcoholism.
The national post-9/11 gloom may have contributed to his anguish.  But he tried to deal with that head-on by beginning years of regular performances for American GI's across the globe.
Williams made a string of underperforming films: dramas, flat out comedies, and black comedies during the decade.  Some of them were underappreciated.  Others seemed like throw always.  The films included the Sci-fi thriller, Final Cut; comedy/drama House of D, in which he played a mentally challenged janitor who befriended a young teenager; The Big White, a dark crime comedy a la Fargo;  Night Listener, in which he played a gay late night radio host in an odd relationship with a teenage fan and his adopted mother; the silly family vacation comedy RV; and Barry Levinson's Man of the Year, in which he played a satirical TV show star who made a faux run for President but was accidentally elected due to a computer error.
If Willams' film career seemed sputtering along, he kept himself in the public eye with regular, zany appearances on the couches of late night TV and in guest shots on series television.  Some of his appearances with David Letterman are among the funniest ever seen.
It took parts in two movie franchises to help Williams get back into top box office territory.  Returning to animation voiceover he portrayed two of the penguins in the mega-hit Happy Feet, which won the Oscar for Best Animated Film.  He reprised the roles in 2011's Happy Feet Two.  In A Night at the Museum and its sequels, including one now in post production for release later this year, Williams played an exuberant Teddy Roosevelt as a Rough Rider.
Williams was not yet done playing former presidents.  In last year's Lee Daniels' The Butler he had a small but effective cameo as President Dwight Eisenhower dealing with the Little Rock High School desegregation crisis.
On October 11, 2010, Williams married for the third time to graphic designer Susan Schneider.  The couple took up residence in Sea Cliff, a posh neighborhood in Marin County north of San Francisco far from the hubbub of Hollywood.  The marriage seemed by all accounts a close and happy one.
Williams returned to a regular television series for the first time since Mork and Mindy last fall in CBS TV's highly touted The Crazy Ones.  Williams played the eccentric head of his own Chicago advertising agency.  He was a recovering alcoholic who struggled with sobriety in some of the storylines while trying to maintain a close personal and working relationship with his buttoned-up daughter, played by Sarah Michelle Gellar.  Scheduled opposite NBC's equally hyped vehicle for Sean Hayes, Sean Saves the World, both shows struggled and were canceled at the end of the season.
This spring Williams's agent announced that he was once again checking himself into rehab.  He denied that Williams had gone off the wagon, and said that the treatment was to deal with issues to maintain his sobriety.  We now know those issues included a severe depressive episode in his long-running struggle with bi-polar disorder.
This week he surrendered to that struggle, asphyxiating himself in his home.
As of today his family and friends struggle with their grief.  Funeral and internment plans are pending.
[Patrick Murfin is a historian and poet based in the Chicago area. His works include We Build Temples in the Heart and The I.W.W.: Its First Seventy Years, 1905-1975, coauthored with Fred Thompson. Murfin is a prolific blogger (Herectic, Rebel, a Thing to Flout), and is active in the Unitarian church and Democratic party.]