https://portside.org/2014-08-19/ship-targeted-protesters-leaves-oakland-la
Portside Date:
Author: Henry K. Lee
Date of source:
SFGate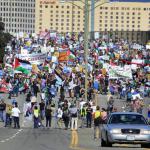 A cargo ship left the Port of Oakland for Los Angeles on Tuesday, days after activists protesting Israel's military actions in Gaza began a waterfront demonstration that blocked the vessel's unloading.
Online ship tracking databases showed the Piraeus leaving the port about 3 p.m., assisted by a pair of tugboats. The destination was listed as Los Angeles.
The ship began maneuvering away from the port hours after Israel's consul general to the Pacific Northwest in San Francisco said it would "eventually leave" if longshore workers continued to refuse to unload it.
The Piraeus, which is managed by Israel's largest shipping firm, doesn't travel to Israel and instead navigates between the United States, the Caribbean and Asia, said Consul General Andy David.
"They chose a symbol, perhaps, and they're trying to portray it as hurting the Israeli government, but they're really causing damage to the people who live here, and to me this is exactly the definition of political terrorism," David said of pro-Palestinian protesters who demonstrated outside the Port of Oakland. "They're trying to achieve a goal, but they don't care about the innocent people hurt along the way."
The protesters, organizing under the motto "Block the Boat," first converged at the International Container Terminal on Saturday, a day before the Piraeus arrived at the port.
Longshore workers responsible for unloading the vessel refused to do so, not because they are taking sides in the fight between Israel and Hamas, but because they would not work "under armed police escort - not with our experience with the police in this community," said Melvin MacKay, president of the International Longshore and Warehouse Union Local 10.
Only when officers "dispersed" at 9 p.m. Monday did longshore workers agree to enter the container terminal, said union spokeswoman Jennifer Sargent. Those who declined to work on the ship were released, she said.
Sargent said the demonstrators were outnumbered 5-1 by Oakland police and Alameda County sheriff's deputies.
Union officials said longshore workers have been concerned about port safety during demonstrations since several people protesting the Iraq war were injured in a 2003 port rally. Oakland police fired nonlethal projectiles, including wood bullets and bean bags, without provocation and without allowing protesters a chance to disperse.
The protests over the Piraeus were peaceful.
The Piraeus is managed by Israel's largest shipping firm, Zim Integrated Shipping Services. David said Zim is 32 percent owned by Israeli shareholders, and that the rest is owned by various international interests, including banks and other shipping companies.
San Francisco Chronicle staff writer Kurtis Alexander contributed to this report.
Henry K. Lee is a San Francisco Chronicle staff writer. E-mail: hlee@sfchronicle.com Twitter: @henryklee