https://portside.org/2014-08-28/ralph-fasanella-lest-we-forget
Portside Date:
Author: Stephen May
Date of source:
Antiques and the Arts Weekly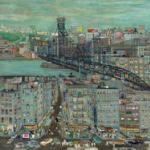 NEW YORK CITY — It is always exciting when an underappreciated self-taught artist with talent and important messages to convey comes to light. That is emphatically the case with the oeuvre of Ralph Fasanella (1914–1997), who chronicled the struggles of America's working people, as well as his patriotic ideals for society as reflected in complex issues of post-World War II America.
Fortuitously, "Ralph Fasanella: Lest We Forget," organized in honor of the artist's centenary by Leslie Umberger, curator of folk and self-taught art at Smithsonian American Art Museum, is on view at American Folk Art Museum (AFAM) through November 30. It comprises 17 of Fasanella's most significant, large paintings, along with a selection of relevant drawings, sketches, photographs and other archival material. Relatively well known to members of the labor movement, this will be the first exposure for many people to this special artist, one of the great American self-trained painters of the Twentieth Century.
"Ralph Fasanella was a consummate New Yorker and self-taught artist who represented the very best of American ideals," says Dr Anne-Imelda Radice, executive director of AFAM. "He cared about people who did not have a voice, so he gave them a voice through his paintings."
The son of Italian immigrants, Fasanella was born in the Bronx and grew up in working-class neighborhoods of Manhattan's Lower East Side, notably on Sullivan Street. A rambunctious child who avoided school when possible, he was picked up for persistent truancy and sent to a reform school in the Bronx run with prisonlike harshness by the Catholic Diocese of New York. During his time there, Fasanella "chafed against the strict discipline and developed a lasting mistrust for organized religion, as well as a lifelong resentment of authority," says Umberger. Years later, he painted poignant scenes of a baseball game and a regimented lineup of inmates within the walls of the New York Catholic Protectory.
When he emerged in his late teens, he had a firm understanding of right and wrong, much of it inculcated by his mother, a progressive thinker and social activist. She raised her son to believe in the rights of common folk and the view that Americans should constantly strive for a better society.
Fasanella's heartfelt homage to his mother, "Family Supper," clearly draws on Leonardo da Vinci's "The Last Supper." It shows his large family gathered around a table headed by the matriarch, tired from a day's work at a garment factory and burdened with keeping house for her large brood.
Beginning around the age of 8, Fasanella helped his father with the arduous task of delivering ice in pre-refrigerator days. This experience, which exposed him to a back-breaking, demanding line of work, profoundly influenced Fasanella's beliefs — and his art. In "Iceman Crucified #4," he associated his father with Christ on a cross, suggesting the hardships and sacrifices of the working class. The painting drives home his message by inserting the phrase "Lest We Forget."
Fasanella viewed the Depression as a calamity "caused by greed and perpetuated by the indifference of government and the wealthy toward the working class," observes Umberger. "Like millions of Americans, he was receptive to the exhortations of activists who sought to fight, rather than endure, the economic realities of the day." Fasanella was particularly attracted by the arguments of communist party organizers on behalf of the working class, and in the early 1930s he joined the Young Communist League.
He demonstrated his ideals at the age of 23 when he joined the Abraham Lincoln Brigade and fought against fascism in the Spanish Civil War. Returning to New York, he worked as a union organizer, truck driver and, finally, as an attendant — later owner — of a gas station in the Bronx.
Seeking therapy for painful sensations in his hands in the early 1940s, Fasanella began sketching, which he found came naturally and captivated him. From the start, as he learned the rudiments of painting, he regarded art as an extension of his activism — a way in which "paint could talk." Fasanella's paintings, observes curator Umberger, "were not meant to be rarified works of fine art, but rather a practical means of conveying messages about right and wrong, raising consciousness and inspiring solidarity among his working-class peers."
Completely self-trained, Fasanella found inspiration in such diverse sources as Greek sculpture, the work of British visionary artist William Blake (1757–1827) and photographers like Walker Evans, Lewis Hine and Helen Leavitt, who conveyed powerful commentary on social issues in their photos.
By the late 1940s, his large-scale depictions of New York City street life, political rallies, factories, union halls, bustling tenement buildings, kids playing in the street, riders on the subway and historic strikes were exhibited alongside such important Social Realist painters as Philip Evergood and Ben Shahn. In 1950, he married Eva Lazorek, a schoolteacher, who became a vital supporter of his artistic career.
In an eye-popping tour de force in which he sought to capture the pulse of his hometown, Fasanella created an expansive, detailed urban panorama, "New York City," measuring 50 by 110 inches. The image carries viewers' eyes across the 59th Street Bridge to Manhattan, and then Queens and Long Island. In the foreground, nostalgic vignettes recall areas where the artist had lived. Fasanella authority Paul D'Ambrosio calls it "one of the most visually arresting images of New York City in the history of American art."
In the 1950 and 1960s, Fasanella developed protest paintings relating to major current controversies, notably US Senator Joseph McCarthy's reckless witch-hunt for communists in government and the conviction and execution in 1953 of alleged atomic spies Julius and Ethel Rosenberg. "His goal," posits Umberger, "was not to make martyrs out of the Rosenbergs, but rather to illuminate the injustice of their death."
Fasanella's alarm over the newspaper frenzy about McCarthy and the Rosenbergs is reflected in "McCarthy Press" in which he placed within a giant A for "atom bomb" headlines reflecting outsized newspaper fixation with "Reds" and other alleged subversives. At the bottom, two eyes peer out from a wall at a construction site, a reminder of the widespread surveillance of the McCarthy era. The right side is devoted to symbols of American government and suggestions of the virtues of democracy and freedom.
Firmly convinced of the innocence of the Rosenbergs, a cause celebre of the left, Fasanella created several other powerful, symbol-filled paintings. "The Rosenbergs — Grey Day" features the convicted couple holding hands and seated on a kind of a throne under an enormous "A" and much smaller figures at the bottom of the painting, seated on electric chairs at opposite ends of death row cells populated by others awaiting execution. Interpreting the painting, the artist said, "I put the power structure, coming out of a courtroom, shaking hands with each other. To the left are workers in a factory, laboring to keep the nation moving."
The assassination of President John F. Kennedy in 1963 alarmed Fasanella and led to an enormous work, "American Tragedy," which suggested that JFK was the victim of a right-wing conspiracy.
"In the mid-1960s, responding to the needs of his growing family, Fasanella moved to Ardsley, a suburb of New York, displacing him from full-time exposure to the urban sources of his imagery. Among other things, he fretted about the growing gulf between the era's youthful counterculture movement, which he found arrogant and narcissistic, and those like himself who had shared the hardships of the Depression and World War II. Fasanella resented that many in the elitist art world had categorized him as "primitive and stupid." He was convinced that art did not have to be aloof or conceptual, that it was a tool to be wielded like a hammer.
Fasanella's big breakthrough came in 1972 when New York magazine put him on its cover surrounded by several large paintings, with the caption "This man pumps gas in the Bronx for a living. He may also be the best primitive painter since Grandma Moses." After 25 years showing his work in union halls, churches and other small venues, the artist started to have exhibitions in larger venues. This "resulted in a period of fantastic success; the transformation from obscurity to celebrity was instantaneous," observes Umberger.
Around this time Fasanella was able to sell his service station and devote full time to painting. Seeking to highlight a significant event in labor union history, he spent three years in Lawrence, Mass., researching, sketching and interviewing survivors of the epic Bread and Roses strike of 1912. In that two-month struggle, 20,000 immigrant workers challenged textile mill owners over fair pay and improved working conditions. In the end, in spite of bloody confrontations with Pinkerton agents, the union won the day. It was the first successful industrial strike in American history.
Themes of organized resistance and martyrdom permeate the 18 major canvases Fasanella completed on the subject. These paintings brought Fasanella lasting recognition. "Toward the end," says the artist's son Marc, an eloquent advocate of his father's work, "he made a good living."
Early on Fasanella realized that art images could be as powerful a means of conveying ideals and promoting working-class solidarity as books, photographs, speeches and songs. He dedicated himself for the rest of his life to creating narrative views advocating social justice for working people, and then sought to place them in union halls and meeting rooms to serve as incentives for unity and activism.
He worked with labor organizer Ron Carver to increase public exposure of his work through the Public Domain project, a grassroots effort begun in 1986 to acquire Fasanella works from private collections and donate them to museums, unions, institutions and public buildings. Raising more than $1 million in various ways, Carver — a passionate advocate — has distributed more than 20 Fasanellas to appropriate organizations, including Ellis Island Immigration Museum, a New York subway station and the University of Southern Maine. "I didn't paint my paintings to hang in some rich guy's living room," the artist said. Marc Fasanella continues to be an articulate champion of his father's legacy.
Toward the end, Fasanella's declining health made it difficult to paint; he returned to such familiar subjects as city neighborhoods, sandlot and major league baseball and labor strikes. He died in 1977, aged 63. Today, his works occasionally come on the market. Ralph Fasanella deserves recognition as one of America's most important self-taught artists of the Twentieth Century. His unique and lasting legacy is a body of work that honors the working class and encourages social activism to build a better society. Fasanella's oeuvre demands we pay attention, "Lest We Forget." He put it best in the epitaph on his grave:
"Lest we forget
Remember Who You Are
Remember Where You Came From
Don't Forget the Past
Change the World
Artist of the People"
Ralph Fasanella (1914–1977)