https://portside.org/2014-12-05/endless-wait-clean-bhopal
Portside Date:
Author: Nikita Mehta
Date of source:
LiveMint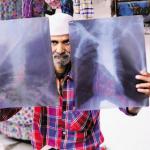 Thirty years on from the Union Carbide gas leak tragedy, Bhopal is a city defined—and divided—by the disaster.
On the basis of the deaths that took place between 3-6 December 1984 from the leak of methyl isocyanate (MIC) gas from the pesticide making factory of Union Carbide India Ltd (UCIL), the state government divided the capital city into two.
A total of 62.6% of the population of Bhopal was affected, while the rest was unaffected.
Authorities labelled 36 wards gas-affected and 20 wards gas unaffected. Even today, the contrasts between these areas are clear. In one stands a beautiful modern city dotted with lakes, restaurants overlooking the lakes, heritage sites converted into hotels, and shiny glass-fronted buildings housing private colleges. The other is home to shanty towns where the deaths took place. They surround the now-dilapidated factory. It is in these towns that the legacy of the 30-year-old gas disaster lives on.
Every child here can narrate the details of what took place on the intervening night of 2-3 December 1984. The government claims 5,295 deaths, 4,902 cases of permanent disability and 42 cases of severe injury. Unofficial estimates put the death toll at more than 22,000.
Nearly every household here has people suffering from inexplicable diseases and medical complications. In one town you can find two 30-year-olds, named Zeher (poison) Lal and Gas Devi. All these years later, only snail-like steps have been taken to resolve the issues related to environmental degradation and toxicity in the factory.
Around midnight on the intervening night of 2-3 December 1984, at the firm's sevin manufacturing plant, water entered a tank containing 42 tonnes of MIC gas, causing a chemical reaction that raised the temperature and pressure inside the tank. This resulted in about 40 tonnes of MIC and many other toxic gases escaping the tank and entering the atmosphere of Bhopal, with the wind blowing the gases further towards southeastern Bhopal.
The factory was closed that December, leaving toxic waste that had collected over the years lying in the 67-acre area, contaminating the groundwater supplying drinking water to most of these shanty towns.
The Bhopal plant was owned and operated by UCIL, an Indian company in which Union Carbide Corp. (UCC) held a little over half the stock, while other stockholders included Indian financial institutions and thousands of private investors in India. In 1994, UCC sold its entire stake in UCIL to McLeod Russel India Ltd of Calcutta, a tea planter, which renamed it Eveready Industries India Ltd. As a result of the sale of its shares in UCIL, UCC retained no interest in the Bhopal site.
As the government closed off the site from all operations following the gas release, UCIL was only able to undertake clean-up work till 1994. However, in 1998, the Madhya Pradesh government, which owned and had been leasing the property to Eveready—and still owns the property today—cancelled its lease, took over the facility and assumed all responsibility for the site, including the completion of any additional remediation work.
At this point, the clean-up efforts took a backseat, and that was the second tragedy of Bhopal, an official at the Madhya Pradesh Pollution Control Board (MPPCB) said on condition of anonymity.
Contrary to popular notion, the contamination of the water and soil within and outside the factory did not take place solely because of the 1984 disaster. Between 1977 and 1984, UCIL Bhopal was licensed by the Madhya Pradesh government to manufacture phosgene, monomethylamine (MMA), MIC and the pesticide carbaryl (also known as Sevin). MIC was manufactured primarily to make Sevin as well as smaller quantities of aldicarb (Temik) and butylphenyl methylcarbamate.
The contamination was the result of years of indiscriminate dumping of waste by UCIL on the site.
According to P.K Shrivastava, senior scientist, MPPCB, there are three main environmental issues facing Bhopal today that spring from the disaster: what to do with 350 tonnes of toxic chemicals dumped in the factory in bags; how to supply clean potable water to 18 settlements surrounding the factory; and how and when the dilapidated factory will be dismantled.
The issue of the disposal of 350 tonnes of chemicals is no closer to resolution today than it was in 2005. After years of deliberations, the waste that was excavated, packed and kept at the factory in 2005 by Ramky Enviro Engineers Ltd, an environmental services company, is yet to be incinerated. Since 2005, three places have been considered for incineration—Ankleshwar in Gujarat, Nagpur in Maharashtra and Pithampur in Madhya Pradesh. In 2012, a proposal was made for burning the waste at the GIZ facility, an enterprise owned by the German government, but this was later withdrawn.
"The move keeps getting delayed because of protests of people at these (proposed) sites. It is a very delicate matter. The relief department's job is to make the arrangements for incineration and then a report is to be submitted to the Supreme Court," said Babulal Gaur, Madhya Pradesh's home minister and former minister for Bhopal gas tragedy relief and rehabilitation. "But otherwise there is no pollution anywhere around the site or in the groundwater. Trees and animals are thriving and people are also living healthily."
In 2012, the Supreme Court said that it was indisputable that a huge amount of toxic waste was still lying in the factory and that its very existence was hazardous to health. It directed the central and Madhya Pradesh governments to take immediate steps for the disposal of this toxic waste in a scientific manner.
"Supreme Court directed the ministry of environment and forests to conduct trials through the Central Pollution Control Board. After the trial run, results were to be submitted. Supreme Court ordered government of India to take necessary measures to carry out a trial run of 10 mt (metric tonnes) in an incinerator," said Shrivastava. "They have to make sure that emissions do not have harmful dioxin. Such gases should be contained in the incinerator. They have to submit a plan to SC regarding packaging of waste, transporting, monitoring of pollutants."
The bigger challenge, according to experts from Centre for Science and Environment (CSE) and charitable organization Sambhavna Trust, is what to do with the waste that is lying in the premises of, and in 17 settlements near, the factory.
A 2013 report by Indian Institute of Chemical Technology found that most of the water samples from outside the UCIL premises and all the samples from the five borewells in the UCIL showed toxic lead levels that were above permissible limits for drinking water. The level of isomers of hexachlorocyclohexane, which have differing modes of toxicity, was found to be higher than the permissible limits outside UCIL premises in some of the groundwater samples.
While the water available in surrounding colonies was suitable for gardening and cleaning, it was not fit to drink. For years, residents in these colonies were using groundwater drawn by handpumps and wells as drinking water. It was only a year ago that handpumps were stopped to make way for piped water now supplied from Kolar dam on Narmada River. But residents say that the red-coloured water coming from tubewells is still used when water does not come in the pipes. In some cases, the damage may already have been done.
"My whole body feels defective. There is always some problem or the other. I keep going to the doctor with breathing problems and cysts," said Mohammad Khalid, a resident of New Arif Nagar, showing his X-rays and medical prescriptions from Kamla Nagar Hospital. He has lost three children over the years to "gas-related" problems, and a surviving daughter claims to suffer from lung problems.
Most of the residents in New Arif Nagar have yellow medical cards given to Bhopal gas victims.
"Decontamination of the groundwater in this area is the most humongous task, and the more it is delayed, the more it will increase," said Chandra Bhushan from CSE, which has studied the contamination in the area.
As a first step—based on the mortality data—Indian Council of Medical Research (ICMR) categorized the entire affected population into severely affected (32,476); moderately affected (71,917); and mildly affected (416,869). ICMR set up more than 24 research projects on the epidemiological and clinical aspects of the diseases caused by inhalation of the toxic gas. According to an ICMR technical report on the population-based long-term clinical studies carried out between 1985 and 1994, people from the affected areas suffer from several ailments .
The report, reviewed by Mint, shows higher incidence of abortions, perinatal and neonatal mortality in the affected areas; and impaired pulmonary and respiratory functions in children aged between 6-15 years. It was also estimated that approximately half the population in affected areas had mental health problems. There was also a higher incidence of cancer and damage to sight. However, in many ailments such as cancer, the connection with the gas leak could not be established.
By 1990, sixteen of the studies had been closed, and by 1994 all the studies had come to an end. Some say they were abandoned.
"These moves were politically motivated. There were some studies which were stopped because they gave objective data that showed how the gas caused systemic poisoning and would fix responsibility on Carbide (the company), beyond just lungs and eyes being damaged," said Satinath Sarangi whose Bhopal Group for Information and Action runs a small allopathic dispensary and an ayurvedic clinic, Sambhavna Trust, for those exposed to MIC released from the factory. "We still have letters from principal investigators of some studies begging to let them continue research," he added.
There are not many studies on the health impact on the third and fourth generation of people born in these areas. A literature review by scientists from ICMR, Chirayu Medical College, Bhopal, and department of medical education, Bhopal, published in 2013 did show that symptomatic sicknesses were significantly higher in people living close to solar evaporation ponds. But there was no evidence to suggest that toxicants had reached either groundwater or the food chain in toxic doses.
But activists point to other evidence.
"In contaminated areas, we still get a lot of babies with birth defects. In our clinic we see many cases of brain damage, learning disabilities, behavioural disabilities, extremely painful menstruation in third generation girls, too many women with polycystic ovarian disease. Because there is no system, and people don't get expensive diagnosis done, it is underreported," says Sarangi.
"If ICMR had continued the studies, we would today know who the victims are, apart from the people who had died. It makes it impossible to settle the claims of people who died subsequently because of effects of the gas," says Sunita Narain, director-general of CSE. "The administration has to be more responsive because there are still many slow Bhopals happening and mini Bhopals waiting to happen."