https://portside.org/2015-06-30/review-what-happened-miss-simone-documents-nina-simones-rise-singer-and-activist
Portside Date:
Author: Manohla Dargis
Date of source:
New York Times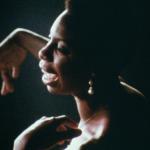 Partway through "What Happened, Miss Simone?," an often electric, bracingly urgent documentary on the singer-musician Nina Simone, we reach that catastrophic year 1968, and the assassination of the Rev. Dr. Martin Luther King Jr. On screen, photographs of other murdered black men flicker past — Malcolm X, the civil rights activist Medgar Evers and the Black Panther Fred Hampton — followed by a photo of a young black mourner holding a sign that reads: "You better kill all blacks." I can't be the only American who will despair at the relevance of those words in 2015.
History changes our relationship with art, and when "What Happened, Miss Simone?" played at the Sundance Film Festival in January, it came across as a good, smart movie; now, in June — after nine black churchgoers were murdered by a suspect who claims to be a white supremacist — it feels like something altogether different. Simone started singing and playing piano in a New Jersey bar in 1954, the year of Brown v. Board of Education. By the time she had a hit in 1959, with the standard "I Loves You Porgy," Emmett Till was dead, Rosa Parks had refused to give up her seat, and federal troops were protecting black students in Little Rock, Ark. A decade later, Simone's songbook included "Four Women" (with the lyric "my skin is black") and "To Be Young, Gifted and Black."Directed by Liz Garbus, "What Happened, Miss Simone?" begins in 1976, with Simone performing at the Montreux Jazz Festival in Switzerland. (The movie opens in theaters on Wednesday and will be available to stream on Netflix on Friday.) She had moved to Liberia two years earlier, a willing exile from the United States. "The America I'd dreamed of through the '60s seemed like a bad joke," she wrote in her 1991 memoir, "with Nixon in the White House and the black revolution replaced by disco." Her memoir, "I Put a Spell on You" (written with Stephen Cleary), is part of a small if growing body of Simone studies that has swelled in recent years and includes assorted published histories and "Nina," an unreleased biographical movie starring Zoe Saldana as the singer.
The biopic will face a tough reception, partly because of the controversy over the casting of Ms. Saldana, whose skin was darkened for the role. If that doesn't give you pause, then consider the words of Simone's daughter, Lisa Simone Kelly, who in "What Happened" says that while her mother rarely talked about how race affected her childhood, she was told that "her nose was too big, her lips were too full, and her skin too dark." For Simone and the country she lived in and left, the country that made her famous when she played one role and rejected her when she played another, appearances were never just skin deep; they cut to the bone of her existence, much like her voice.
That voice, purring or in full roar, anchors "What Happened," which traces Simone's life from her early childhood as a piano prodigy named Eunice Waymon to her troubled years — mentally, physically, spiritually — and finally her later return to glory. Ms.Garbus draws heavily on Simone's personal history — family photos, diary entries — which she pieces together with generic archival images, news reports, concert footage, talking-head interviews and some needless dramatizations of a girl walking or at the piano. The clips of the real Simone singing and playing are flat-out wonderful. These span the entertainment gamut and include a somewhat surreal scene of her singing "I Loves You Porgy" on Hugh Hefner's early-1960s television show, "Playboy's Penthouse," to a room filled with mostly white people in evening dress.
Nina Simone in a scene from "What Happened, Miss Simone?," which draws heavily on her personal history.- Al Wertheimer
As her fame grew, so did her social circle and civil rights activism. Her metamorphosis culturally and politically features a glittering cast of figures — James Baldwin, Langston Hughes, Lorraine Hansberry, among others — and makes for thrilling viewing. There's a short clip of her singing "Mississippi Goddam" to Selma marchers in 1965; I'm pretty sure that's Coretta Scott King watching in the lower right corner of the frame. For Simone, these were profound, life- and soul-changing times. "I don't mind going without food or sleep as long as I am doing something worthwhile to me such as this," she wrote in her diary. These entries can be eye-opening, yet they also can feel too intrusive, particularly as she struggles with what may have been bipolar disorder.
Like a lot of documentarians, Ms. Garbus lets her choices speak for her, and she occasionally errs, both in some of her sight-and-sound juxtapositions and by folding in too much of Simone's ex-husband, Andrew Stroud, who tends to run down his wife and her politics. Ms. Garbus also stumbles when she combines images of Black Panther members with Mr. Stroud grousing about Simone and what he calls, unchallenged, "extreme militant terrorists." What's missing are dialectics. Because when you see Simone read an unidentified poem at a 1969 festival in Harlem that asks, "Are you ready to kill, if necessary?," she didn't do so as a solitary black woman. She was reading a work by David Nelson, a member of a radical group of artists, and she was speaking for many. I imagine she still is.
The film opened in New York on June 25th. Directed by Liz Garbus; directors of photography, Igor Martinovic and Rachel Morrison; edited by Joshua L. Pearson; produced by Amy Hobby, Ms. Garbus, Justin Wilkes and Jayson Jackson; released by Netflix. Running time: 1 hour 41 minutes. This film is not rated.
[Manohla Dargis is the co-chief film critic for The Times, where she started in 2004. She has also written for The Los Angeles Times, where she was a chief film critic, and for the LA Weekly, where she was both a film critic and the film editor. She lives in Los Angeles.]