https://portside.org/2015-09-24/tidbits-september-24-2015-refugee-crisis-solidarity-jeremy-corbyn-bernie-sanders-woman
Author:
Date of source:
Portside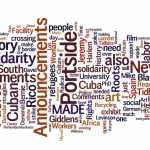 Re: Refugee Crisis Demands Solidarity and Workers' Rights for All
In order to sustain the tremendous humanitarian solidarity the public has shown recently towards refugees we need to connect it with solidarity in the workplace, and union campaigns to establish a floor level of rights and decent jobs for everyone.
Ken Luckhardt
Posted on Portside's Facebook page
Re: Behind the German Chancellor's Quick Reversal on Refugees
Good article on what's necessary to help resolve the situation.
Mike Glick
Posted on Portside's Facebook page
     ====
Grossman has jumped the gun here, in fact the German-Austrian border is not closed.  Controls have been put in place at some major crossing points and rail traffic has been disrupted, but even where there are controls refugees are being allowed through in small groups (50 at a time). There was a large backlog at the Salzburg-Freilassing crossing for a couple of days, but the refugees were all let through and by yesterday morning the few refugees I saw crossing on foot were let through immediately.  When I returned to Austria in the afternoon at another  crossing a few miles away there were no controls at all in either direction, the border was completely open there. This alleged "closing" of the border was just for show to mollify the CSU in Bavaria and to signal to the millions of Syrian refugees in the Turkish, Lebanese and Jordanian camps that starting out for Germany isn't a good idea.
Stan Nadel
Salzburg Austria
 
Re: The Radical Roots of the Great Grape Strike
An excellent history lesson.
Nick Jones
UFW 1966 to 1976
     ====
A little known history. Worth the read.
James Lauderdale
Posted on Portside's Facebook page
     ====
David wrote a good piece here. There has been a movement to get Itilong and Vera Cruz's name on schools here in the Bay Area as they were the force that started the strike
Earl Marty Price
Posted on Portside's Facebook page
     ====
Time the history books got updated.
James H. Williams
Posted on Portside's Facebook page
Re: 5 Vital Lessons from American Labor's Rise and Fall
I thought this was kind of a silly article, but also pretty ignorant of the history of the left and the labor movement.  Reducing the cold war in labor to a question of language and Walt Disney trivializes a huge, decades-long conflict that involved the purging of the left, blacklists, firings and support for some of the worst parts of U.S. foreign policy.  And the, the reason there was class  conflict a hundred years ago is because the immigrants who came were farmers and artisans?  Historically untrue, since most were workers.But it also ignores what those immigrants (not just from Europe) did bring with them - the revolutionary ideas of 1848 and the Paris Commune, and the whole Communist, socialist and anarchist traditions in our labor movement and working class.
David Bacon
Re: Where Is Our Jeremy Corbyn?
We have that person.  His name is Bernie Sanders!
Claire Carsman
Re: Woman Held in Mental Health Facility Because Police Didn't Believe BMW Was Hers
unbelievable!!
Jonathan Rivin
Posted on Portside's Facebook page
     ====
Why would you post this piece without comment?
I work in a public hospital like Harlem hospital. I am a psychologist. I am also a media watchdog. I have no idea what is true in this case. This is only one side of the story. We are not getting the whole story from this lady. This story is really hard to believe.
Excellent journalists gives you both sides of an argument. This is one sided and is tabloid journalism at best. It is harmful. It creates distrust of people of their community hospital, just to sell a story.
Harlem Hospital treats all people - especially New Yorkers who are African Americans. Their staff is not going to dispute that a black woman is a banker or that she owns a BMW. That is all you hear from the lady and her attorney in the story.
She say she was upset. That is a feeling. She does not describe her physical behavior. I wonder what it was.
The cops do not put people in an inpatient unit. Only the doctors do. Her first stop would be the Emergency Department. This lady would be examined by a psychiatrist and seen by an RN.  Are they idiots? Are they racist at
Harlem hospital against black females?
Do you buy her story?  You need to imagine what they saw. Yes, doctors can make mistakes.
An eight day stay? There is so much pressure to discharge patients rapidly it is hard to imagine. The inpatient doctor is not in cahoots with the ER doctor nor with the cops. Why did a separate staff keep her locked on the unit for 8 days. what dis they observe?
Because of the federal HIPAA regulations Harlem Hospital cannot make any comments about her medical treatment. Sadly, they cannot tell their side of the story.
Her lawyer says they "branded" her with the term bipolar. Please. They did not brand her. They simply made a diagnosis based on what they observed and heard. That is my guess.
Of course I could be totally wrong.
Let's see if we will ever find out.  I would love to read the chart notes.
Leonard Davidman, PhD
Psychologist
President Local 1189,
DC37 New York City Psychologists Union
     ====
Amazing! Thom Hartman talked about this on his show the other day
Howie Leveton
Posted on Portside's Facebook page
     ====
Um....licence and registration should have prevented this...what happened to that?
Karyne Dunbar
Posted on Portside's Facebook page
     ====
The NYPD will, and should be sued for this action.  When will they learn?  Only when they lose "a lot of money". Money rules.
Thomas Brown
     ====
you've GOT TO BE KIDDING!!!!!!!!!!! We can't take it any more you guys out there, plueeeeeze we gotta stop this total insane attack on the people of this country!!!!
Susanna Heller
Posted on Portside's Facebook page
     ====
this sounds awful if true but also incomplete and bordering on fiction...and this paper prints as much crap as the ny post..how was this story missed in new york?  it had to break in a british paper? are you serious? this is worthy of fox tv.
Frank Scott
Re: #Blacksexworkerslivesmatter: White-Washed `Anti-Slavery' and the Appropriation of Black Suffering
I wrote before on this. Criminalization of prostitutes means that they are much less likely to talk to police about violent psychos they encounter fearing arrest. Legal brothels make sense; think about it. And then, remember, the whiners complaining aren't usually out there helping on the street; they're just working the issue to further their careers. What's needed? Drop in centers for support and clinics for healthcare. What's not needed; psycho puritans forcing their repressions on everyone else. I lost Esther the other day; a psycho from a date stalked her and ran her down on her bicycle. Some say, we aren't to blame, but by denying her what she needed to survive safely in a room, we are all responsible for her death. She was homeless; no bus SVC. no money.
Lyle Courstal
Re: Meet Rhiannon Giddens, A Singer Revitalizing Old-Time's Black Roots
Echoes of Paul Robeson's version...
Mike Munk
     ====
Click on the links and watch her sing!!! Wonderful!!!
Ellen Broms
Posted on Portside's Facebook page
 
Re: It's Time to Break With Saudi Arabia's `Kingdom of Horrors'
We need a world for the 21st century, not the dark ages --of course Islam enlightened Europe's dark ages
Tillyruth Teixeira
Posted on Portside's Facebook page
Greece, Spain & Puerto Rico: Current Struggles, Building Solidarity - New York - Sept. 28
Camaradas El Barrio 2241 First Ave, New York, New York 10029
Monday, September 28 at 6:00pm
Greece, Spain and Puerto Rico have dominated the headlines in recent months with respect to their financial meltdowns and the many movements that have arisen to beat back repressive austerity measures.
On this special evening, we will have an informal conversation with Greek, Puerto Rican and Spanish leaders who will share their impressions and analysis of their current struggles, discuss and debate the similarities that
may exist, and share some ideas on building a broader movement for social and economic justice.
A $5 donation will help defray the some of the expenses incurred by Prof. Bernabe. Though no one will be turned away.
The speakers will be:
Rafael Bernabe: Puerto Rican Professor, Author and candidate for Governor. Bernabe sees his participation in the Working People's Party of Puerto Rico as a logical and consistent continuation of the social commitment that he has shown throughout the years. Without a doubt, he feels that there is certainly a possibility of facilitating the implementation of the three principles he has long defended: democracy, solidarity and sustainability. That's why he struggles to rescue the hope for Puerto Rico.
 
Despina Lalaki is an activist and sociologist currently teaching at CUNY- City College of Technology. She holds a PhD from New School University in Historical Sociology and she has also studied at SUNY-Binghamton University (M.A.) and the National and Kapodistrian University of Athens-Greece (B.A.). Her articles have been published in scholarly journals and newspapers while she often contributes commentary to radio programs and social media on current developments in Greece. Despina is also a founding member of AKNY-Greece Solidarity Movement, www.akny.org an independent political organization, established in 2012, that works to build a grassroots movement in support of the struggles of people in Greece against neoliberalism, authoritarianism and racism.
 
Vicente Rubio-Pueyo - Activist and Scholar. Teaches at Fordham University. He collaborates with activist/academic organizations such as the Left Forum and the Global Platform on Protest and Participation. Has been active in building connections and mutual understanding between US and Spanish social and political movements: Occupy Wall Street, 15M, Podemos.

#RememberMarikana - New York film showing - October 16
Film Screening and Discussion with South African film maker and activist Rehad Desai.   Learn about the struggle for Workers' Democracy in South Africa
This documentary follows the August 2012 wildcat strike in one of South Africa's biggest platinum mines for better wages. The police killed 34 striking miners and injured many more.  Following the film, Rehad Desai will talk about the current struggle of workers in South Africa and the need for international solidarity.
October 16  at 6:00pm
UAW Region 9A - NYC 256 W 38th St, New York, New York 10018
12th Floor
Go to Facebook -- https://www.facebook.com/Miners-Shot-Down-436695929781206/timeline/
Or call: (212) 529-2580 uawreg9a@uaw.net
 
MADE IN CUBA!/HECHO EN CUBA!: Recycling Memory and Culture - Los Angeles art exhibit opens October 17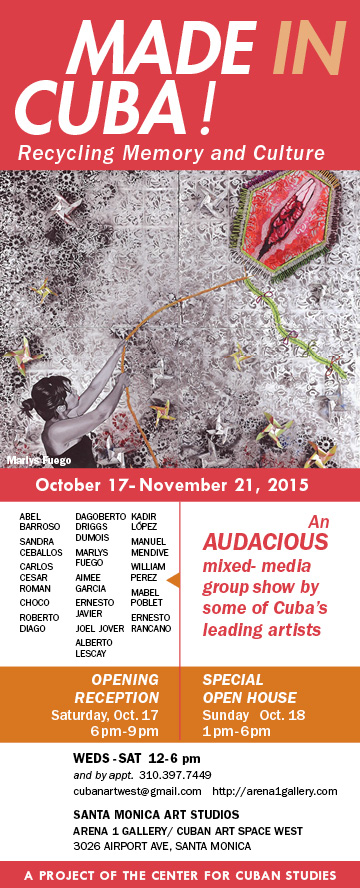 EXHIBITION DATES:  October 17 - November 21, 2015, Wed-Sat Noon-6 PM and by appt.
OPENING RECEPTIONS:    Saturday, October 17th, 6 to 9 pm & Sunday, October 18th Noon to 6 pm
On October 17, 2015 Arena 1 Gallery at the Santa Monica airport opens MADE IN CUBA!/HECHO EN CUBA! Recycling Memory and Culture, an audacious pop-up show of more than seventy mixed media works by some of Cuba's leading artists.
Often incorporating recycled and found materials, these artists' aesthetic is summed up by internationally renowned Cuban artist Roberto Diago, who commented that "During the economic crisis, we didn't have the materials you need to paint like we were taught in school, so we adapted our art to what we could find." Diago and other artists discovered that this experience in the `90s changed their art for the better, by broadening their artistic vision. They began using not only new "found" materials, but also new concepts.
According to curator Sandra Levinson, the generation of Cuban artists, presented in MADE IN CUBA!, "is the most educated, most worldly, and probably most recognized ever. In Cuba, they are superstars."
Levinson is director of the Center for Cuban Studies' Cuban Art Space in New York. The Center, which opened its gallery in 1999, was the first to exhibit and sell post-revolutionary art exclusively. At Levinson's initiative, a
successful suit was brought against the US Treasury Department in 1991 which made it legal to import and sell original Cuban art despite the US trade embargo. She has traveled to Cuba more than 300 times, building strong relationships with talented artists in all fields. This is a key reason MADE IN CUBA! is the largest and most wide-ranging exhibit of Cuban art ever presented in Southern California. Levinson, along with artist Kadir L¢pez, who will be coming from Cuba for the opening, are available for interviews and media appearances.
Special guests and appearances by artists and musicians will be confirmed soon. During its 5-week run, MADE IN CUBA! will also feature screenings of Cuban films and book signings. MADE IN CUBA! is the first endeavor of Cuban Art Space West and is made possible through a collaboration with Arena1 Gallery, a project of Santa Monica Art Studios founded by Yossi Govrin and Sherry Frumkin.
For press inquiries, images, and interview/media requests, contact:
Santa Monica Art Studios 310-397-7449 or sherry@santamonicaartstudios.com
For general information contact: Miles Mogulescu at (310) 230-7422/cubanartwest.com, or Sandra Levinson at (212) 242-0559/slevinson@cubanartspace.net