https://portside.org/2015-09-29/clinton-endorsement-divides-teachers-union
Author: ANNIE KARNI
Date of source:
Politico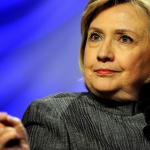 Top brass of the 3 million-strong National Education Association, the country's largest union, are recommending an endorsement of Hillary Clinton, according to an email obtained by POLITICO -- a move that has many state leaders and rank-and-file members planning to protest the early endorsement.
The email, sent from the union's campaign office, states that the NEA PAC, the union's political arm, is planning to hold an upcoming vote "recommending Hillary Clinton for the presidential primary."
"After months of interactions with the three candidates who chose to participate in our process [Clinton, Martin O'Malley and Bernie Sanders], certain things became clear," the email states. "Clinton is the best positioned candidate to win both the Democratic primary and general election. She has unmatched organizational strength, ground game, and fundraising ability to defeat the candidate of the Koch brothers."
The email noted that while Clinton is the candidate the union believes is most likely to win, both Clinton and Sanders received "A" rankings on NEA's congressional legislative scorecard, and O'Malley was voted NEA's Governor of the Year. The email says the union hired a Republican consultant to reached out to Republican candidates, but none chose to participate in the endorsement process.
The email also defends the timing of the early recommendation process as a chance for the union to try and identify a winner early so as to "play a significant role in the next administration's conversation and decision-making about public education." (In 2008, the union did not endorse Barack Obama until after he had wrapped up the nomination.)
But the reaction is following a pattern that has played out in many major unions that have gone through the endorsement process this year -- anger and opposition from rank-and-file members who support Sanders and want their unions to hold off on any endorsement in the primary. Many teachers protested vigorously after the American Federation of Teachers endorsed Clinton in July.
Some NEA members supporting Sanders said they simply do not trust Clinton to fight for their interests -- and plan to fight back against any union endorsement. "Even if she says things that today sound supportive, she's not going to be a steadfast friend of organized labor," said Jamie Rinaldi, a teacher from Newton, Mass., and a union activist. "We don't know she's going to be the ally that's going to stand with our legislative agenda."
Other state leaders have expressed concern that an early endorsement does not allow members to be participants in a real debate around the issues that is still unfolding.
The criticism reflects the dynamic of a Democratic primary where labor is deeply divided between candidates. In this case, the Vermont-NEA has already endorsed Sanders, while the New Hampshire-NEA enthusiastically endorsed Clinton earlier this month. At the PAC Council meeting Thursday, Massachusetts plans to "vote against an early candidate recommendation," according to another email obtained by POLITICO.
When it comes to the national NEA endorsement, however, Sanders' campaign told POLITICO it did not get the same consideration from union officials as Clinton.
"There was recently a phone interview that was arranged for Secretary Clinton with their board of directors," said a Sanders campaign official. "That was never offered to us." An NEA spokesman did not respond to a request for comment about the phone interview.
But the spokesman said that Clinton, Sanders and O'Malley have all met in person with NEA's president. And on July 2, the NEA reached out to the three campaigns to invite them to participate in a tele-town hall with members. They said Sanders never responded. "After multiple attempts, the campaign failed to respond to our efforts to schedule a time and date for this tele-town hall during the back to school period. Sec. Clinton was the only campaign to respond," the spokesman said. Sanders' campaign refuted that claim.
"Our national field director, Phil Fiermonte, had conversations with the NEA's political director, Carrie Pugh, on more than one occasion and discussed possible dates for a tele-town hall with the senator," Sanders spokesman Michael Briggs said. "To say the Sanders' campaign 'failed to respond' is simply not true. In fact, a request by the Sanders campaign to allow the senator the same opportunity as Mrs. Clinton to speak with the NEA's board of directors was denied."
The NEA PAC's recommendation is a big step in the official endorsement process, which ultimately requires a board vote. A board and PAC Council meeting is scheduled for Thursday in Washington, D.C. If the vote occurs and the motion is approved, the NEA board of directors will vote the following day.
NEA members supporting Sanders, however, are already planning a grassroots campaign in opposition to the what they expect will be a Clinton nod.
In a letter to members, five educators from Wisconsin, Vermont, Massachusetts and Montana write: "More than 30,000 NEA members have shown support for Sen. Bernie Sanders to be our next president through his campaign website or various social media sites," and cite Sanders' opposition to charter schools, support for collective bargaining rights and free tuition at public higher education institutions.
"An early endorsement for Clinton would be based only on advocacy by national and state leaders without membership input," the letter states. "Like it or not, this is our time to mobilize against an endorsement next week not to moan about it." Members are being encouraged to write to their state association protesting the early endorsement.
The NEA spokesman said the union "did not commit to or agree to a timeline" for an endorsement and that the process was still ongoing.
A Clinton spokesman declined to comment.