https://portside.org/2015-10-22/vera-b-williams-88-dies-brought-working-class-childrens-books
Author: Margalit Fox
Date of source:
New York Times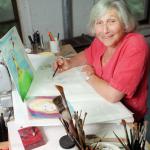 Vera B. Williams, a writer and illustrator for young people whose picture books centered on the lives of working-class families, a highly unusual subject when she began her work in the 1970s, died on Friday at her home in Narrowsburg, N.Y. She was 88.
Her death was announced by her publisher, HarperCollins.
Ms. Williams, who did not start her career until she was in her late 40s, used picture books to express her lifelong interest in social justice issues. Her young protagonists are ethnically diverse, typically urban, often immigrants and rarely well heeled; fathers may be absent.
Her inspiration, Ms. Williams said in interviews, came from her own background as the daughter of an immigrant family struggling to stay afloat in the Depression.
Her texts emphasize the joie de vivre of ordinary activities - flying a kite, making music, eating a meal - especially when carried out amid the comforting confines of a community. Her illustrations, known for bold colors and a style reminiscent of folk art, were praised by reviewers for their great tenderness and crackling vitality.
Her best-known picture book, "A Chair for My Mother" (1982), stars Rosa, a Hispanic girl living in the United States. After the family loses its possessions in a house fire, Rosa saves money to buy her mother a comfortable chair in which she can relax after her shift waiting tables.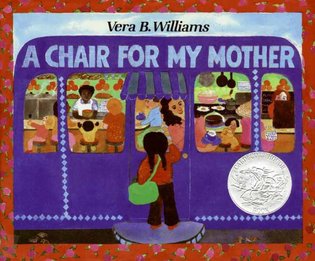 Ms. Williams's "A Chair for My Mother"
For its illustrations, "A Chair for My Mother" was named a Caldecott Honor Book, as the runners-up for the Caldecott Medal, presented annually by the American Library Association, are designated.
Rosa returns in two sequels: "Something Special for Me" (1983), in which she must reconcile the desire to buy herself a present with the wish to help her community, and "Music, Music for Everyone" (1984), in which the present she wound up buying pays unexpected dividends.
The daughter of Albert Baker and the former Rebecca Porringer, Jewish immigrants from Eastern Europe, Vera Baker was born in Los Angeles on Jan. 28, 1927. When she was a child, her father disappeared for a considerable period; as an adult, Ms. Williams surmised that he had been in prison, though she never learned the details.
She recapitulated that experience in a picture book, "Amber Was Brave, Essie Was Smart" (2001), about two resourceful sisters who mark time until their incarcerated father comes home.
During the Depression, the Bakers lost their home; Vera and her sister, Naomi, were sent for about a year to a home for Jewish children. After the girls and their father rejoined the family, they moved to the Bronx.
Ms. Williams graduated from the High School of Music and Art in Manhattan and earned a bachelor's degree in graphic arts from Black Mountain College in North Carolina, where her teachers included the painter Josef Albers.
In the 1970s, after her marriage to a Black Mountain classmate, Paul Williams, ended in divorce, Ms. Williams moved to a houseboat in Vancouver, British Columbia. There she began to illustrate children's books: Her first, "Hooray for Me!," with text by Remy Charlip and Lilian Moore, appeared in 1975.
In addition to her home in Narrowsburg, which lies along the Delaware River in Sullivan County, Ms. Williams had another, in Manhattan. She is survived by two daughters, Sarah Williams and Jennifer Williams; a son, Merce, named for the choreographer Merce Cunningham, who taught at Black Mountain; her sister, Naomi Rosenblum; and five grandchildren.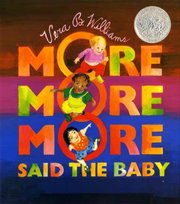 Her picture books brought working-class subjects to the genre.
The other picture books for which she did both text and illustrations include " `More More More' Said the Baby" (1990), also a Caldecott Honor Book; "Cherries and Cherry Pits" (1986); "Lucky Song" (1997); and "Scooter" (1993), a novel for older children.
Ms. Williams also illustrated "Long Walks and Intimate Talks," a volume of poetry and stories by Grace Paley, published in 1991.
Long active in antiwar, antinuclear and environmental causes, Ms. Williams was a past member of the executive committee of the War Resisters League. In 1981, after being arrested during a women's blockade of the Pentagon, she served a month in the federal prison camp in Alderson, W.Va.
In an interview quoted in the reference work Contemporary Authors, Ms. Williams described what was, for her, the indissoluble link between creative work and political activity.
"I don't make a point of ending up in jail," she said. "But if you try to put your hopes and beliefs for a better life into effect, arrest is sometimes a hazard."
She added: "As a person who works for children, who raised three children ... I have to be able to say I did something to try to save our planet from destruction."
Remembering Vera B Williams, 1927 - 2015 - War Resisters League
WRL mourns the passing of Vera B. Williams (1927-2015), award-winning writer, illustrator, and activist, Vera was a longtime member of WRL, serving on the board and creating illustrations for our Peace Calendars and many other materials.
Vera, we celebrate your life and remember you always as a comrade in peace. Rest in Power!
We'll post a fuller tribute by WRL members soon. In the meantime, we share these remembrances of Vera in the New York Times and in the blog Feministing.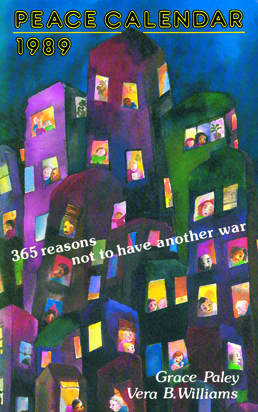 1989 Peace Calendar edited
by Vera Williams and Grace Paley
The 1989 Peace Calendar is available on our online store.
A Literary Tribute - Obituary: Vera B. Williams
By Shannon Maughan
October 19, 2015
Publishers Weekly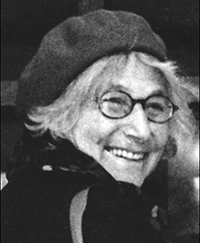 credit: Susan Kuklin // Publishers Weekly
read more here.