https://portside.org/2016-02-04/february-4-rosa-parks-birthday-how-history-got-rosa-parks-story-wrong
Author: Jeanne Theoharis
Date of source:
Washington Post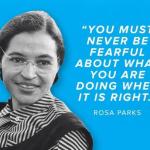 There, we see a lifelong activist who had been challenging white supremacy for decades before she became the famous catalyst for the Montgomery bus boycott. We see a woman who, from her youth, didn't hesitate to indict the system of oppression around her. As she once wrote, "I talked and talked of everything I know about the white man's inhuman treatment of the negro."
For her, the frustration began in childhood, when even her beloved grandmother worried about her "talking biggety to white folks." She recounts how her grandmother grew angry when a young Rosa recounted picking up a brick to challenge a white bully. Rosa told her grandmother: "I would rather be lynched than live to be mistreated and not be allowed to say `I don't like it.' "
Parks viewed the power of speaking back in the face of racism and oppression as fundamental - and saw that denying that right was key to the functioning of white power. Parks's "determination never to accept it, even if it must be endured," led her to "search for a way of working for freedom and first class citizenship."
Parks carried that determination into adulthood, though she made clear the impossible mental state it required. She lyrically described the difficulty of being a rebel, the ways black children were "conditioned early to learn their places," and the toll it took on her personally: "There is just so much hurt, disappointment and oppression one can take.. The line between reason and madness grows thinner."
In the account, a young Rosa is threatened with assault by a white neighbor of her employer, who was let into the house by a black worker, "Sam." The heavy-set white man she aptly called "Mr. Charlie" (a term black people of the era used for white people and their arbitrary power) gets a drink, puts his hand on her waist, and attempts to make a move on her.
Furious and terrified, she resolved to resist: "I was ready and willing to die, but give any consent, never, never, never." When Mr. Charlie said he'd gotten permission from Sam to be with her, she replied that Sam didn't own her, that she hated the both of them, and that nothing Mr. Charlie could do would get her consent. "If he wanted to kill me and rape a dead body," Parks wrote, "he was welcome but he would have to kill me first."
After years of activism, Parks had reached her breaking point on the bus that December evening: "I had been pushed around all my life and felt at this moment that I couldn't take it any more." Her writings reveal the burden that this decade of political activism - which, with a small cadre of other Montgomery NAACP members, had produced little change - had been on her spirit. Describing the "dark closet of my mind," she wrote about the loneliness of being a rebel: "I am nothing. I belong nowhere."
Repeatedly in her writings, Parks underscored the difficulties in mobilizing in the years before her bus protest: "People blamed [the] NAACP for not winning cases when they did not support it and give strength enough." She found it demoralizing, if understandable, that in the decade before the boycott, "the masses seemed not to put forth too much effort to struggle against the status quo," noting how those who challenged the racial order like she did were labeled "radicals, sore heads, agitators, trouble makers." Indeed, Rosa Parks was red-baited and received death threats and hate mail for years in Montgomery and in Detroit for her movement work.
Though the righteousness of her actions may seem self-evident today, at the time, those who challenged segregation - like those who challenge racial injustice today - were often treated as unstable, unruly and potentially dangerous by many white people and some black people. Her writings show how she struggled with feeling isolated and crazy, before and even during the boycott. In one piece of writing, she explained how she felt "completely alone and desolate as if I was descending in a black and bottomless chasm."
Despite the boycott's successful end, the Parks family still faced death threats and could not find steady work. In August 1957, they left Montgomery for Detroit, where her brother and cousins lived - "the promised land that wasn't," as she called it. There, in Detroit, she remained active in various movements for racial, social, criminal and global justice in the decades to come. Mountains of fliers, programs, letters, mailings, meeting agendas and conference programs document the span of her political activism there - though very few writings have survived in her personal papers from these later years.
The few that remain tell us that her radicalism never weakened. "Freedom fighters never retire," she noted in a testimonial for a fellow activist. As she had for decades, Parks drew sustenance from the militancy and spirit of young people, working in and alongside the growing Black Power movement. Understanding the impact that years of activism with limited results can have on a person, she continued calling for rapid and radical change. In a 1973 letter posted at the Afro-American Museum in Detroit, she noted the impact that years of white violence and intransigence had on the younger generation:
The attempt to solve our racial problems nonviolently was discredited in the eyes of many by the hard core segregationists who met peaceful demonstrations with countless acts of violence and bloodshed. Time is running out for a peaceful solution. It may even be too late to save our society from total destruction.
Much of the memorializing of the Montgomery bus boycott and the civil rights movement misses this side of Parks. Instead, we've become content to celebrate her "quiet" bus protest as a historic triumph in a movement that has long since run its course. But listening to Rosa Parks forces us to reconsider our view not only of our civil rights history, but also the demands of our civil rights present. We are forced to reckon with the fact that today's rebels could be tomorrow's heroes.