https://portside.org/2017-06-22/campaign-against-colin-kaepernick-because-his-politics
Author: Ken Belson; Dave Zirin
Date of source:
The Nation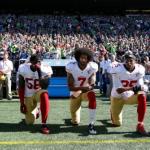 By Ken Belson
June 16, 2017
Maybe Colin Kaepernick is in the wrong league.
Leading media members are carrying on a disinformation campaign against the greatest political lightning rod in sports.
By Dave Zirin
June 8, 2017
We have heard a farcical parade of excuses by NFL owners and executives for why free-agent quarterback Colin Kaepernick remains unemployed. "He's not 100 percent committed." "He's more concerned with activism." "He's a distraction." "He will only sign with a team if he starts." "He wants too much money." Even, "I am concerned about his conditioning now that he is a vegetarian" (Real NFL players, if you haven't heard, floss their teeth with steak gristle and drink testosterone shakes drained fresh from a bull's balls.)
Yet as each of these claims has been debunked by journalists actually communicating with Kaepernick and his people, they all continue to be reiterated. In other words, what is happening is a cycle of disinformation, carried out by media members who might as well wear the NFL brand tattooed on the small of their backs. 
The logic of this statement, in a league where quarterbacks go down for several games or longer with regularity, is imbecilic. Equally risible is who the Seahawks signed to be their new backup: someone named Austin Davis who has 13 career touchdown passes and 12 interceptions and didn't play last season. (In contrast, Kaepernick has 72 TDs passes and 30 picks and took a team to the Super Bowl.) Let's not pick on Davis. Former New York Jet Ryan Fitzpatrick was signed as a backup by Tampa Bay. In one game last season, Fitzpatrick had more interceptions—six—than Kaepernick had all season: four. The list of awful quarterbacks with jobs is long, and each one a slap in the face to Kaepernick's impressive career, his sterling locker-room reputation and the idea that the league is any kind of a meritocracy. 
The truth is ugly as sin. The NFL is denying Colin Kaepernick employment not because he isn't "good enough" but because he is being shut out for the crime of using his platform to protest the killing of black kids by police. This makes the league's right-wing billionaire owners' silk boxers bunch up. 
But I don't think that Colin Kaepernick is going to go the litigation route. At least not now. He loves this sport and he wants to play. Only two questions remain: Will he get signed by a team when a quarterback inevitably goes down to injury, and will his name, until he's on a roster, become synonymous with the silencing of the political athlete? 
If an NFL player wants to speak out after the police murder of an unarmed child like Tamir Rice or after another racist killing, will teammates and agents tell him to be quiet for fear that he will be "Kaepernicked"? I don't know the answer to the first question, but I feel very confident about the second one. Colin Kaepernick will be remembered as an inspiration. The reporters who have thrown dirt on him will be remembered only as the 21st-century iteration of the kind of racism that outspoken black athletes have always had to face.
[Dave Zirin is the sports editor of The Nation.]