https://portside.org/2017-11-09/tidbits-november-9-2017-reader-comments-election-day-victories-lessons-going-forward
Portside Date:
Author:
Date of source:
Portside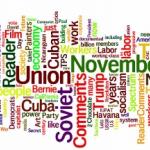 Announcements:
==========
Re: Democrats' Historic Victories on Election Day
Elizabeth and Hala were part of a group of progressive candidates who swept ALL of the current, Republican Delegates from power in Prince William County, Va. Now, we wait for a couple of recounts and see if enough Dems were elected to give Democrats a majority in the Va. House.And most of the activists who propelled those progressive women to office were people under 40.
Bruce Smith
====
Wow!!! Maybe it is possible to build a better world, eh??!!
Joe Grogan/Bolton-Ont, Canada
Re: AFL-CIO Delegates Walk Out to Join Black Lives Matter Protesters
(posting on Portside Labor)
The awesome power of labor is effective, if it is linked in all forms to the everyday struggles of working people. Remember, labor in the white skin will never be free from exploitation and racism, until labor in the black skin, and all workers black and white, unite to fight against the greedy appetite of capitalist exploitation. Workers, wakeup! Become aware of the awesome value of your labor power in erasing the negative strategies the capitalist class have created to divide and distract...
Winston Simmonds
Posted on Portside's Facebook page
==========
Re: Problems of the Super-Rich
A thought provoking article that may reinforce the need for public policy interventions supporting the union cooperative model that addresses wage disparities and asset aggregation (shared wealth).
Roger Green
====
Criminal violence and obscenity.
Leanna Noble
Posted on Portside's Facebook page
Re: What Killed the Democratic Party?
The democratic party has be in a steady downfall since the end of WWII, the beginning of the downfall was when the democratic party turned their backs on labor and tried to win over the middle class suburbians. They lost the blue collar worker in the late sixties and the early seventies. They lost labor and the youth and finally are losing the black vote. Yes they have tried to become more republican like Clinton, but this has resulted in great dissatisfaction by the liberal base.
They are simply a party of the elite. serving corporate interests.
David Eberle
Re: Inside Hillary Clinton's Secret Takeover of the DNC
This makes me sick. Why do we have to heat this now. Shut up about it
Linda Kurtz
====
Thank you so much Portside.
Can we tie back in the fact that was proved recently in trial of the 120,000 registered Democrats (Bernie voters) here in Brooklyn that had their names taken off the roles on Primary day. No one prosecuted. We're just told we'll do better next time? No.
Who ordered "No exit polls allowed", and the shenanigans in California that we know of as well (I've several relatives there for Bernie, who were shocked and more than felt something smelled very bad there. Also, no exit polls.) Our politicos were all lined up and celebrating very early in the day here in NYC behind Hillary.... and my area (the East Village) the vote as tallied went clearly to Hillary?! What we know is my neighbors did not see one Hillary sign in my area for the preceding months. During that time, I got consistent thumbs up whenever I walked around with a Bernie button on.... 95 % of people I spoke with here were for Bernie. You had to wait hours to get into Washington Sq. Park to see him speak...... packed with Blacks, Whites, Hispanics, and not just young kids, many seniors like myself, and half were Women as well! But no press on this that reflected that reality.
After the vote, we're told Hillary took the area easily? Made little sense, with no exit polls to help evaluate accuracy. No media to followup on the multiple complaints known only to Bernie supporters it seems. Several good friends in Brooklyn writing me that they couldn't vote, etc., etc.
Yes, we sadly agree, our DNC gave the election to Trump.... as all the polls before the Primaries showed would happen (except those done by the DNC itself naturally). Bernie = a clear win over Trump. Hillary = a tight race. Go back and check.
Who didn't want a woman for President? Progressives did not like her ties with Wall Street and her refusal to release her statements, and we did not like her steady 8 years as our Senator supporting a military corporate congressional complex - it was quite clear. Bernie was voicing and had a long history of standing for issues we cared about.. steadily dismissed by our "liberal" media, even NPR, and clearly NY Times.
Personally I knew Bernie from 18 years earlier as the keynote speaker for a national convention on Healthcare for the Homeless. His sincerity and knowledge was riveting then. He was a team worker with no airs about him. He sat with us, joined us in the trenches, had done his homework, a great listener, and team problem solver. He was himself, a community human being, and people are seeing a no different man today, since losing that nomination. He champions the issues that matter for us.
Our media let him down as some finger waving idealist appealing to kids who knew nothing about politics, praising Hillary's vast experience constantly. For those of us that knew him, that was the kind of "experience" America needed. The country needed his selfless dedication and honesty, and more than ever, now.
The DNC cheated us, we felt it throughout, and now my party wants us all to come together under the banner of hating Donald. It doesn't work that way. Trust is what we need for that, and getting out the truth of things is the only way of building that trust, not just blaming everything on Putin. Main stream media is continuing to diminish even these new revelations, for they indeed were part of it all. Keep digging, and if you need some names for above, let me know.
Thank you.
Anthony Donovan
(posting on Portside Culture)
I believe this poem is politically irresponsible and Portside should not have published it. Do nothing? Thanks a lot, all you voters who stayed home and gave us Trump. In the forthcoming Virginia election Tuesday, Nov. 7, a so-so moderate Democrat is up against a rabid Trumpie for Governor. And Molavi advocates going to the beach???
What possessed you to put out this kind of politics?
Eric A. Gordon
Re: Paul Manafort's Role in the Republicans' Notorious 'Southern Strategy'
Good to highlight what a racist dog he is
Will Hazleton
Re: "The Dangerous Case of Donald Trump" Is Essential for Understanding Our Times and Our President
(posting on Portside Culture)
I think one will find that the top executives of most companies exhibit similar mental "issues"...
Chris Ellingsen
Posted on Portside's Facebook page
Re: How the Right-Wing Indian Government Is Silencing Dissent
Have you read "The Ministry of Utmost Happiness" by Arundhati Roy? It is a novel, but depicts the harrowing situation in India, especially in the Kashmir region. It is a reality check for those who tend to romanticize Asian religions.
Sonia Collins
Posted on Portside's Facebook page
Re: Clinton, Assange and the War on Truth
You are joking. He has been clear he would do anything to bring down Hillary. And how about the rape charge in Sweden? Although nothing is black and white, the main should stay abroad.
Evelyn Leopold
Painters Union (IUPAT) Vows Strong and Unflinching Support for Workers as DHS Terminates Protective Status for Nicaraguan Families
"The Removal of Documented, Working Members of Our Society is Wrong and not in the Best Interest of the American Economy"
Today's decision by the Department of Homeland Security (DHS) to terminate Temporary Protective Status (TPS) for hundreds of thousands of documented immigrants from Nicaragua, is unconscionable, a threat to our economy and undermines the fabric of American society. We are a nation built by immigrants and their children. Terminating the status of these workers will have a chilling effect on the construction industry and the ability of developers, contractors and unions to fulfill the workforce needs of that industry.
No less than twenty-three percent (23%) of TPS recipients have found gainful employment in the construction industry as union members. These are our members, brothers and sisters, our neighbors and community members who contribute greatly to our society and economy. These workers are documented, pay taxes and are able to send money home to help rebuild the economies of their home countries, creating the stability needed for a safe return, just as TPS was established to do. The termination of the TPS program for many of these workers will devastate their lives as they know it, leaving them in a vulnerable position while facing possible deportation. The removal of documented, productive members of our society is wrong and not in the best Interest of the American economy. The decision of DHS to terminate TPS would have immediate, expensive ramifications for our country and industry costing taxpayers $3 billion, a $45 billion reduction in GDP, $6.9 billion reduction in Social Security and Medicare contributions and nearly $1 billion in employer costs combined with and already stressed skilled worker pool. Industry icons such as, The Walt Disney Company, has moved the Chamber of Commerce to publicly appeal to DHS to extend TPS for the 300,000 plus beneficiaries that keep local businesses running.
"As a union who stands for all worker's rights, regardless of race, religion, gender or country of origin and as Americans who work tirelessly to ensure that we have a strong and vibrant economy that works in the best interest of all including the most vulnerable among us we hereby vow to support a strong coalition action to demand that Congress act on a more permanent solution for TPS immediately."
– Ken Rigmaiden, Gen. President IUPAT
##
The International Union of Painters and Allied Trades represents men and women in the United States and Canada who work in the Finishing Trades – commercial and industrial painting, drywall finishing, glazing and glass work, sign and display and floor covering installation, among other crafts. Learn more about the IUPAT at www.IUPAT.org and follow us on Twitter @GoIUPAT
Contact:John Doherty, jdoherty@iupat.org , (410) 564-5897
Re: The Demise of the Soviet Union: The Secret War that Helped Destroy Soviet Socialism, 1981-1991
There are a lot of reasons why the USSR collapsed - I think the arms drive by the US, which forced the Soviets to compete - was one reason.
But it doesn't help to re-write history. The US played a very nominal role after the Revolution - the British did the most damage (and did quite a bit). If the author had leaped ahead he would have been on sounder ground, since the US did take drastic and stupid actions later (including dropping people into Soviet territory in the - I think - the 1970's.
Yes, the Soviets did wonders with their economy, as I was slow to realize. In the face of WW II, with the need to move their factories East, they built tanks better than the German ones, built excellent fighter planes, and in general performed miracles.
But, even though folks may not accept fully the devastating review in the latest New Yorker of the book on Stalin, part of the problems the Soviets faced, including their early military defeats, were a result of Stalin's murderous purges.
And I just don't buy the business of how good things were for consumers. In 1978 when we had gone to Moscow to protest (with an identical anti-war protest on the White House lawn at the same time) Norma Becker was having her period and could not find anything like kotex (spelling) and in 1987 when I was there with the FOR the effort to replace my toothbrush (lost by a misplaced bag) produced -- and I mean when bought at the tourist shops -- a toothbrush which fell apart.
The author needs to aim for greater accuracy. I'm happy to blame the US for many things, but I remember the diplomat from the GDR who visited me in New York when the first moves were made, (Andropov had just taken power, and it was he, of course, who arranged for Gorbachev) and he told me (not realizing that Andropov would die soon, and Peristroika would be delayed) "you must be prepared for radical changes in Soviet foreign policy - I have seen part of the Soviet Union tourists cannot visit. They must change and that will happen with Andropov" (Not an exact quote).
David McReynolds
====
When I worked at Monthly Review Press, I asked Harry Magdoff for recommended readings on Russia. He liked Moshe Lewin.
Ethan Young
====
Paul Krebiehl's article "The Demise of the Soviet Union" is welcome and correct insofar as it rejects the favorite anti Communist explanation that the demise came from the inherent flaws of socialism. But was the downfall caused [by] external factors above all the Reagan- Bush economic warfare of 1981-91? That hardly seems likely when the USSR had survived far worse external assaults, above all the invasion and pillaging of a 4 -million-strong Nazi army in 1941-45.
As Roger Keeran and Thomas Kenny show convincingly in Socialism Betrayed, Behind the Collapse of the Soviet Union, 1917-1991 (second edition, iUniverse, 2010), though pressure from the West caused difficulties, it was far from decisive. Internal causes were primary, mainly the dismantling of the system by Gorbachev and his circle, a destructive policy rooted in and unleashing the corruption and opportunism of a metastasizing underground private, illegal economy. This material factor is well documented, but if anyone doubts it, consider the massive outbreak of gang warfare in the streets of the former USSR in the early 1990s, and the spectacle of a once publicly owned economy looted by violent kleptocrats, more than a few of them sadly, ex-CPSU officials. This did not come from nowhere. The corruption of the Party and the state had been gestating for thirty years before 1985.
Joseph Jamison
====
I'm no communist, but this is an interesting read, It backs up my personal belief that Anti-communism propaganda on the part of the west was created and enforced due to the inherent fear of economic loss by those in capitalist power. Corporations had the most profit to loose by sharing wealth with the people.
Fred Boehli
Posted on Portside's Facebook page
====
Fantastic article.
It left out a couple of major destabilizers, such as the flooding of the Soviet Union with counterfeit Rubles, printed in the US --- to cause major inflation and shortages. The other was the agreement between the Vatican and the CIA to elect Woytila from Poland as the next Pope. He had a Polish/American woman handler who was a CIA agent, and he played a major role in destabilizing Poland and Catholics in E. Europe. Otherwise, E. Europe and the Soviet Union was flooded with smuggled-in tapes and movies/literature -- all meant to do their part.
The article mentions Radio Liberty, but there was Radio Free Europe, the Voice of America, and the BBC in local languages. They all claimed to represent FREEDOM, LIBERTY and DEMOCRATIC values.
Everyone living in a Communist country was made to believe that if they revolted and switched to a Western form of government, they would live like Upper-Middle Class Americans. Paradise awaited them!
If they only knew all the deception and lies that was to come.
Robert Fuzesi
====
Thanks to brother Paul Krehbiel for his article....a truth that many of us knew, but was always buried by the anti-Soviet, anti communist policies of the west. But apparently it is not just the Soviet Union that is America's boogie-man, but Russia itself judging by the policies of both Dems and Republican against the independent minded Putin. These include driving down the price of oil, military buildup on Russia's borders etc. Putin, who was trained in the Soviet system, is at least level headed and has a grasp on history. Russia and China need to develop, and have no desire for military confrontation with the U.S. Let us hope they can deal with Mr. Trump and let him know that war is bad for business...something he may understand.
Lincoln Smith
Re: 2017 is The 100 Year Anniversary of The Bolshevik Revolution, What Have We Learned?
I found this but interesting and not often said:
'What Gorbachev did most dramatically – and which is not enshrined as a crossover word – was to insist on multiparty elections and to essentially frontally attack the role of the Communist Party in the USSR. This was demokratizatsiya, which essentially dismantled the state institutions and left them prey to the opportunistic party apparatchiks and private businessmen who became the first Russian oligarchs – those men fed on the social wealth produced by the Soviet people.'
Pat Turnbull
Posted on Portside's Facebook page
Re: Who Owns a Tip? Trump May Shift it to Restaurant Owners
(posting on Portside Labor)
Legalizing wage theft. Another irony-perhaps Trump will abolish the "wage system"- but is that a victory?
Friends of South Bend Labor Studies
Posted on Portside's Facebook page
====
This is a huge deal for extremely overworked and underpaid people. Yeah, Trump cares about the little people.
Dan Jordan
Posted on Portside's Facebook page
====
Of course. Typical of The Asshole of The Gold Toilets.
Merrill Hall
Posted on Portside's Facebook page
====
If and when the owner actually does the work and brings me my food and drink I'll consider it. Until then,I will tip the hard working serving staff that actually do the work and not the fat cat in the back. Bad enough that they are allowed to pay them less than minimum wage (because they get tips). Now they want to take that away from them as well? I thought it was "trickle down economics" not trickle up. Brutal.
Keith Latimer
Posted on Portside's Facebook page
Re: Eduardo Galeano, Monster Wanted
Although he was more or less a contemporary of ours, I didn't start reading Euduaro Galeano's work until a few years ago (It's very good for beginning Spanish students like me). Here, Tom Englehardt remembers Galeano (who died in 2015) and gives snippets from his last work. Thanks to Portside for the link.
Daniel Millstone
Posted on Portside's Facebook page
Re: The Target: Tourism in Cuba
Lots of Canadians heading to Cuba this winter. Many other Canadians are deciding not to spend their tourist dollars in America while Trump is president.
Laurel MacDowell
Cuban Poster Exhibit in Southern California - November 13 thru January 7; Forum - November 11; Film Showing November 13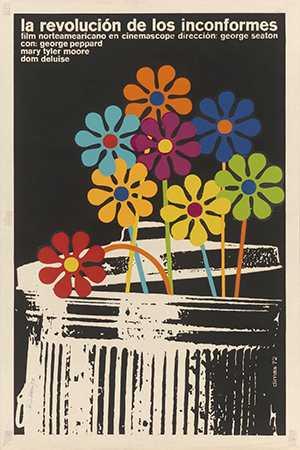 La Revolucion De Los Inconformes / What's So Bad About Feeling Good? (1968), Marcos Dimas, Instituto Cubano del Arte e Industria Cinematographicos (ICAIC), Screen Print, Havana, Cuba, 1972
Saturday, Nov 11, 2017
In Dialogue: Cuban Film Posters
2:00 pm: Carol A. Wells, curator of Hollywood in Havana, will discuss one of the posters in depth and why a film that flopped in the U.S. would have delighted Cuban audiences.

2:30 pm: Panel discussion on the exhibition and Cuban Art with Sandra Levinson, Executive Director of the Center for Cuban Studies, Beth Rosenblum, Art Historian, Latin American Art, and Carol Wells, Founder and Executive Director of the Center for the Study of Political Graphics.
Pasadena Museum of California Art
490 East Union Street
Pasadena, CA 91101
For more information, contact CSPG: 310-397-3100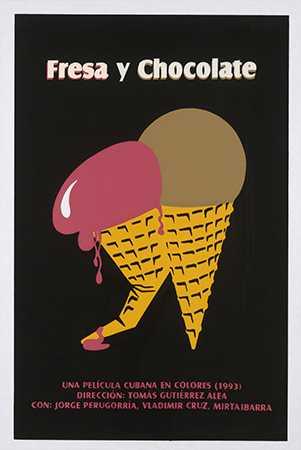 Fresa y Chocolate / Strawberry & Chocolate, Instituto Cubano del Arte e Industria Cinematographicos (ICAIC), Silkscreen, 1993, Havana, Cuba
Monday, November 13, 2017
Film Screening Fresa y Chocolate,
Discussion with the Actors and more...
7:30 pm: Pre-show performance by LA Cuban All Stars and presentation on Cuban Posters by Sandra Levinson and Carol A. Wells, Executive Director of the Center for the Study of Political Graphics.
7:45 pm: Screening of Fresa y Chocolate (Strawberry and Chocolate),1993, Academy Award Nominee for Best Foreign Film, directed by Tomas Gutiérrez Alea and Juan Carlos Tabío.
Post-show panel with two actors in the film: Jorge Perugorria and Mirta Ibarra, moderated by Luciano Castillo, director of the Cuban Film Archive in Havana.
Samuel Goldwyn Theater
8949 Wilshire Blvd.
Beverly Hills, CA 90211
For more information and reservations, click here.
These events are part of the Getty's Pacific Standard Time LA/LA
Hollywood in Havana: Five Decades of Cuban Posters Promoting U.S. Films
Through Jan 7, 2018
Pasadena Museum of California Art
490 East Union Street
Pasadena, CA 91101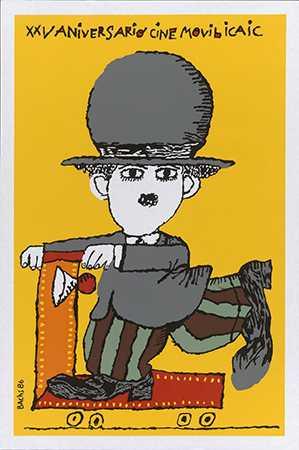 XXV Aniversario Cine Movil / 25th Anniversary Mobile Films
Charlie Chaplin rides a scooter made of a film strip to celebrate the 25th anniversary of the cine moviles, (mobile cinema).

In 1961, the Instituto Cubano del Arte y la Industria Cinematográfica (ICAIC) created cine moviles, mobile projection units to bring films to remote parts of Cuba which not only had no movie theaters, but no electricity. The projectors, generators, and films for these traveling movie theaters were transported by truck, boat, and mule, and the audiences enjoyed the shows for free. Chaplin's Modern Times was the first film many saw, and the joyous reaction to seeing their first film is captured in Por La Primera Vez/For the First Time, a 1967 documentary by Octavio Cortazar, which can be seen on youtube.
Center for the Study of Political Graphics
3916 Sepulveda Blvd, Suite 103 & 104
Culver City, CA 90230
310-397-3100
admin@politicalgraphics.org
Rocking the Foundations: Film + Benefit for Spectrum Strikers - New York - November 15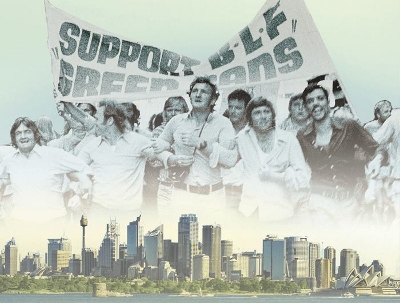 Wednesday, November 15 at 4:30 PM - 8 PM
Jack Demsey's
36 W 33rd St
New York, New York 10001
1800 members of IBEW Local 3 have been on strike since March 28th against Spectrum/Time Warner Cable. Despite being flush with over $14 billion in profits, the company is demanding deep cuts to workers' healthcare, retirement, and rights on the job. For over seven months, workers and their allies have picketed and protested to keep the pressure on, but the fight is not over yet.
Join strikers and supporters at Jack Demsey's to build solidarity and reflect on what it will take to win. We will show a rarely-screened film about the victories of the legendary Builders Laborers Federation in Australia, followed by a discussion with leaders in the Spectrum strike and the strike at Verizon.
Proceeds will benefit the Spectrum Strike.
On the ticket page, you can donate to a scholarship fund for Spectrum strikers to obtain certifications needed to gain temporary employment or continue their education while the battle against Spectrum continues.
You can also donate to buy strikers a beer to thank them for staying strong in the fight against corporate greed.
Film: Rocking the Foundations
In the 1970s, the Builders Laborers Federation in Australia developed enormous power through organizing with the community and enacting "Green Bans" to block development that would destroy the environment and gentrify the city. This documentary, produced by one of the first women to work in the building trades in Australia, tells the story of how workers fought and won on the job and for their community. More information here: https://www.roninfilms.com.au/feature/474/rocking-foundations.html
Discussion
Following the film, striking IBEW Local 3 Steward Troy Walcott and CWA Verizon strike veteran and Steward Pat Fahy will discuss their experiences and what it will take to win.
Background:
Sponsored by: Strikecorps & the NYC Democratic Socialists of America Labor and Strike Solidarity Working Group
New Labor Forum's 20th Anniversary: The Unmet Promise of Labor's Resuscitation and the Future of Mass Organizing - New York - December 8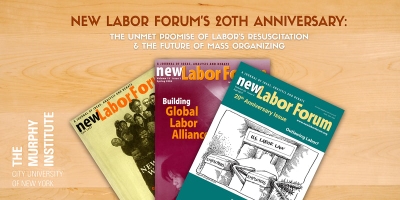 Friday, December 8, 2017
5:30 PM – 8:00 PM EST
(Reception at 5:30pm, Program begins at 6:00pm)
Joseph S. Murphy Institute/CUNY
25 West 43rd Street
#18
New York, NY 10036
FREE -- Register here.
New Labor Forum, first published in September 1997, was founded to contribute to the new possibilities for debate and discussion among labor and its allies in the wake of the AFL-CIO's first ever contested elections in 1995. In those heady days, the New Voice leadership at the federation proclaimed its commitment to large-scale union organizing and ambitious coalition building with working-class communities, and particularly communities of color. It simultaneously engaged in a rapprochement spurred by Left intellectuals and progressive political activists who had for decades been excluded from the AFL-CIO's strategic discussions. These efforts gave rise to widespread hopes that organized labor might help ignite a broad, national movement for social and economic justice. On the twentieth anniversary of the journal's founding, we will host an assessment of those earlier ambitions, examining the complex reasons why they have borne such meager results. We will also examine the current challenges and possibilities for building a progressive movement capable of confronting a thoroughly financialized economy of highly concentrated wealth, precarious work and unabated racial disparity, and a political system in the vice grip of corporate interests in which a multi-racial working-class alliance remains a distant hope.
Speakers:
Stephen Lerner – Organizing in the New Economy: What are the principal features of the new economy that workers and working-class communities must now confront? What does this suggest about new forms that organizing should take?
Phil Thompson and Liza Featherstone – Debate: What is required to build a multi-racial working-class political movement?
The Future of Socialism - Visit Cuba June 17-30, 2018 with the Center for Global Justice
Enjoy two stimulating weeks in a country committed to building Socialism. Learn about Cuba's public goods such as free health care and education provided by the state, its collective production and services in agricultural and urban cooperatives, its form of democratic governance, its private businesses, its community projects and more. Experience Cuba's vibrant culture and people. Dialogue with leading thinkers about Cuba's reforms as it reinvents its socialism for the 21st century. A unique, in-depth look at a changing society.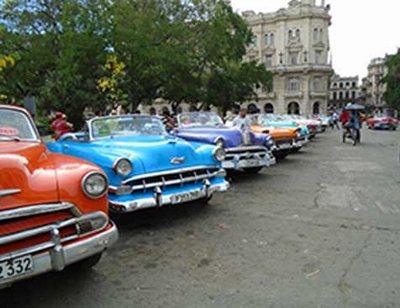 Talk with Cuban thinkers: Discussion will focus on The Future of Socialism, both in Cuba and worldwide. You are invited to present a paper (optional) on such topics as:
US & capitalist countries: collapse of liberal democracy; decline of neoliberal ideology; crisis of legitimacy; resurgence of the idea of socialism; rise of the Right; fascism?; globalized state; overcoming capitalist hegemony; systemic crisis and the interregnum
Rethinking socialism in 21st century; critique of 20th century socialism; civil society; party; commons;
Cuba's renovation of socialism: implementation of the Guidelines; direction of development; conceptualization of socialism; planning and market; petty bourgeoisie and wage labor; socialist hegemony in a mixed economy; political system; rejuvenation of civil society; cooperatives;
Latin America: Has the Pink Tide run its course?
Looking back at our revolutionary heritage: How does 1917 look a century later? 1848 170 years later? 1949 69 years later? 1959 59 years later? The socialist project 200 years after Marx's birth?
Join our delegation of activists, scholars and cooperativistas as we explore this exciting society in motion. While many people are now able to visit Cuba more freely, few groups are able to offer such an in-depth experience focused on Cuba's efforts to build socialism. Drawing on our 25 years experience with educational trips to Cuba, we have unique access that goes beyond the usual tourist attractions.
It is estimated that the basic 14 day trip will cost $2,000 to $2,500 plus airfare, including shared hotel room, breakfasts, lunches, translation, guide, and the program of activities. With regular commercial air service now open from many U.S. cities, it is possible to fly directly to Havana. Deadline for applications is March 15, 2018. Apply now as space is limited.
For an application form and further information email cuba@globaljusticecenter.org
The Center for Global Justice is a project of the Radical Philosophy Association.
The Center for Global Justice
Calzada de la Luz N° 42
Centro 37700
San Miguel de Allende, GTO. Mexico
Phone: +52 (415) 150 0025
Today in History - Remembering Kristallnacht - November 9, 1938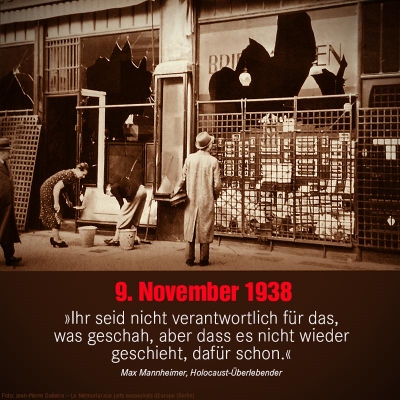 79 years ago, the kristallnacht`` took place in Germany. After discrimination, the systematic persecution and destruction of the Jews and Jews began. A decisive battle against anti-Semitism, racial hatred, right-wing extremism and misanthropy must be the lesson of history.
Die Linke (The Left Party of Germany)