https://portside.org/2018-05-04/friday-nite-videos-may-4-2018
Portside Date:
Author:
Date of source:
Portside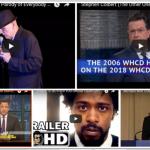 Stephen Colbert recuses himself from commenting on Michelle Wolf's jokes because he's never performed at the White House Correspondents Dinner. But you know who has? Stephen Colbert.
A self explanatory parody about, well, stuff everybody knows.
In an alternate present-day version of Oakland, black telemarketer Cassius Green discovers a magical key to professional success - which propels him into a macabre universe.
Seth takes a closer look at Rudy Giuliani telling everyone in an interview that the president lied about paying hush money to a porn star.
You heard about all the offensive things Michele Wolf said. But you should really hear them yourself.