https://portside.org/2018-06-05/dispatches-culture-wars-bad-hombres-edition
Author:
Date of source:
Portside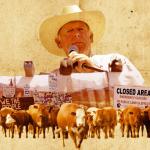 The Podcast That Explains Trump's America
By Justin Charity
May 24, 2018
The Ringer
 
Welcome to 'Bundyville,' home to sovereign citizen activists and the corroded mystique of American Western individualism
By Sarah Jones
May 31, 2018
The New Republic
 
Donald Trump's pardon of Dinesh D'Souza says everything you need to know about the Republican Party and its intellectual underpinnings.
Jonah Goldberg, Darwin and Unnatural Capitalism
By John Jackson
May 11, 2018
Fardels Bear
 
Despite its blustery assurance Suicide of the West is based on some very suspect evidence and equally poor argumentation.
Why Democrats are Suddenly Competitive in Deep-Red Texas
By Ella Nilsen
May 22, 2018
Vox
 
There are Democratic candidates running in all of the state's 36 congressional districts for the first time in 25 years.
How 'Roseanne' Had the Most Disastrous Endgame in TV History
By Rob Sheffield
May 29, 2018
Rolling Stone
https://www.rollingstone.com/tv/news/how-roseanne-had-the-most-disastro…
One racist tweet later, TV's most popular show is no more – but the new 'Roseanne' had already done irreparable damage before that.
Life for Migrants After the Via Crucis Caravan to the US Border
By Mariana Martínez Esténs
May 22, 2018
Indypendent
 
A caravan of more than 200 people fled from Honduras, El Salvador and Guatemala, hoping to get asylum in the United States.