https://portside.org/2018-06-28/tidbits-june-28-2018-reader-comments-alexandria-ocasio-cortez-victory-trump-katrina
Author:
Date of source:
Portside
Resources:
Announcements:
Alexandria Ocasio-Cortez' amazing victory!
 
The handwriting's on the wall.
Come senators, congressmen
Please heed the call
Don't stand in the doorway
Don't block up the hall
For he that gets hurt
Will be he who has stalled
There's a battle outside
And it is ragin'.
It'll soon shake your windows
And rattle your walls
For the times they are a-changin'.
--Bob Dylan
Matt Weinstein
Posting on Facebook
Far from the Border - cartoon by Rob Rogers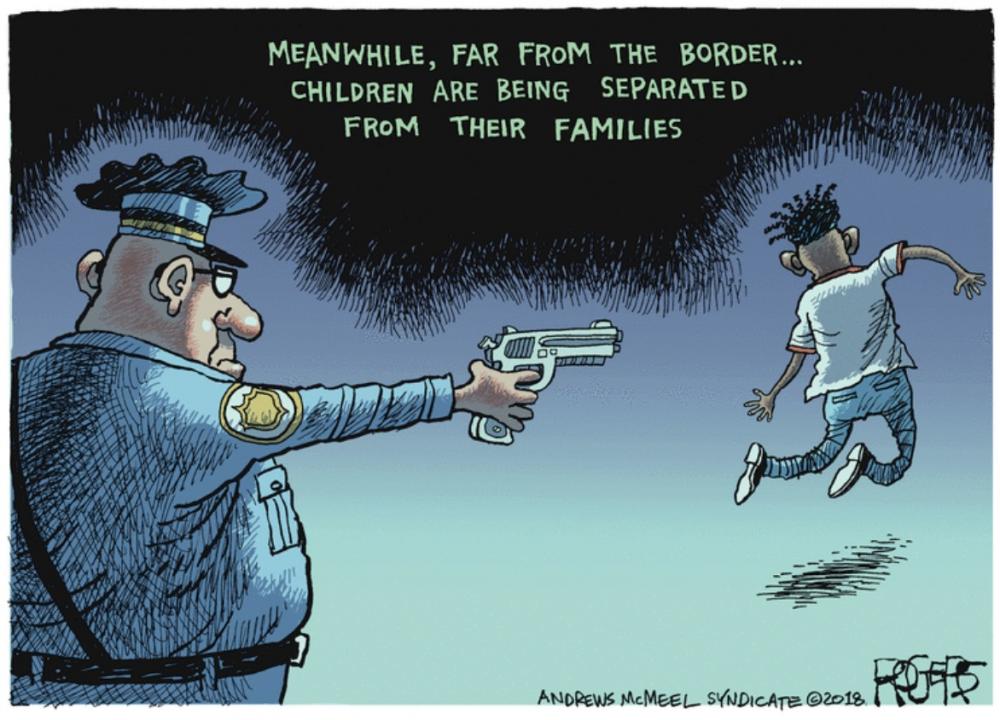 Rob Rogers
June 22, 2018
The Association of American Editorial Cartoonists
Re: The Forced Separation of Families Is Trump's 'Katrina Moment'
 
I have less faith in the American people than I ever have had before. There are some progressive people but the American electorate put Trump in the White House. The restraining advisors are gone and he is in full throttle. It is not thought out and it is reactionary. The Republican party has been moving right for years and now we see its full viciousness. The electoral system is dominated by big money. 
America has changed. It used to be the leading democracy and as a new world nation which opened its borders to all kinds of people. These people it is currently punishing are genuine refugees coming from countries so violent that they cannot live there.As for the separation of children,  I think some lawyers should represent the parents and sue the American government for kidnapping.
Laurel MacDowell
Toronto, Canada
        =====
Big diff: Bush II didn't CAUSE Katrina!
Om Williamson
Posted on Portside's Facebook page
        =====
So sad and same thing was done to slave's in America the kidnapping of precious little children.
Randall Lewis
Posted on Portside's Facebook page
        =====
No, 45's "Katrina moment" was when he tossed paper towels in Puerto Rico. He's gone much much lower since then.
Nancy McCool
Posted on Portside's Facebook page
"Yearning to Breathe Free" - cover art by Barry Blitt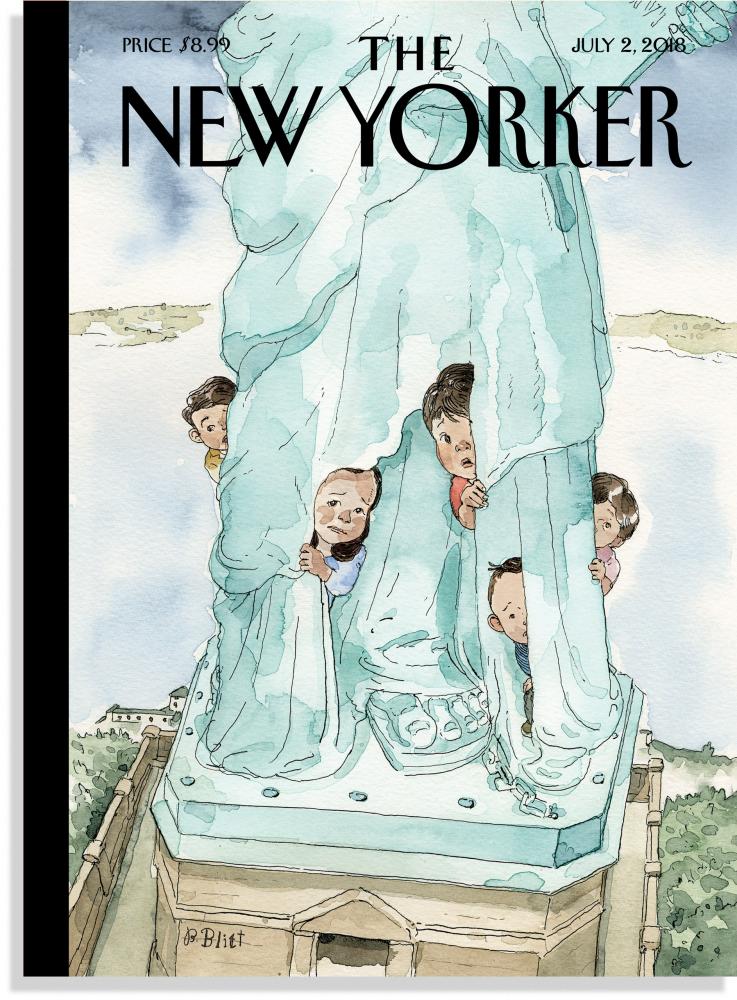 "In recent years, the artist Barry Blitt has become known for his satire, which skewers, in soft watercolors, those in or adjacent to power. But Blitt, who began working for the magazine in 1992, has always been more than a comic artist, and next week's cover features a sombre touch."
Barry Blitt
July 2, 2018
The New Yorker
U.S. Border - Child Detention Facility -  cartoon by Robert Ariail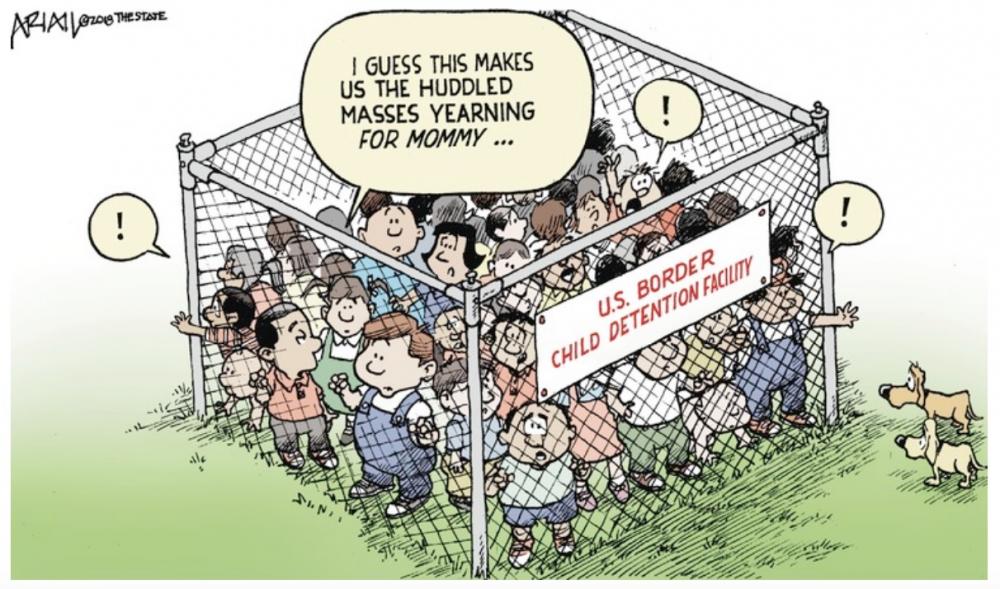 Robert Ariail
June 16, 2018
The State (Columbia, SC)
Trumpism is a faith-based cult with a doomsday view of the world, and unshakable belief that Trump is the savior.
Philip Specht
Posted on Portside's Facebook page
Re: A Shining City on the Hill Treats Immigrants Humanely
(posting on Portside Labor)
ICE...trumps gestapo
Luigi Tuamigo
Posted on Portside's Facebook page
        =====
These people although illegal are not criminals!!! Just because they came over to work, help their families and kids have a better life. Is that a crime!!! First of all the Americans like always took the lands away from the Indians and made it their land now that's illegal!!! And yet what about the massacres that have happen within this year of white men killing hundreds of school children, haven't heard them say anything about that situation and it's their own people!!! Oh but they are mentally ill, sure!!! Racist to the max and terrorists at large within their own country!!! But it's ok, WTF!!!
Mirna Orengo
Posted on Portside's Facebook page
        =====
It's too much, of course, to expect any GOP politicians to protest the obvious hypocrisy of this, but I wonder where is the head of this business and all the C of C types Republicans worship, when something like this goes down? Why hasn't one CEO chained himself to his workers, demanding that ICE arrest him too? The people being hauled off are doing brutally hard jobs that Americans don't want, jobs that produce something they very much do want, paying taxes, building homes, learning and teaching skills, all the things the Rust Belt desperately needs. They want to be American, with an intensity cowardly racists like Trump and his lickspittles will never understand. And this whole thing could be stopped if enough Republican donors bitch-slapped the Donald with the only things he understands: money and bad publicity.
Scott Ellis
Posted on Portside's Facebook page
Re: Battle Hymn of the Republic - Modified for Relevance - Friday Nite Videos
(posting on Friday Nite Videos)
A pamphlet gets read but once, but a song gets sung over and over again: Joe Hill, near as I can remember.
Dave Richardson
Re: Taking Back Agency And Accountability For The Banking System
 
I believe North Dakota has a state bank that works positively
Ken Parks
This is a warning to all of us. Those who are still blind will someday be persecuted although they fell safe. Bigotry has a way to come back to those who do such inhumane actions Countries who carry ethnic persecution or cleansing in the end pay the price
Lennis Longo
Posted on Portside's Facebook page
Nebraska Farmers Return "Trail of Tears" Land -- In Path of TransCanada's Keystone XL Pipeline -- to Ponca Indian Tribe
 
In what could be a major blow to the construction of Keystone XL, Art and Helen Tanderup, a Nebraska farm couple, has returned a portion of ancestral land to the Ponca Tribe. The 1.6 acre plot of land falls on the Ponca "Trail of Tears."
The couple stated, "It is only fitting that out of the tragedy of the Ponca Trail of Tears that a small piece of this historic trail be transferred to them."
The land also happens to be where TransCanada, the corporation behind the Keystone XL, plans to build a portion of the controversial pipeline. This means that "TransCanada will have to negotiate with a new landowner, one that has special legal status as a tribe."
James E. Vann
Posted on Portside's Facebook page
Hungarian-American avant-gardiste
 
I am the last Masses artist still around
but I wasn't much like the others, personally.
My family was Hungarian, Left Socialists
They encouraged my art and I got a scholarship
to study in Paris! But I sat in class looking outside
And there was a giant Michelin ad. 
It was so dynamic, I could not take my eyes off it.
I went on to Hungary and walked for months.
I came back changed, we had great times
in Greenwich Village those days.
The Masses was crushed.
The Liberator appeared,
and I became a Communist.
Pretty soon, my work became more realistic.
And the New Yorker wanted me to make Horthy a hero!
After that it was the New Masses,
artistic work on my own time, 
and a lot of politics. 
What I wanted to do.
There were murals or whatever I had in front of my 
interest and attention.
Paul Buhle
No Muslim Ban Ever - Digital Action Toolkit SCOTUS Ruling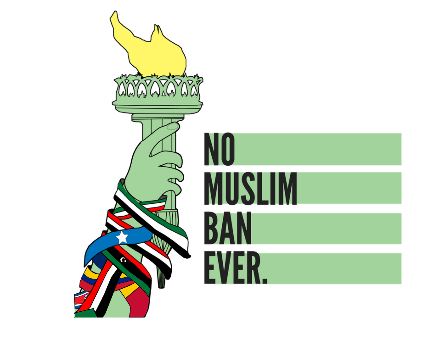 Resource prepared by MPower Change
Rapidly unfolding events to Stand With Muslims - click here.
To donate, click here.
Tuesday's Supreme Court ruling is another shameful mark on our history. We cannot accept living in a country that willingly separates families and calls it justice. #NoMuslimBanEver #FamiliesBelongTogether
Asian Pacific Labor Alliance (AFL-CIO) Blasts SCOTUS Rulings Validating the Muslim Ban and Ohio's Voter Suppression

FOR IMMEDIATE RELEASE: June 26, 2018
Contact: kristina@apalanet.org
APALA Blasts SCOTUS Rulings Validating the Muslim Ban and Ohio's Voter Suppression
In response to the Supreme Court's recent rulings, the Asian Pacific American Labor Alliance (APALA), AFL-CIO issued the following statements:
APALA National President Monica Thammarath of the National Education Association commented on Trump v. Hawai'i: "We are outraged and refuse to allow history to repeat itself. This ruling is a stain on the wrong side of history during Trump's white supremacist, right wing era. As an Asian American and Pacific Islander community, we understand the pain of xenophobia – from the heightened surveillance of Muslim- or perceived-to-be-Muslim communities after 9/11 to the incarceration of Japanese Americans during World War II. Our fight for a world free from discrimination and hate has just become that much more difficult, and we join together with thousands across the country to denounce this ruling that will have disastrous consequences on our communities and our nation's values and moral fabric. We will not be banned."
APALA Executive Director Alvina Yeh commented on the Supreme Court's recent ruling in Husted v. A. Philip Randolph Institute, et al.: "The SCOTUS ruling that validated Ohio's 'use it or lose it' practice to purge voter rolls is deeply disappointing and problematic. This aggressive practice is especially harmful for communities of color and workers who might face a variety of obstacles to voting, from language barriers to transportation issues to inflexible work schedules. In other words, there are many reasons contributing to low voter turnout, but that should not mean that voters should be removed from the rolls. States should be making it easier to vote, not creating more barriers to it. We are outraged that such blatant voter suppression continues to happen and remain resolute to registering and turning out the vote for our communities."
The Asian Pacific American Labor Alliance (APALA), AFL-CIO was founded in 1992 as the first and only national organization for Asian American and Pacific Islander (AAPI) union members to advance worker, immigrant and civil rights. Learn more at www.apalanet.org. Renew or become a member here.
Asian Pacific American Labor Alliance  
815 16th St. NW, 2nd Floor
Washington, DC 20006
202-508-3733 | apala@apalanet.org
50% OFF Summer Reading from Haymarket Books
 
Haymarket Books is marking the start of summer with 50% off all the books on our Summer of Struggle Reading List through July 5th. Get a free Ebook (where available) and free shipping on orders over $25 inside the US.
New This Month: No One Is Illegal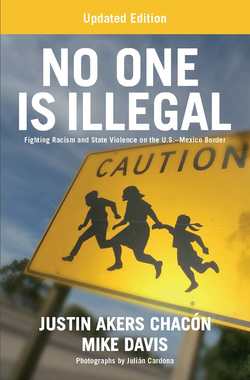 No One is Illegal - Fighting Racism and State Violence on the U.S.-Mexico Border
by Justin Akers Chacón and Mike Davis
No One Is Illegal convincingly debunks the leading ideas behind the often-violent right-wing backlash against immigrants.
Countering the chorus of anti-immigrant voices that have grown increasingly loud in the current political moment, No One is Illegal exposes the racism of anti-immigration vigilantes and puts a human face on the immigrants who risk their lives to cross the border to work in the United States.
This second edition has a new introduction to frame the analysis of the struggle for immigrant rights and the roots of the backlash.
Justin Akers Chacón is the author of the forthcoming Radicals in the Barrio: Magonistas, Socialists, Wobblies, and Communists in the Mexican American Working Class.
Mike Davis is the author many books, including The Ecology of Fear and Planet of Slums.