https://portside.org/2019-02-19/media-bits-and-bytes-february-19-2019
Author:
Date of source:
Portside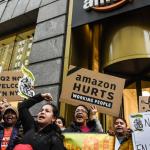 New Report Exposes Facebook Fake News Schemes
Facebook Labelled 'Digital Gangsters' By Report
By David Pegg
February 17, 2019
The Guardian
The final report of UK Parliamentary select committee's 18-month investigation into disinformation and fake news accused Facebook of purposefully obstructing its inquiry and failing to tackle attempts by Russia to manipulate elections.
By Jon Brodkin
February 4, 2019
Ars Technica
FCC failed to provide evidence and ignored harm to broadband access.
Amazon HQ2 Defeat for Tech Leaders
By Natt Garun
February 14, 2019
The Verge
A win for Queens activists but a 'facepalm' for tech leaders.
The World Is Choking on Digital Pollution
By Judy Estrin and Sam Gill
January/February/March 2019
Washington Monthly
Society figured out how to manage the waste produced by the Industrial Revolution. We must do the same thing with the Internet today.
Designing Welcome Mats to Invite User Privacy
By Alexis Hancock
February 14, 2019
Electronic Frontier Foundation
The designer behind the technology has the power to nudge the user to take actions that the business would like the user to take. 
The AI Text Generator That's Too Dangerous to Make Public
By Tom Simonite
February 14, 2019
Wired
Google recently joined Microsoft in adding language to its financial filings warning investors that its AI software could raise ethical concerns and harm the business.
Philippines: Journalists, Advocates Slam Arrest of Maria Ressa
Members of the media and various groups say the arrest of Rappler CEO Maria Ressa is clearly part of the Duterte administration's attack on press freedom.
CBS Cuts Off Trump to Broadcast 'The Price is Right'
By Leah McDonald
February 15, 2019
Daily Mail
CBS cut away from Trump's emergency address after 21 minutes to show 'The Price is Right' which is normally broadcast at that time.