https://portside.org/2019-06-13/reader-responses-nurses-defend-union-contract-response-may-26-posting-labor-notes-column
Portside Date:
Author: Lauren Esguerra Chavarria; Shanna Murphy; Dahlia Tayag; Faye Bruneau; Francesca Gomes
Date of source:
Portside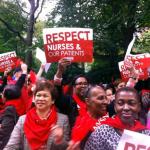 [Original Portside Labor post, last Thursday, June 6. Nurses Defend Union Contract - Response to May 26 Posting of Labor Notes Column, which was a response to an earlier Portside Labor post - Controversial Settlement Divides New York Nurses.]
Anthony Ciampa and other nurses captured the spirit of our win in their letter. Together we demanded safe staffing, we worked together in the negotiating process, and together we share the victory. It was, as they wrote, "sorely needed respect in decision making," and as nurses we all deserve the same respect. We demanded it, we won it, and we'll keep fighting to ensure safety for ourselves and our patients.
Lauren Esguerra Chavarria,
Mount Sinai St. Luke's

=====
Anthony Ciampa and the other authors of the article that ran June 6 have accurately described actions surrounding the contract ratification of Mount Sinai, New York-Presbyterian and Montefiore hospital system nurses. We met, discussed, reviewed, argued and came to agreement. We voted a lot. This was a thorough process and I believed we achieved a great deal with the contract. We are hiring nurses immediately and then have resources to continue the hiring to build the ratios we need to protect our work and our patients. It's a very significant victory.
Shanna Murphy,
New York-Presbyterian

=====
Having read both articles, I felt it was important to provide the perspective of a California nurse. As you are probably aware, California enjoys great, hard fought nurse-to-patient ratios, won by our union, the California Nurses Association. But even in our state, nurses need a strong union to enforce them. That is why I was so delighted to see the gains that New York nurses made in their contracts.
As long we have a corporate healthcare system, nurses and caregivers will continue to face huge pressure from management to do more with less. The fight for safe staffing must be fought on all fronts-in the workplace, in our union contracts, and in the legislative and regulatory arenas. That is why NYSNA's fight, and the advances they have won, are important steps forward for nurses everywhere in challenging management's refusal to provide safe staffing for nurses-and patients.
Rather than focusing on the minutiae of individual contract settlements, we should view every fight for safe staffing for nurses as part of a building the movement to end corporate control over our workplaces and our country. Together, we can win Medicare for All and safe staffing for every nurse across the country.
Dahlia Tayag, RN,
U.C. San Diego Medical Center

=====
What I appreciate most about the letter from Anthony Ciampa and other nurses is their understanding of the critical role of unions. NYSNA -- our union -- helped us bargain the contract and is instrumental in enforcing it. "NYSNA members are well aware that we must fight to protect the contractual terms we bargained for and we continue our fight each day for safe staffing, as healthcare workers and their unions do each day around the world." Building a strong union on every shift, on every unit ensures strong implementation of the contract.
Faye Bruneau,
Mount Sinai St. Luke's

=====
I'm sorry, but as a teacher in what's *considered* a "strong" union, whose leadership points to how "democratic" they are even as they push bad contracts through using scare tactics against their members going on strike, this article doesn't ring true.
Our contract has exact numbers for maximum class sizes (unlike the new nurses' contract, which doesn't seem to actually set a maximum ratio of patients to nurses), and still we can't get it enforced, even by third party arbitrators.
I'd be interested in knowing if NYSNA leadership came out en force to sell this contract to members like mine does, saying "this is the best we're going to get" and talking about how great it is. A 30% vote against, under those circumstances, actually shows the weaknesses of this contract.
When rank and file union members, nurses who don't have the same unlimited time as union staffers to make their case, *still* end up voting 30% against, it's pretty clear just how "unpersuasive" they actually were.
Francesca Gomes
Posted on Portside's Facebook page