labor
Nurses Defend Union Contract - Response to May 26 Posting of Labor Notes Column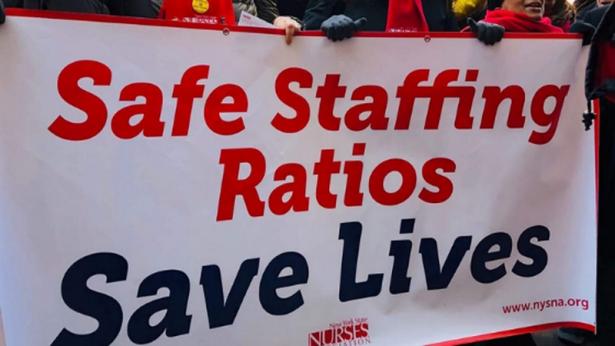 ,
Front line nurses represented by the New York State Nurses Association have a responsibility few others share: we care for hospital patients many of whose lives hang in the balance.  
 We are determined professionals who rely upon collective bargaining to win contracts governing many aspects of our work, including conditions on the hospital units.   Chief among these is "safe staffing," the numbers of patients assigned each nurse.  
Staffing was central to collective bargaining over the last six months, as three major hospital systems in NYC – Montefiore, Mount Sinai and New York-Presbyterian – came to the table as one, per agreement.
This was a democratic process throughout:  Our negotiating committees at each of the hospitals are nurses elected by nurses.  The committees have the final say prior to ratification by the entire nurse membership.  At every stage, the negotiating committees came to its decision by democratic vote.
That key principle, a democratic vote by nurse committee members, themselves elected by democratic vote, is largely absent from an article republished on May 26 by Portside and originally appearing under the headline "Controversial Settlement Divides New York Nurses," Labor Notes, May 23.  Nor does the author of that article acknowledge the considerable resources allocated to the effort by the union in preparing the members for a strike if necessary.
What was won in this collective bargaining empowers nurses, by the terms of the contract, to achieve and enforce nurse-to-patient ratios on all their units and shifts, what the New York Times characterized as a "landmark deal on staffing" at the hospitals--  "a groundbreaking agreement … that would for the first time establish minimum ratios of nurses to patients."   Bargaining entailed scores of testimonials during open negotiations in which nurses testified that their staffing "ratios" were not adequate. Every nurse knows that their daily assignment reflects how many patients they will be assigned.  The nurses wanted improvement in those ratios with strong enforcement and, on these matters central to their work conditions, the contract made enormous strides.
The contract calls for an "allocation committee" at each hospital, democratically elected, to immediately fill all vacancies (a total of 807 RN positions). Then an additional 700 full-time nurse positions, above and beyond existing staffing levels, will be added.  The language calls for the committee to enhance and improve the ratios and grids, enforceable by the collective bargaining agreements in all facilities involved. This is the first time that nurses concretely participate in what has been the unilateral decision-making of management.
The new language in the contract also mandates hospitals to "agree to maintain the number of nurses per unit per shift reflected in the improved grids or ratios." This constitutes additional weight given the ratio system.   
Enforcement of the contract is swift: a tie in the vote of the allocation committee is resolved by an independent, third-party arbitrator in the decision-making process, a binding decision to be made within 72 hours. 
These terms, debated and voted on by a democratically empowered negotiating committee from each of the hospital systems (two committees from the Mount Sinai system), and in turn reviewed by NYSNA nurses at these hospitals, resulted in a contract ratification vote of the full membership of 70% in favor, 30% against. 
Those who felt that the settlement was inadequate and that a strike was necessary were ultimately unpersuasive. Winning a new contract is never easy. NYSNA members are well aware that we must fight to protect the contractual terms we bargained for and we continue our fight each day for safe staffing, as healthcare workers and their unions do each day around the world.
This historic contract is a tremendous leap forward in establishing precedence for nurses everywhere, granting sorely needed respect in decision-making regarding safe staffing as well as improved autonomy over our workplace, as we continue to advocate for our patient's safety and our defend our professional standards.
Safe staffing saves lives. 
Anthony Ciampa, RN, NYSNA First Vice President, New York-Presbyterian Hospital  
Jaiveer Grewal, RN, New York-Presbyterian Hospital
Mary Ellen Warden, RN, Mount Sinai - West
Wendy Braithwaite, RN, Montefiore Medical Center
Heather May, RN, Mount Sinai - St. Luke's