https://portside.org/2019-08-28/global-left-midweek-august-28-2019
Author:
Date of source:
Portside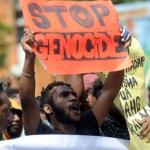 __________
As the Amazon Burns - Resistance Reports
The Indigenous Fight to Save the Amazon Rainforest Sarah Hurtes / Dazed (London)
Protesters Besiege Brazilian Embassies Worldwide Tom Phillips and Dom Phillips / Guardian (London)
__________
Global Climate Strike: The Push is On
AFP and Bryony Jewell / Daily Mail (London)
G7 protests turn bloody as climate change demonstrators clash with armed police as hundreds converge on Biarritz before marching from France to Spain.
__________
Corbyn Intervenes in Boris Johnson's Power Play
Jeremy Corbyn has demanded a meeting with the Queen along with other privy councillors to object to Boris Johnson's move to suspend parliament.
__________
Women in Sudan Demand Post-Transition Power
Agence France-Presse (Paris)
The signing last week of the documents outlining the transition to civilian rule was a moment of national jubilation. But as the ceremony attended by a host of foreign dignitaries unfolded, one thing jumped out: the only female speaker at the three-hour event was the host.
__________
Furious Protests in Papua
A catalogue of racist taunts aimed at a group of students have sparked violent protests in Indonesia's eastern region of Papua.
__________
Kashmir Solidarity Spreads Worldwide
Skanda Kadirgamar / Truthout (Sacramento)
The most important thing those who have become allies to the freedom movement can do is to help change the narrative that Kashmir is an "integral part" of India. They also need to dispel the assertion that every uprising in Kashmir is instigated by Pakistan.
__________
Russia Stirs
Ilya Matveev / Jacobin (New York)
Vladimir Putin's authoritarian regime claims to offer order in place of post-Soviet chaos. Yet the crude repression of opposition demonstrations shows the regime's fear of the rising popular discontent.
__________
Happy Birthday, Luciana Castellina!
Roberto Morea and Roberto Musacchio / transform!europe (Vienna)
Luciana Castellina, a founder of Il Manifesto, is celebrating her ninetieth birthday. For Luciana, the short twentieth century is truly destined never to end, just as her will, as a communist activist, to change the world has never died.
__________
Hong Kong - Two Views
A New Kind of Internationalism Michelle Chen / In These Times (Chicago)
Washington's New Cold War Against China Duncan McFarland / Committees of Correspondence for Democracy and Socialism (New York)