https://portside.org/2019-09-25/global-left-midweek-climate-strike-reports
Author:
Date of source:
Portside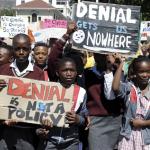 __________
Worldwide Climate Strike Reports
Continent to Continent Peoples Dispatch (New Delhi)
Puerto Rico Alleen Brown / The Intercept (New York)
Africa Nereya Otieno / OkayAfrica (New York)
Asia and Australia VICE Asia Staff (Brooklyn)
__________
New Upsurge in Egypt
Sarah Salama / Deutsche Welle (Berlin)
Egypt has seen the first significant protests against Abdel-Fattah el-Sissi in six years of authoritarian rule.
__________
Spain: Masses of Women Demand an End to Violence
Sam Jones / The Guardian (London)
Protesters took to the streets of more than 250 towns and cities across Spain on Friday night to declare a "feminist emergency" after a series of high-profile rape cases and a summer in which 19 women were murdered by current or former partners.
__________
Indonesia: Students Protest Sex Ban Bill
Channel New Asia (Singapore)
Thousands gathered in the front and back entrances to Jakarta's parliament building, demanding to meet with parliament speaker Bambang Soesatyo. Police eventually fired tear gas and water cannon to disperse them. 
__________
Stalemate in Venezuela
Rebecca Hanson and Francisco J. Sánchez / NACLA Report (New York)
The recent U.S. sanctions in Venezuela are not only worsening the economic situation, but increasing the country's cynicism toward any hope of resolution.
__________
Labour Party's Secret Weapon
Sarah Jaffe / The American Prospect (Washington DC)
As Brexit looms, a surge of community organizing from within is bridging political divides and refocusing the British Labour Party.
__________
Zimbabwe Health Workers Face Repression
Public Services International (Ferney-Voltaire, France)
Abducted doctors' union president released as health workers shutdown the system in protest.
__________
Bloody Attacks on Papua Protests
Agence France Presse (Paris)
Papua, on the western half of New Guinea island, has been paralysed after weeks of protests fuelled by anger over racism, as well as fresh calls for self-rule in the impoverished territory.