https://portside.org/2020-01-08/global-left-midweek-january-8-2020
Author:
Date of source:
Portside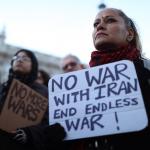 __________
Worldwide Responses to Trump's Murderous Air Strikes
Ross Ibbetson / Daily Mail (London)
Protesters across the West have gathered to condemn the US drone strikes following the death of Iran's highest ranking general Qassem Soleimani in Baghdad.
...Tudeh Party / Morning Star (London)
...International Alliance in Support of Workers in Iran (Toronto)
...ANC / The South African (Cape Town)
...Die Linke  Niema Movassat / The Left Berlin
...Party of the European Left (Brussels)
__________
Largest Strike in India's (and World) History
Subodh Varma / NewsClick (New Delhi)
An estimated 25 crore (250 million) workers, employees, farmers and rural labourers stopped work and hit the streets to protest against the Modi government's economic policies and divisive politics.
__________
Arab Revolts: New Year Perspective
Alain Gabon / Middle East Eye (London)
The wave of protests across the Arab world that began a decade ago will continue to be a long, uncertain and painful ordeal.
__________
India: Fascist Attacks at Nehru University
Political parties across the spectrum condemned the violent attack on the students and teachers of Jawaharlal Nehru University (JNU) on Sunday, with most of the Opposition leaders blaming the ruling dispensation for the violence.
__________
Spain: Socialist/Podemos Government Clears Hurdles
Sam Jones / The Guardian (London)
Acting prime minister Pedro Sánchez narrowly secured parliamentary approval for a joint administration between his Socialist party and the anti-austerity Unidas Podemos alliance.
__________
Zapatistas Hold International Women's Gathering
Comandanta Amada / Chiapas Support Committee (Oakland)
All over the world women are still being murdered, disappeared, abused, and disrespected. This year the number of women raped, disappeared, and murdered keeps rising. We as Zapatistas see this situation as very serious, and that is why we organized this second gathering around one theme only: violence against women.
__________
Analysis: Who Can Stop the Far Right?
Muhammed Shabeer / Peoples Dispatch (New Delhi)
The scope and scale of the right-wing resurgence this year shows the urgent need for greater working class mobilizations that can safeguard and deepen democracy and build coalitions.
__________
France: The Longest Strike
France's nationwide strikes against the government's pension reform plans are the longest in more than 30 years. But how are strikers coping after nearly four weeks without pay?
__________
Photo Essay: Algeria's Irrepressible Revolution
Sabri Benalycherif / African Arguments (London)
In February 2019, Algerians took to the streets in the country's largest demonstrations since independence. This began a movement, known as Hirak or the Revolution of Smiles, which continued ever since. They are demanding a new constitution and a transition to a completely civilian state; not the continuation of the cabal's stronghold just with a new face.