https://portside.org/2020-01-14/media-bits-and-bytes-january-14-2020
Portside Date:
Author:
Date of source:
Portside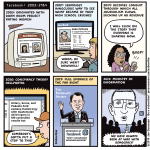 MSM Starts Operation Burn Bernie
By Dave Lindorff
January 13, 2020
FAIR
[Portside note: Since this article appeared, Warren stated that in a private conversation in 2018, she told Sanders "I thought a woman could win; he disagreed." She affirmed that "I have no interest in discussing this private meeting any further because Bernie and I have far more in common than our differences on punditry."]
By Angel Au-Yeung
January 9, 2020
Forbes
Mark Zuckerberg's message to the U.S. government: Regulate us, just don't break us up.
Facebook's Idea of Free Speech
By Keith A. Spencer
January 10, 2020
Salon
Three months ago, Facebook made the universally-reviled announcement that they would not be fact-checking, censoring, or otherwise banning political ads that deceive or mislead. Now, the biggest social media platform on Earth has doubled down on its tone-deaf policy.
By Samantha Murphy Kelly
January 11, 2020
CNN
Companion technology has taken off as a standalone category, especially among the elderly. Companion technology ranges from caregiver robots and pets, to virtual reality getaways.
By Sam Dean
January 7, 2020
Los Angeles Times
The Campaign to Organize Digital Employees (CODE for short) is a new project of the Communications Workers of America aimed specifically at unionizing video game and tech companies.
By Usaid Siddiqui
January 12, 2020
Al Jazeera
A contestant was told she had the wrong answer after identifying Jesus's place of birth, the Church of Nativity in Bethlehem, as being in Palestine.
Political Fact Checkers' Distortions
By Alex Pareene
January 8, 2020
The New Republic
They police the bounds of American debate, in favor of the sort of Chicago School economic consensus yearned for by the Council on Foreign Relations.
"Party of Five" Reboot Takes on Deportations
By Caroline Framke
January 8, 2020
Variety
In this new version of a 90s teen drama, five siblings are left on their own when their parents are seized by ICE and deported to Mexico.
"American Factory" Gets Oscar Nom
By Jerry Kenney
Jabuary 13, 2020
WOSU
The film follows the rebirth and transformation of the former General Motors Assembly plant in Moraine into Chinese-owned Fuyao Glass America.
By Angela Watercutter
December 30, 2019
Wired
From themes and formats to storylines, television isn't as straight and narrow as it used to be. Welcome to the messy, vibrant age of queer TV.