https://portside.org/2020-02-11/media-bits-and-bytes-february-11-2020
Author:
Date of source:
Portside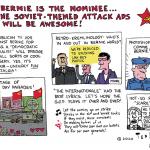 By McKay Coppins
March 2020
The Atlantic
Rather than shutting down dissenting voices, leaders have learned to harness the democratizing power of social media—jamming the signals, sowing confusion. Scholars have a name for this: censorship through noise.
By Bob Hennelly
February 9, 2020
Salon
The networks have rented venues, blocked rooms, booked satellite trucks, and are covering Iowa, New Hampshire, in order and as dictated by the primary calendar. Meanwhile, the actual American body politic, sitting in front of their TV in all fifty states, is getting an around-the-clock Mayor Mike propaganda feed.
Journalism is Under Attack in Europe
By Meera Selva
January 22, 2020
Reuters Institute
The autonomy and independence of the media across much of Europe is under threat from politicians, who launch verbal attacks on journalists, but also from other journalists, who discredit and smear colleagues working for rival publications.
Chris Matthews's Little Red Scare
By Julia Conley
February 8, 2020
Common Dreams
The MSNBC host talked about socialist-led "executions in Central Park" while tying those fears to Bernie Sanders.
Newspaper Monopolies: Piranhas in the Tank
By Joe Pompeo
February 5, 2020
Vanity Fair
In its mission to squeeze the last profits out of newspapers, Alden Global Capital has eliminated the jobs of scores of reporters and editors, and decimated journalism in cities all over the country: Denver, Boston, San Jose, Trenton, etc. Next up: Chicago, Baltimore, and the New York Daily News. [And an update]
Climate: Don't Organize, Mourn
By Neil DeMause
January 21, 2020
FAIR
US media give short shrift to what are arguably the most important factors for determining our future: what specific human practices are responsible for the changing climate, why carbon emissions continue to rise, and what we can and should be doing about it.
The Era of Antisocial Social Media
By Sara Wilson
February 5, 2020
Harvard Business Review
When you look at who is — and more importantly, who is not — driving the growth and popularity of social platforms, a key demographic appears to be somewhat in retreat: young people.
Focus on 5G
By Zack Quaintance
January 31, 2020
Government Technology
Government must work to ensure small-cell network rollouts benefit the whole of communities.
By Henry Tugendhat
January 20, 2020
The Guardian
China's hi-tech firms are challenging the west's belief in the free market's ability to innovate.