https://portside.org/2020-02-26/global-left-midweek-think-pieces
Author:
Date of source:
Portside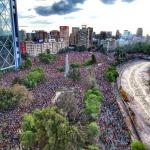 __________
Eco-Socialist Revolution
Michael Löwy / Global Ecosocialist Network
Ecosocialist civilisation breaks with productivism and consumerism, in favour of shorter working time, thus more free time devoted to social, political, recreational, artistic, erotic etc activities. Marx referred to this goal by the term 'Realm of freedom'.
__________
Far Right Violence Surfaces in Canada
Jeff Shantz / Socialist Project (Toronto)
Land defenders face a dual threat of formal state repression and criminalization by police and informal vigilante violence, specifically by far Right and neofascist elements.
Ireland: Their Day Has Come  Breandán Ó Conchúir / LeftEast (Bucharest)
The Defeat of Corbynism  Phil Hearse / Mutiny (London)
__________
From Arab Uprisings to Revolution
Joe Gill / Middle East Eye (London)
Across the region, popular movements for change have reached an impasse against the oligarchy. Where do they go from here?
__________
Tasks for Chavistas
Gerardo Rojas / Venezuelanalysis (Caracas)
The Venezuelan process has been deeply polarised, leading to the defence of two antagonistic projects which are in dispute: that of the poor against the oligarchy; of the patriots against the empire; of participatory and protagonist democracy and socialism against representation and the handing over of power.
__________
Protests Transform India
Harsh Mander / The Indian Express (Noida)
It is a movement without precedent in the journey of the republic. But many wonder if the movement will succeed, whether it will weary and whimper out, whether it will be crushed, and where it will finally lead.
__________
Democratizing Chile
J. Patrice McSherry / NACLA Report (New York)
While continuing Chile's rich history of popular resistance, the demonstrations since October also mark a new era of social struggle defined by broad-based participation, youth involvement, and new forms and symbols of autonomous mobilization. 
__________
African Eco-Socialist Alternatives
Vishwas Satgar / Review of African Political Economy (London)
The scientific evidence on the link between more carbon capitalism and climate shocks is overwhelming. The time has come to intensify the struggle for a Democratic Eco-Socialist Africa. This is the frontier of a new radical Pan-Africanism.
__________
Hong Kong: The Divided God
Gazing upon the reality of the god of the global economy leads us to conclude that neither China nor America can win, and if Hong Kong bets on either one it is betting on failure. 
__________
UK Student Movement
Gareth Brown and David Harvie / Plan C (Manchester)
There has been a small explosion of militancy on British university campuses. We do not believe the energy unlocked in this explosion will quickly dissipate. But nor do we think it will scale up much further without a broader cultural shift.