https://portside.org/2020-06-24/global-left-midweek-june-24-2020
Portside Date:
Author:
Date of source:
Portside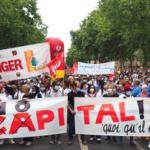 __________
The Covid Crisis
A Ten-Point Agenda
Vijay Prashad / Tricontinental: Institute for Social Research
Labor and Covid in South Africa
Dale McKinley / Links (Sydney)
Video: All-India Covid Protest
Brinda Karat / NewsClick (New Delhi)
French Healthcare Workers
France 24 (Paris)
Buenos Aires: Feminists Fight
Claire Branigan / NACLA Report (New York)
__________
Global Impact of the Showdown with US Police
International
David Pilling / Financial Times (London)
Africa
Baba Aye, Lai Brown, Heike Becker, Sabatho Nyamsenda / Review of African Political Economy (London)
Canada
Canadian Dimension (Winnipeg)
London
Anonymous / London Review of Books
Paris
Emma Murphy / ITV (London)
__________
Turkey, Kurds, Iraq and Syria
Rojava Unbowed
Dilar Dirik / New Internationalist (Oxford)
Turkey: Democracy March
Steve Sweeney / Morning Star (London)
Air Attack on PKK
Tom O'Connor / Newsweek (New York)
__________
Workers' Rights Under Attack Worldwide
Sharan Burrow / Equal Times (Brussels)
The ITUC Global Rights Index exposes the failings of the world's economic model – a New Social Contract can help us build a new one.
__________
Mexico: Zapatismo Now
Mexico News Daily (Puerto Escondido)
The Zapatista Army of National Liberation (EZLN) announced in a statement on the weekend it will create 11 new caracoles, or autonomous zones, in Chiapas. The expansion will give the army 43 rebel areas.
__________
Socialist Party of Zambia Manifesto
Pavan Kulkarni / Peoples Dispatch (New Delhi)
Production of public goods through public enterprises, in which trade unions will have a strong influence, forms the backbone of the Socialist Party's vision for the industrial transformation of Zambia.
__________
Australia: Pushing Back Against Logging Industry
Kim Croxford / Green Left (Sydney)
Placing Indigenous sovereignty at the centre of forest protests comes from work with First Nations leaders from the Taungurung, Wurundjeri and Gunnai people, whose country in the Central Highlands and East Gippsland regions is being damaged by logging.
__________
Legacies
Ahmed Erakat, Palestine / Al Jazeera (Doha)
Chief Paulinho Paiakan, Brazil Amy Goodman / Democracy Now! (New York)
Esther Nakajjigo, Uganda Francis Kizito / New Vision (Kampala)
Maurice Rajsfus, France / Web24 News
Dr Clarence Mini, South Africa Mark Heywood / Daily Maverick (Johannesburg)
Rifqa al-Kurd, Palestine / Middle East Eye (London)