https://portside.org/2020-07-21/dispatches-culture-wars-july-21-2020
Author:
Date of source:
Portside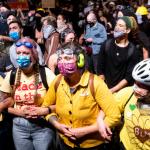 Siege of Portland
The Crackdown and the Election By Heather Cox Richardson, July 19, 2020, Moyers on Democracy
On the Scene By Robert Evans, July 20, 2020, Bellingcat
Oregon and ACLU Sue By Emily Gillespie and Rachel Siegel, July 19, 2020, Washington Post
Wall of Moms By Amelia Edelman, July 20, 2020, SheKnows
Interview with Luke Hayes
July 17, 2020
Jacobin
Progressives and socialists remaking the state's politics and establishing themselves as a force to be reckoned with.
By Arit John
July 15, 2020
Los Angeles Times
Satanism and sex rings: How the QAnon conspiracy theory has taken political root.
By Alicia Cohn
July 17, 2020
The Hill
A group of artists known as the Trump Statue Initiative installed statues around Washington, D.C. on Friday depicting President Trump as a "destroyer of civil rights and liberties."
By Lisa Needham
July 16, 2020
Rewire.News
Three decisions suggest that the Christian conservative crusade to blur the lines between democracy and theocracy is bearing fruit.
By Fortesa Latifi
July 16, 2020
Teen Vogue
Families are reckoning with differing perspectives on policing and systemic racism.
White House Targets Trans Homeless
By Alex Bollinger
July 20, 2020
LGBTQ Nation
The memo says homeless shelters can use "factors such as height, the presence (but not the absence) of facial hair, the presence of an Adam's apple" to find suspected trans women.
By Rohollah Faghihi
July 5, 2020
Middle East Eye
A number of recent cases, aided by the growing influence of social networks, are helping to challenge a ban on females singing in Iran.
By Kay Dervishi
July 15, 2020
City and State New York
Dozens of informal volunteer groups that have been set up to help neighbors in need since the onset of the COVID-19 pandemic.