https://portside.org/2020-08-12/global-left-midweek-august-12-2020
Author:
Date of source:
Portside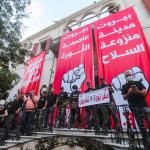 __________
The China Debate Continues
The Manufactured Threat  Atul Bhardwaj / Economic and Political Weekly (Mumbai)
Hong Kong, China, and International Solidarity  Andi W. and Promise Li / Tempest
Against Denouncing 'Both Sides'  / Qiao Collective
Stand With the Uighurs  Ben Towse / Novara Media (London)
__________
Lebanon Explodes
From Shock to Rage  Kareem Chehayeb / Middle East Eye (London)
"We Need New Blood"  / Al Jazeera (Doha)
Citizens in a State  Paula Naoufal / An-Nahar (Beirut)
__________
Bolivia: Will the Coup Regime Prevail?
National Strike and Roadblocks  / Peoples Dispatch (New Delhi)
The Ongoing Coup  Anton Flaig and Denis Rogatyuk / Jacobin (New York)
__________
Save India Day
Ronak Chhabra / NewsClick (New Delhi)
Ten million turned out across the country against the Modi government's "anti-people" policies being pushed under the pretext of pandemic. 
__________
Women's Movements and South African Democracy 
Caitlin Troup / IOL (Cape Town)
Short-term alliances that intensely mobilise around specific issues or pieces of legislation engage the state, and then disappear after reaching their goals.
__________
A Solution for Syria, Turkey, and the Kurds 
Kurdish leader Öcalan, a prisoner in Turkey for 20+ years, calls for a "democratic nation project" able to unite citizens of different ethnic backgrounds and cultural traditions.
__________
Guatemala: Xinka Take On Covid-19
Valerie Croft / CounterPunch (Petrolia CA)
Indigenous peoples, such as the Xinka in Guatemala, are finding ways to organize and care for each other, while firmly rooting their response in ancestral practices that have sustained them throughout time.
__________
Poland: LGBTQ Resistance
Marianna Szczygielska / LeftEast (Bucharest)
In Warsaw, the queer collective "Stop Bzdurom" (Stop the Bullshit) uses direct action to counter the persistent disinformation campaign targeting the LGBTQ community, sexual education, and reproductive justice. 
__________
Legacies