https://portside.org/2020-09-09/global-left-midweek-september-9-2020
Author:
Date of source:
Portside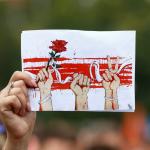 __________
Labour 20's Message to G20
ITUC (Brussels) and TUAC (Paris)
The international trade union movement is calling on the G20 governments to act urgently and decisively to protect and promote employment as the world faces continuing destruction of jobs and economic activity due to the COVID-19 pandemic.
__________
Extermination Rebellion's Week of Action
Mattha Busby / The Guardian (London)
Thousands of Extinction Rebellion (XR) activists and supporters have been staging "die-ins", preventing copies of newspapers from being distributed and meditating outside banks in a series of actions aimed at highlighting the worsening ecological crisis.
__________
Three from Vijay Prashad
Six Complexities of These Pandemic Times  Tricontinental
One Hundred Years of the Communist Movement in India  Tricontinental
Suffocating Democracy in the Andes  Frontline (Mumbai)
__________
South Africa: Black Power and Racial Capitalism, Part 1 and Part 2
Jeff Rudin / Daily Maverick (Johannesburg)
The ANC has single-mindedly pursued advancing the Black Lives of an elite, in the name of "our people" and racial justice.
__________
From and About Belarus
Statement of the Belarusian Left Party FAIR WORLD / transform! europe (Brussels)
Learning From the Protest  Aleksandr Buzgalin / Socialist Project (Toronto)
__________
Puerto Rico Mutual Aid
Isa Rodríguez Soto / NACLA Report (New York)
Puerto Rican communities have bet on their own survival. Their mutual aid efforts testify to both the power of grassroots organizing and the scale of state neglect.
__________
A Communist Minister in Spain
Alberto Garzón / Jacobin (New York)
A pact between the Socialists and Unidas Podemos gave Spain its first ruling left-wing coalition since the Civil War. The militant right still refuses to accept its legitimacy.
__________
Vietnam to Allow Independent Labor Organizing
Joe Buckley / China Labour Bulletin (Hong Kong)
A New Labour Code will allow, for the first time, "worker representative organisations at the enterprise level" (tổ chức đại diện người lao động tại doanh nghiệp, WROs), not affiliated with the state-led Vietnam General Confederation of Labour (VGCL). 
__________
For a New World Social Forum
Adolfo Pérez Esquivel et al. / Latin America in Movement (Quito)
A group of participants of the first WSFs launched a call: Change the World Social Forum in order to change the world – from 'open space' to 'action space'. 
__________
Legacies
Annar Cassam, Tanzania
Daud Al-Khatib, Palestine
Ahmed Abdrabbu, Egypt
Mireya Rodriguez Lemus, Mexico
Shaheena Shaheen Baloch, Pakistan