https://portside.org/2020-12-22/dispatches-culture-wars-december-22-2020
Author:
Date of source:
Portside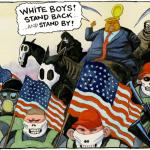 The Devilish Details of Vaccine Distribution
By Tina Sadarangani, Ph.D., R.N., Daniel David, Ph.D., R.N., and Jasmine Travers, Ph.D., R.N.
McKnight's Long-Term Care News
Early access to a novel vaccine will create both challenges and opportunities across long-term care settings. Three key areas that policymakers must pay attention to in long-term care are financing, personnel and mistrust.
Young People Embrace Political Education
By Mary Retta
Teen Vogue
Since most high schools and colleges don't have topics like abolition or anti-capitalism built into their curriculum, many students have to turn to other sources to learn this information. On Twitter, accounts like the Zinn Education Project and the Claudia Jones School for Political Education have garnered thousands of followers.
By Anita Kumar and Gabby Orr
Politico
Trump's efforts to cling to power are unprecedented in American history. While political parties have fought over the results of presidential elections before, no incumbent president has ever made such expansive and individualized pleas to the officials who oversee certification of the election results. 
Major Paper Makes Racism Apology
An article in the Kansas City Star took a deep look into the paper's coverage of race and the Black community since its founding in 1880.
The line between mainstream and fringe is vanishing, with conspiracy-minded Republicans now marching alongside armed extremists at rallies across the country.
Violent Threats Against Lawmakers
By Celine Castronuovo
The Hill
Intimidation and threats to election officials and lawmakers are feeding fears about violence amid calls by President Trump's supporters to stop the certification of election results.
Law professor and legal theorist Kimberlé Crenshaw discusses Trump's orders that federal agencies stop funding antiracism trainings, or any training involving Critical Race Theory or mentioning "white privilege." 
There have been at least 1,100 strikes since March 1. Among those have been high-profile strikes launched by Instacart, Whole Foods and Amazon workers, as well as by frontline health care workers.
By Frida Berrigan
Waging Nonviolence
From the American Revolution through the Global War on Terror, author Chris Lombardi tells the inspiring stories of people who refused to kill.
Louis Armstrong and the Historical Record
By Ed Prideaux
The Guardian
Casual listeners think of him as a gentle giant of jazz, but critics and African Americans often saw him as a sell out or 'Uncle Tom'. A new book aims to show how radical 'Pops' really was.