https://portside.org/2021-09-30/tidbits-sept-30-2021-reader-comments-save-postal-service-film-and-television-workers
Author:
Date of source:
Portside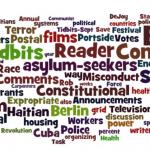 Resources:
Announcements:
Re: 'Fire DeJoy' Demand Intensifies as 10-Year Plan to Sabotage Postal Service Takes Effect
What is he waiting on,I know he has a lot on his plate, but he needs to assign someone to take control of the postal situation, 😠😠😠
Craig Gauthier
Posted on Portside's Facebook page
      =====
#LockHimUp
Bryan Brillhart
Posted on Portside's Facebook page
      =====
Can't help but wonder if his real goal i to sell off all or parts of the USPS to private interests. He should be removed from office immediately and sent to prison. Where he, "45." and all of their associates belong. 
Ken Roseman
Posted on Portside's Facebook page
Food Stamps  --  cartoon by Rob Rogers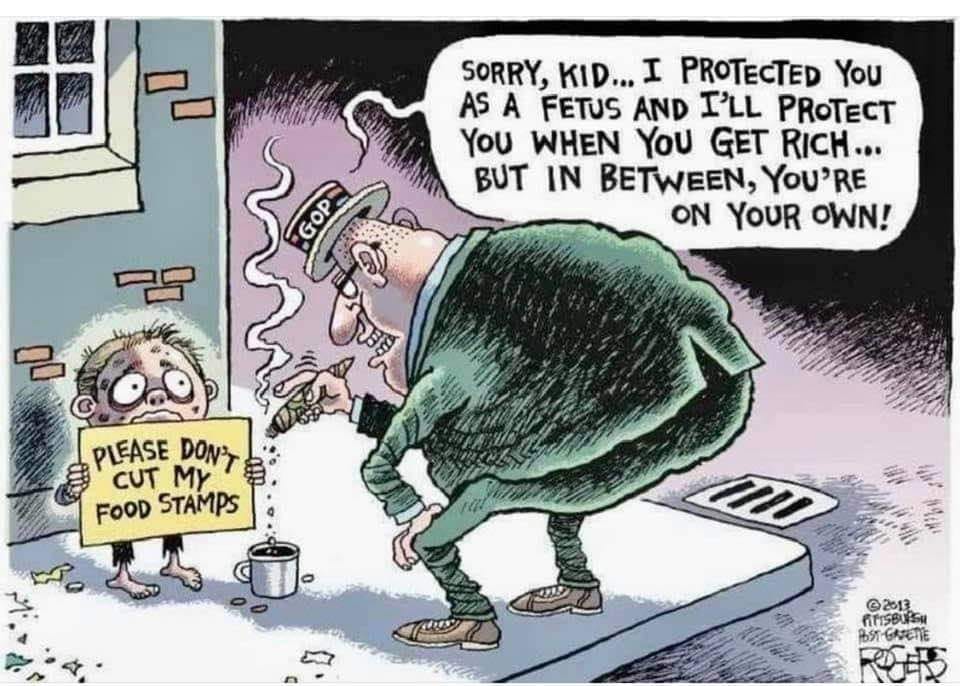 Rob Rogers
September 10, 2013
robrogers.com
Why We Need Critical Race Theory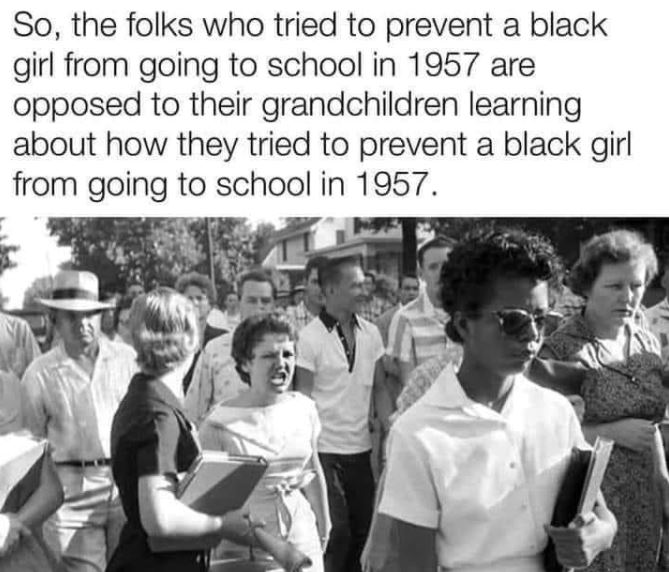 Re: Humanity's Call to Eliminate Nuclear Weapons
It's a lovely utopian vision, but will never happen.  It doesn't matter what sort of "treaties" get signed, it's completely meaningless.  Other nuclear nations might sign such a thing for political points, but they'll still have their secret nuclear arsenals.The world is not the utopian fantasy you wish it to be, it is the real world as it actually is.
Charles
Sebastopol. CA
Re: If Hollywood Workers Strike, the Entertainment Industry Will Grind to a Halt
(posting on Portside Labor)
Excerpt—
Striking workers would include almost everyone who works on a film set besides directors, writers, and actors. In show business, we use the term "below the line" to describe this group, which includes camera operators, grips, costumers, script supervisors, writers' assistants, set decorators, and many more. The term comes from the actual positions of names on call sheets, where directors, writers, and top-billed acting talent are placed "above the line." Without "below the line" workers, the films and shows you watch would never get made.
US Progressive Activists' Update
https://www.facebook.com/usprogressiveactivist/
Posted on Portside's Facebook page
Re: AMPTP Film and Television Negotiations Stalled, Union to Hold Nationwide Strike Authorization Vote
Let's support our sisters and brothers who help bring us all that great entertainment we all regularly enjoy. #Solidarity
Bob Kolstad
Posted on Portside's Facebook page
Re: Carpenters' Union Halts Work on Amazon, Microsoft, Google and Facebook Expansions in Seattle Area
People need to remember that union carpenters don't work 40 hr weeks for 52 weeks. They need good wages and benefits to make it through when there is no work. But their skills are the top of their field.
Alyssa Bonilla
Posted on Portside's Facebook page
Re: The NIMBY Threat to Renewable Energy
I'm wondering about the article's choice to name-call residents "NIMBY" rather than focus on making progress in doable ways. Vermont is known for common ground solutions like accelerated EE, local/community power and helping customers go off grid.
If the goal is shutting down coal plants, reducing demand is a proven technique whereas the effect of adding utility scale renewables is diluted and hard for customers to count on. I was confused by the detailed portrayals of the individuals and then labeling them.
Rob Danielson
      =====
The author assumes the only way to intigrate alternate energy (AE) is to tie into the existing centralized grid. This is not the only way, and, in many cases, is the least efficient way to utilize AE generated power.
Back when large power plants were the only option, the electric grid was the only way to distribute that power. Problem is that, especially in rural areas, maintaing mile after mile of distribution lines is not only very expensive but also not very efficient (line loss) nor dependable (storms, fires, etc). Small scale individual systems solve these problems.
Of course residential electric use is a minor part of overall consumption and commercial users, long used to discounted power costs, will need to be encouraged to spend the money on their own systems.
We started building our first off grid house in 1976 and have been off grid ever since. We started a company that designed, installed and maintained wind and solar electric systems, so i can speak from experience what works and what does not...
Steve Krug
Re: 'Fantastic!': Berlin Votes to Expropriate 240K Apartments from Corporate Landlords
Yes, this sounds good for those living in those apartments--if the Constitutional Court allows it to go through. But there is something perverse about buying back privatized apartments at inflated prices winch will make for massive profits for the current owners. And as many have argued, the €26-31 million that this is projected to cost will do nothing to increase the supply of housing in Berlin and might be better used to build new communal and cooperative housing projects that would actually provide more housing for Berliners while reducing the shortage that has driven rental prices through the roof. The great successes of Red Vienna and Berlin in the 1920s came from building new social housing, not from expropriating already existing housing.
Stan Nadel
Before Sex  -- Tweet from Bette Midler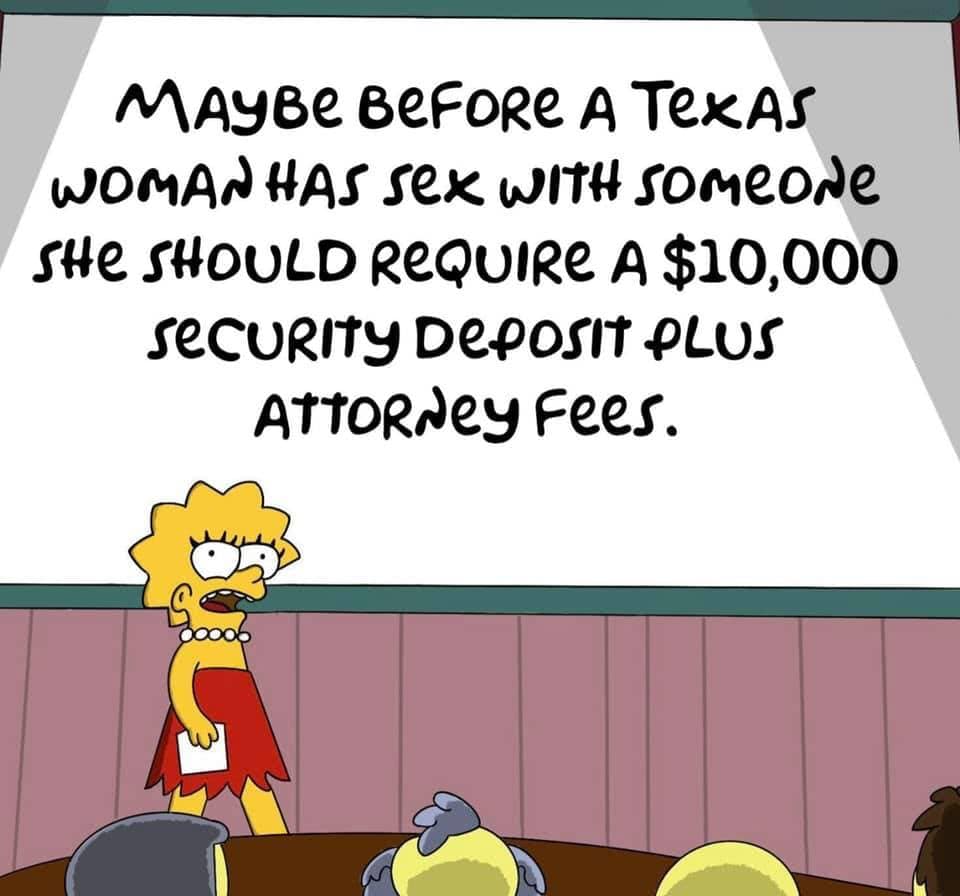 Bette Midler
September 23, 2021
Facebook
Communist Party success in Graz Austria
Shortly before 5 p.m., the first district results arrived at Graz City Hall: In 79 of 275 counted districts, the KPÖ was with almost 30 percent clearly ahead of the mayor's party ÖVP, which won 25 percent of the valid votes cast. There were also increases for the Greens (17 percent). The far right FPÖ and social democratic SPÖ were even at around ten percent.
The Austrian Communist Party has failed to follow the lead of the Communists in Graz and has had a dismal record in Austrian elections. But the increasing success of the Graz Communists reinforces my feeling that something must be very wrong with the German Linke Party's approach to politics--one that has cost them half of their voters at a time when, as the Graz Communists have shown, there is a great opportunity for expanding the constituency for real leftist politics in the German speaking countries.
Stan Nadel
Pope Francis Shows What a Christian Looks Like  --  cartoon by David Horsey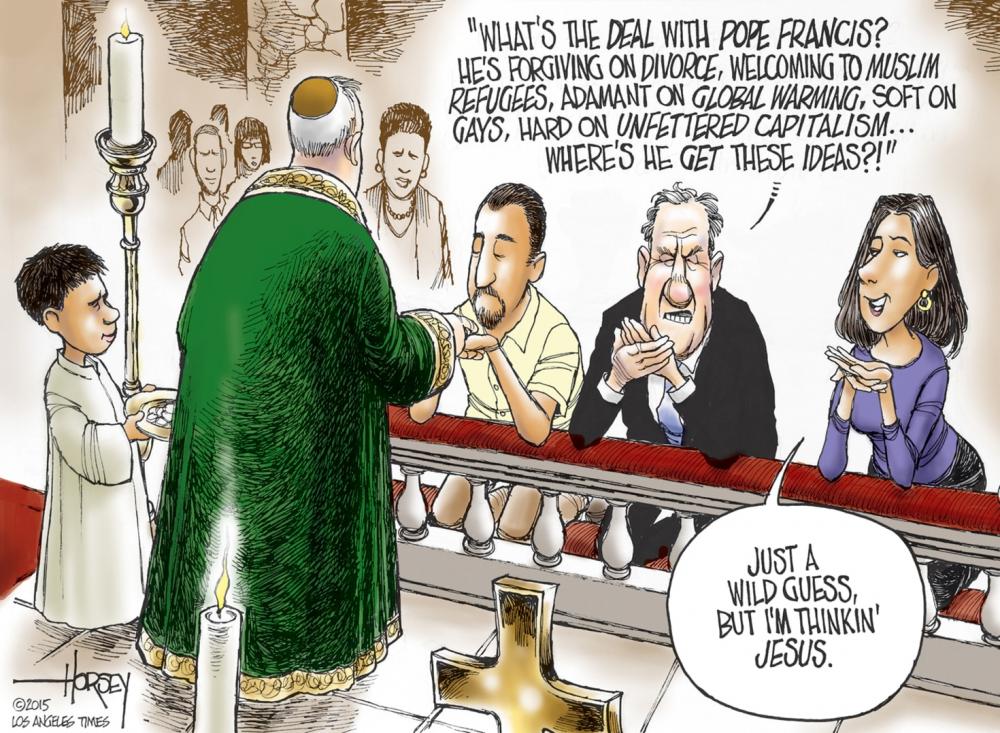 David Horsey
September 19, 2015
Los Angeles Times
Haitian & Black Immigrants U.S.-Mexico Border Crisis - Rapid Response Toolkit (Black Alliance for Just Immigration)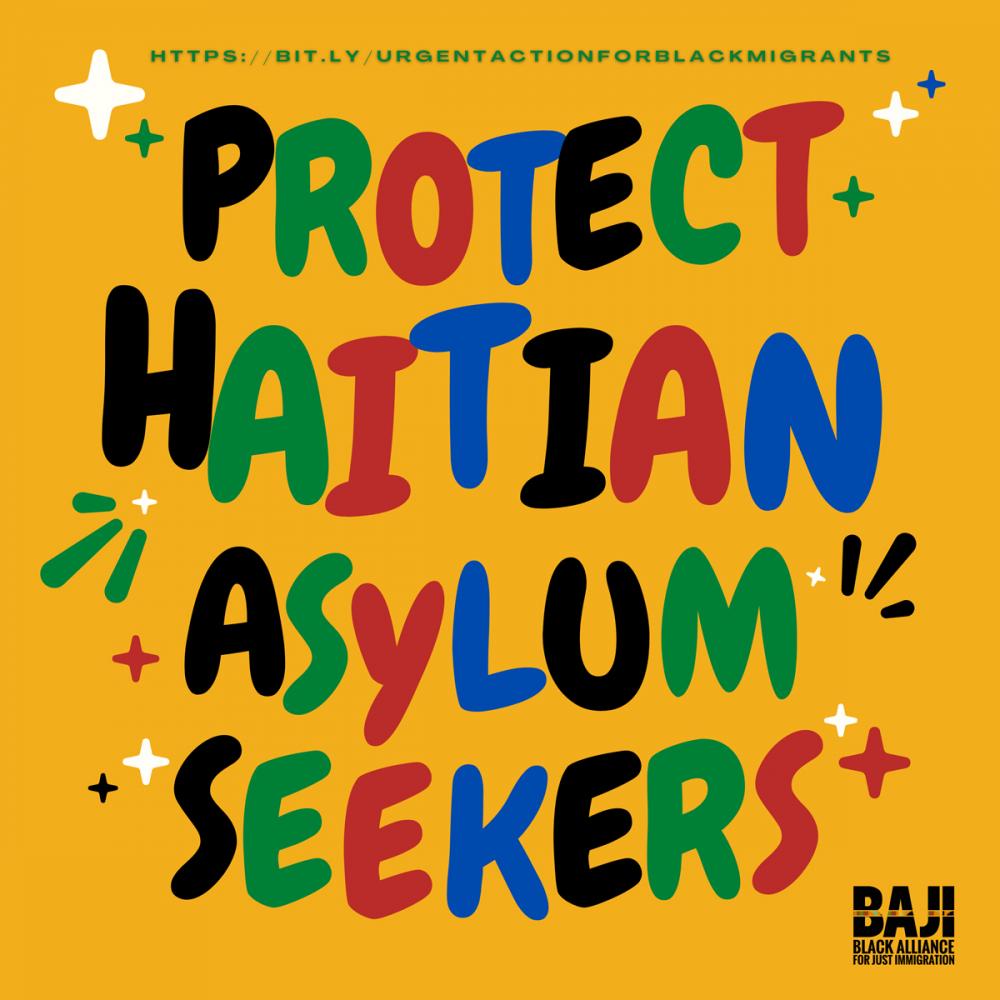 Black asylum-seekers have been seeking asylum in the U.S. by way of the U.S./Mexico border for over a decade. There was a dramatic increase in the number of Black asylum-seekers at the border – primarily Haitians – after the devastating earthquake in 2010. Thousands of Haitians fled their country and sought refuge in countries throughout the region, including Brazil, Venezuela, and Chile whose governments at that time were open to receiving them. Dire political and resultant economic changes in those countries have forced Haitians who had escaped there to move again. This time, they head toward the U.S. Once again, thousands of Haitians were on the move, traveling through ten countries and eleven borders to seek asylum in the U.S. By 2019, African asylum-seekers joined the movement of Haitian and indigenous asylum-seekers in making the treacherous journey through jungles, rivers, and along the way experiencing police violence, detention prisons, rape and robbery.
Despite the desperate needs of Black asylum-seekers at the border, U.S. policy has systematically prevented Black asylum-seekers at the border from seeking asylum in the U.S., a violation of universally-embraced human rights practices, as well as U.S. and international asylum laws. Black asylum-seekers have been forced to wait several months to make their asylum claims because of an Obama administration policy called metering, which requires asylum-seekers to 'take a number' and wait until Customs and Border Patrol selects their assigned number. On September 3, 2021, a federal district judge ruled metering as unconstitutional. The Trump administration worsened conditions with its shutdown of the border to asylum-seekers under Title 42 - a program that has continued under the Biden administration. On September 16th, a federal judge ordered the Biden administration to stop using Title 42 to expel families who are seeking asylum. Instead of processing Black asylum-seekers, the Biden administration is deporting them in a betrayal of its promise to create fair and humane border policy.
Black Alliance for Just Immigration
1368 Fulton Street, Suite 311
Brooklyn, NY 11216
email: info@baji.org
media inquiries: press@baji.org
phone: (347) 464-5422
Racial Justice and Police Misconduct - Task Force Report (New York State Bar Association)
Here is  the comprehensive report issued by the New York State Bar Association Task Force on Racial Justice and Police Misconduct. This 111 page report is the product of several public hearings and investigations into the epidemic of police racially motivated killings of unarmed Black citizens that gave rise to the largest civil rights demonstrations in our nation's history. It deserves wide circulation and examination.
"War on Terror" Film Festival October 1-31 (Center for Constitutional Rights)

October 1-31: "War on Terror" Film Festival
Calling all Freedom Flicks fans and movie lovers! We're so excited to co-sponsor the War on Terror Film Festival, a month-long, virtual program organized by the Coalition for Civil Freedoms featuring 20 award-winning films made over the last 20 years that document abuses, highlight crimes, and satirize absurdities of the so-called "War on Terror."
This virtual film festival will take viewers on a journey to bear witness to the devastating consequences of the United States' wars and security state. Together, these films paint a picture of the experiences of those who bore the brunt of U.S. post-9/11 policies, as well as their pain, hope, and resilience.
The slate of featured films include documentary and narrative features and cut across genres from drama to comedy--and include some of Center for Constitutional Rights' staff favorites! From the Oscar-winning Citizenfour and Taxi to the Dark Side to the Oscar-nominated Dirty Wars and the highly-acclaimed The Mauritanian, Four Lions, Fahrenheit 9/11 and The Feeling of Being Watched, these films shine a spotlight on the wars on Afghanistan and Iraq, indefinite detention at Guantánamo Bay prison, torture, and surveillance. Each screening will be accompanied by a panel discussion with filmmakers, actors, scholars, survivors, and resisters, who will reflect on the challenges of living through these policies and telling these stories.
Center for Constitutional Rights staff will join two of the live discussions:
Saturday, October 2, at 11:30 a.m. EDT: Advocacy Program Manager Aliya Hussain will join other speakers to reflect on a series of films that highlight indefinite detention and torture at Guantánamo: The Road to Guantánamo and The Confession.
Friday, October 29: Senior Staff Attorney Katherine Gallagher will join speakers to reflect on the film Ghosts of Abu Ghraib. *Check the film schedule in the coming weeks for the exact time.
All films and panel discussions will be accessible through the website. Register to receive email updates and full, free access to watch the films.
At the Center for Constitutional Rights, we believe in the transformative power of art and storytelling, and are thrilled to partner on this film festival and include it in our ongoing programming to mark the 20th anniversary of the U.S. response to 9/11. Visit our "9/11 Effect" project page to learn more.
Enjoy the show(s)!
The Center for Constitutional Rights team
The Center for Constitutional Rights stands with social justice movements and communities under threat—fusing litigation, advocacy, and narrative shifting to dismantle systems of oppression regardless of the risk.
Center for Constitutional Rights
666 Broadway, 7th Floor
New York, NY 10012
Confronting Colonialism: Lessons from the Puerto Rican Socialist Party in the U.S. - October 16 (Interference Archive)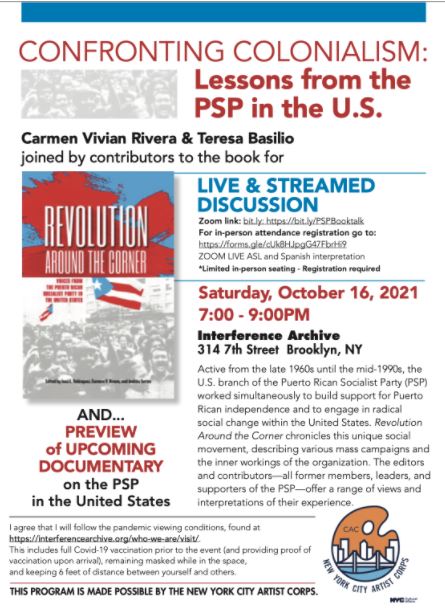 Steven Greenhouse to Moderate Metro Writers Organizing Panel - October 19
Media workers, journalists and writers are organizing in record numbers. Why is this happening now and what are the issues driving this movement? Join us for a panel discussion with speakers involved on the front lines of this organizing.
Writers Organizing / Organizing Writers
Tuesday, October 19 via Zoom
https://bit.ly/3EZbAE9 – (Registration required)
11:00 am – 12:15 pm
Journalists, writers and media workers are organizing in record numbers. Why is it happening now and what are the issues driving this movement? Join us for a panel discussion with speakers who are on the front lines of this surge in organizing.
Moderator:
Steven Greenhouse is an award-winning freelance journalist and writer. He was a reporter for the New York Times from 1983 to 2014 and covered labor and the workplace for nineteen years there. His latest book, "Beaten Down, Worked Up: The Past, Present & Future of American Labor," is now out in paperback.
Panelists:
Nastaran Mohit, NewsGuild of New York
Hamilton Nolan, Council Member, Writers Guild of America, East
Jillian Steinhauer, National Writers Union
Physicians for a National Health Program - Annual Meeting - October 22 - 23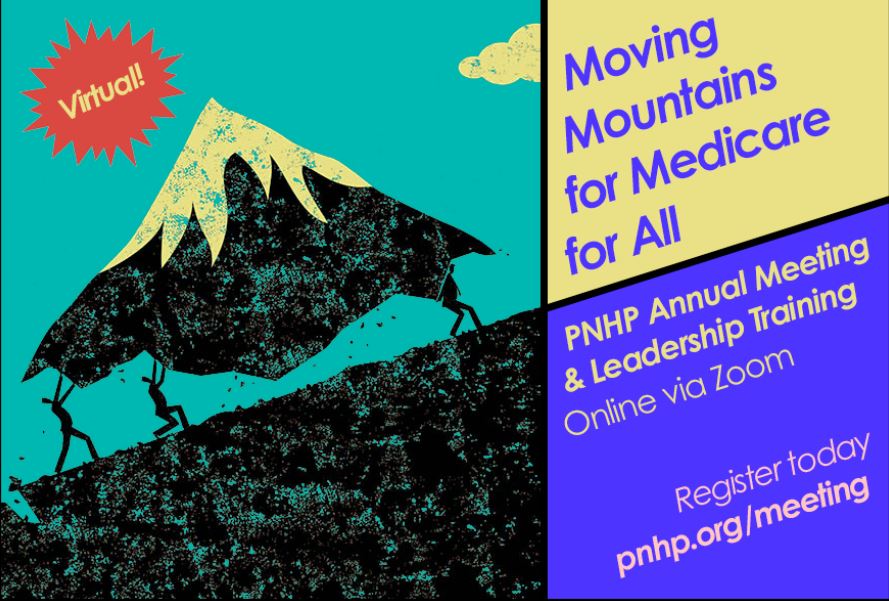 I'm excited to announce the full lineup for this year's Annual Meeting, "Moving Mountains for Medicare for All," which will take place virtually on Friday, Oct. 22 and Saturday, Oct. 23, with both interactive and pre-recorded sessions scheduled for each day of the preceding week.
You must register in advance to participate in the live sessions and access the recordings. 
Registration is $35 and includes access to all live events, plus access to slide sets and recordings of all sessions. For $70, you can register for yourself and sponsor a SNaHP student to attend free of charge. If you're able, please consider registering at the $210 level, which includes your registration plus sponsorship of a student chapter viewing party.
This year's keynote speaker is Dr. Rupa Marya, an Associate Professor of Medicine at UCSF and faculty director of the Do No Harm Coalition, an organization of health workers committed to structural change to address health problems. Her research interests include investigating the health effects of police violence on communities, and the impact of urban regenerative agriculture on the health of historically oppressed people. Dr. Marya is also a member of the Healthy California for All Commission, where she brings her perspectives on equity to the dialogue around single-payer health care in California.
Annual Meeting agenda:
Friday, Oct. 22
8:00-9:00 p.m. ET: Labor leader Jose La Luz discusses the role of workers in the Medicare-for-All movement with PNHP board member Dr. Scott Goldberg and PNHP national coordinator Dr. Claudia Fegan. 
9:00-9:30 p.m. ET: Medicare for All on Capitol Hill: A panel of legislative experts will provide the latest updates from Capitol Hill and discuss the current political landscape for Medicare for All. 
Saturday, Oct. 23
11:00 a.m. - 12:00 p.m. ET: Health policy and data update from PNHP's immediate past president Dr. Adam Gaffney
12:30-1:30 p.m. ET: Panel: "The Future of Medicare for All Physician Activism." Dr. Abdul El-Sayed, co-author of "Medicare for All: A Citizen's Guide," will speak on the future of physician activism, and PNHP board member Dr. Phil Verhoef will discuss strategies and priorities for the coming year, including medical society resolutions, fighting Medicare privatization, and recruiting more physicians into the movement. 
2:00-3:00 p.m. ET: Keynote address from Dr. Rupa Marya 
Visit pnhp.org/meeting for additional updates to the program, including details on how to participate in our Leadership Training and Member Interest Group sessions. 
I look forward to gathering with you for a weekend of learning, strategizing, discussion, and inspiration. If you're ready to Move Mountains for Medicare for All, REGISTER today and join me online Oct. 22 and 23.
Sincerely, 
Susan Rogers, M.D.
President
Physicians for a National Health Program
29 E Madison St Ste 1412 | Chicago, Illinois 60602
312-782-6006 | info@pnhp.org