https://portside.org/2021-11-04/tidbits-nov-4-2021-reader-comments-virginia-election-crt-and-slavery-military-spending
Author:
Date of source:
Portside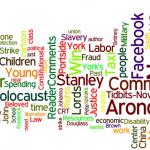 Resources:
Announcements:
Re: Left Coalition Says McAuliffe Campaign Was a 'Controlled Experiment for What Not to Do in 2022'
Here's a response to those urging the Dems to move to the center in order to win. Note the quote from the Wash. director of Bend the Arc.
Alan Levine
Fool Me Once  --  cartoon by Pat Bagley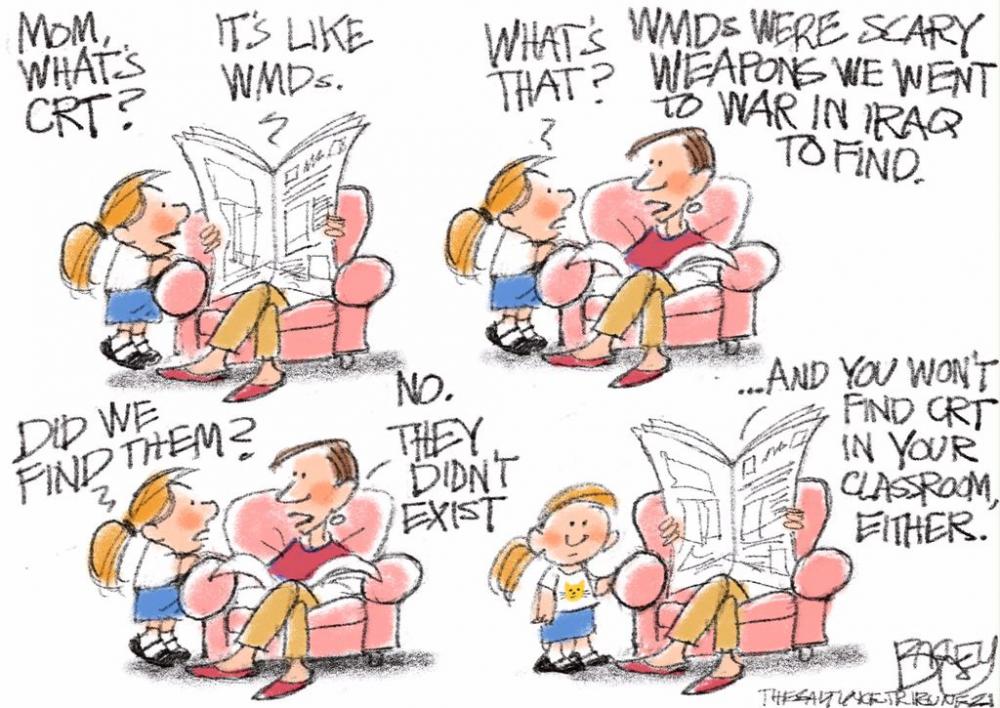 Pat Bagley
November 3, 2021
The Salt Lake Tribune
Re: House Progressives: 'When We Said These Two Bills Go Together, We Meant It'
Passing nothing will give the Republicans congress  in 2022.  Passing something of some value gives the Democrats  a chance to gain seats in 2022 with something to show  for themselves.  Holding  back the infrastructure bill is  SUIDICE  How can you recommend it?   If you gain seats in 2022, Manchin and Sinema won't matter.
Joel Mandelbaum
Re: Ahmaud Arbery: Trial of Accused Murderers is Test for Racial Justice 'in the Heart of White Supremacy'
Six months after Derek Chauvin was convicted of murdering George Floyd, the case of a Black man killed while jogging in Georgia is a sterner litmus test.
Jose Luis Medina
Posted on Portside's Facebook page
Re: Why Is U.S. Military Spending Increasing to New, Outlandish Levels?
But we can't have paid family medical leave; medicare can't be expanded to vision and dental; we should discontinue the child credit….in what world are we living? We can't have infrastructure to provide the general population with basic tech needs but we can subsidize Musk's internet plan……..whatever??
Florence Punch
Posted on Portside's Facebook page
Re: Cover-up of U.S. Nuclear Sub Collision in South China Sea
1. Walsh rewrites that the ship was "operating in the Indo-Pacific region in the South China Sea near or inside Chinese territorial waters." The ship surfaced near the Paracel Islands, which China seized from Vietnam in 1974. The spot is near Vietnamese and Philippine territorial waters, too. No mention of that, of the numerous contentions at work among the countries around the South China Sea. That would break Walsh's mirage that all events can be reduced to U.S. imperialism versus lovable China.
2. Walsh speaks of "a collision capable of killing American sailors and spilling radioactive materials into the South China Sea." Walsh presents no evidence that even suggests that U.S. sailors died or that radioactive materials were spilled. This is cheap rhetoric. China's nuclear subs are "capable of" collisions killing Chinese sailors and spilling radioactive materials.
Charles Andrews
Melting Agenda  --  cartoon by Rob Rogers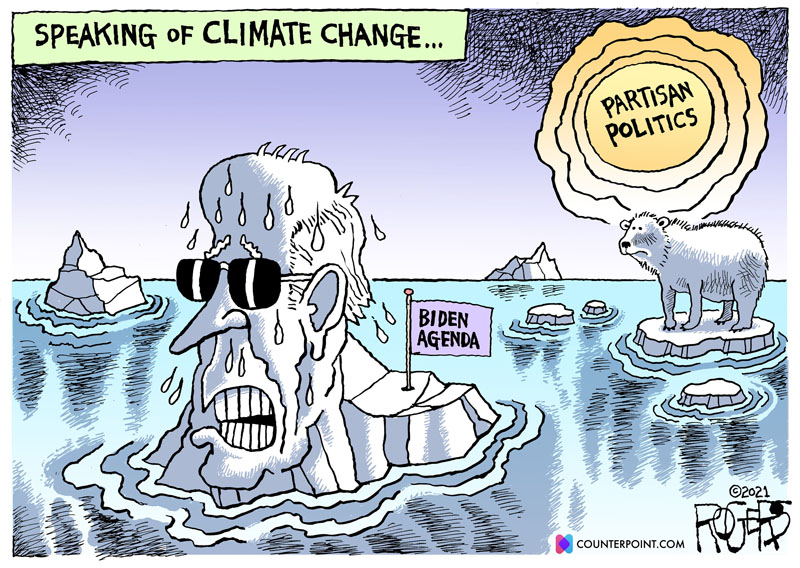 Rob Rogers
November 3, 2021
robrogers.com
Re: AOC Urges New Student Debt Relief From Biden
That's right, students need to get behind AOC and support this effort,
Craig Gauthier
Posted on Portside's Facebook page
Vaccines We Have Taken...In the Past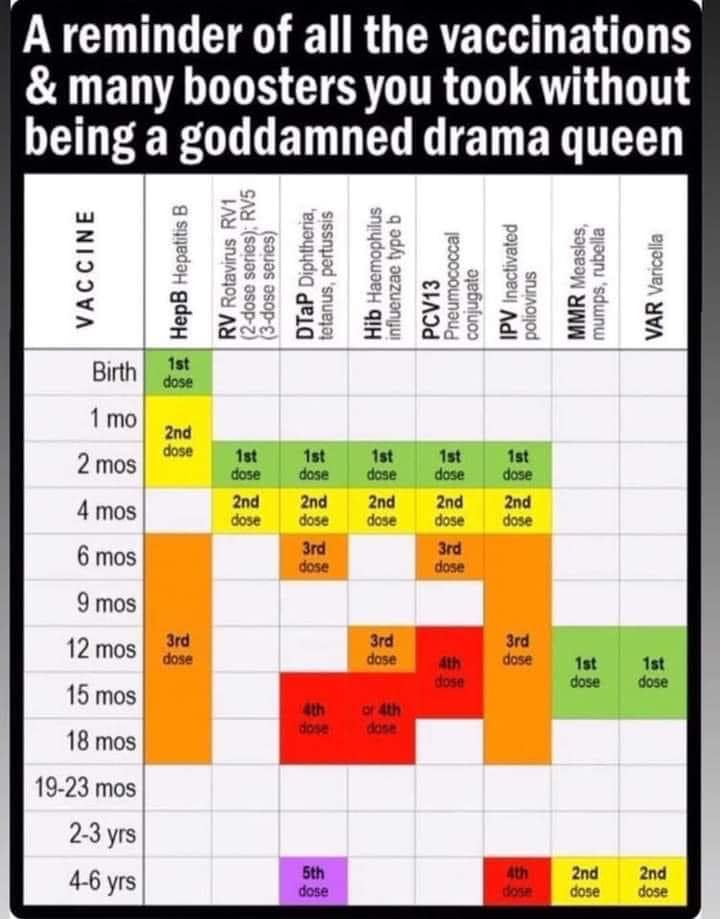 Remember me, don't let it make you cry  --  cartoon by Lalo Alcaraz

Lalo Alcaraz
November 4, 2021
pocho.com
Re: For First Time in Public, a Detainee Describes Torture at C.I.A. Black Sites
Hasn't Carol Rosenberg's https://www.facebook.com/carolrosenberg.miamiherald work reporting on Guantanamo been one of the greater wonders of journalism! She keeps at it; focusing our attention on this ghastly landmark to injustice.
Daniel Millstone
Posted on Portside's Facebook page
Re: Did You Know That 'Long Hours & Dangerous Conditions' On The Frankenstein Sets Led Legendary Actor Boris Karloff To Get Behind The Movement To Unionize Screen Actors?
(posting on Portside Culture)
So I owe my pension to these guys?! Terrific. Did not know that!
Jan Horowitz
Posted on Portside's Facebook page
Re: Making an Example of Haitian Asylum Seekers
It's been said before and I'll say it again: when the Empire disrupts the political and economic system of another country, the Empire winds up with that country's refugees hence the current problems with Haitians, Hondurans, Syrians, Afghans and so on.  A real sign of the Empire's decrepitude is that it can't seem to figure out how to solve this problem when the solution is so obvious,
Mike Liston
Ideally who should we trust? This is the biggest challenge we are facing. It's at the heart of every problem. MY words.
If you want private industry in control, just look at what the Oil companies did, thankfully Govt held them back - somewhat.
Jennifer Nouri
Posted on Portside's Facebook page
Re: The Problem With Facebook Is Fraud
I was unaware of the number of just plain illegal acts by Facebook.  Unfortunately, as the author notes, we don't have a robust culture of accountability in the USA.
"The reason to be distressed about Facebook is not whether it allows angry conservatives to be angry in public, and to obtain the bad information they would have obtained in some other way. The reason to be distressed is its series of business practices that appear to flagrantly violate the law. Even if you're looking at how Facebook relentlessly tracks people across the internet and violates their privacy, the danger there is in part the attention imperative that feeds people more and more provocative content, but in greater part the perverse ways this business model enables things like targeted harassment and racial and gender discrimination."
"There are potential legal violations still occurring today, like the attempt to corner the market on virtual reality technologies. (Given the FTC's new directive to presumptively block acquisitions by companies that engage in anti-competitive mergers, virtually every one of these Facebook purchases should be scrutinized and perhaps restricted.)"
John Dietzel
Posted on Portside's Facebook page
      =====
Facebook is just a garden-variety fraud scheme that breaks the law for its own self-enrichment
The Media Mentor Digital
https://www.facebook.com/mediamentor.ca/
Posted on Portside's Facebook page
Re: SPEECH: Frederick Douglass on John Brown, 1860
"Among the greatest heroes and martyrs History will reckon John Brown. 
"It is said that next in value in performing great deeds ourselves, is the virtue of appreciating great deeds when performed by others. . . .
"His zeal in the cause of freedom was infinitely superior to mine. Mine was as the taper light, his was as the burning sun. Mine was bounded by time. His stretched away to the silent shores of eternity. I could speak for the slave, John Brown could die for the slave."
Read the entire original manuscript of the speech, "A Lecture On JOHN BROWN, delivered at Harper's Ferry and other places, BY Frederick Douglass," on-line in the Frederick Douglass Papers at the Library of Congress.
 
Ken Lawrence
Spring Mills, Pennsylvania
Pete Seeger Forever Stamp to be Issued in 2022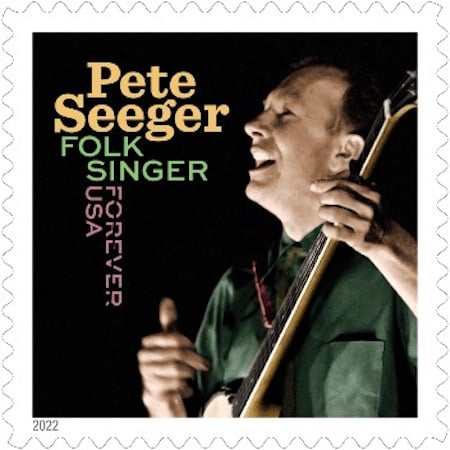 Here is the preliminary design of the Pete Seeger stamp that the U.S. Postal Service announced it will issue some time in 2022.
The announcement said that the design was based on a black-and-white photo taken by Pete Seeger's son Dan sometime in the 1960s.
It's the tenth stamp in the "Music Icons" series. We can't wait to see your stamps! Read more here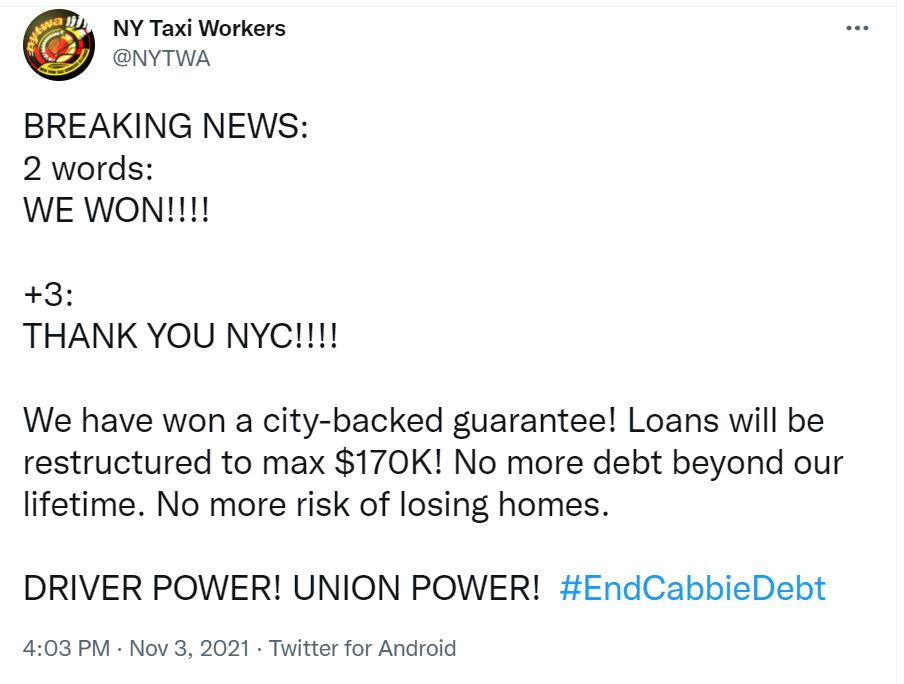 [Before the victory announcement, the post below was what had been prepared for Portside - Take Action.]
Sunday I went to one of the most moving protest events I have been at in a very long time. 
For years, the taxi drivers of NYC have worked in one of the most dangerous jobs as they've moved millions of people around town. Over time our local government has abused what might once have been a good idea to regulate the numbers of cabs and drivers, turning the selling of taxi medallions into a cash cow for the City. In 2002, the cost of a medallion was $200,000 and by 2012 it was over $800,000. Things got worse as time went on, and the COVID crisis has turned the situation into a nightmare, pushing the individual medallion owner-drivers into an economic tail spin that has been directly connected to the increased suicides within their ranks.
Most of the people who drive cabs and car services are immigrants. For decades, driving a cab was a decent job, providing an adequate income for people to raise families and have a decent life. Today, thousands of yellow cab owner-drivers have already lost their retirement savings and are facing foreclosure and bankruptcy with debts averaging $550,000.
The New York Taxi Workers Alliance - a 25,000 member union of yellow, green, Uber and Lyft drivers - has been leading the fight to put an end to this. They have put forward a plan to restructure the medallion loan program which would dramatically and quickly improve the situation. Their plan has been endorsed by every one of the NYC Representatives in the House and Senate Majority Leader Chuck Schumer, and more than 70 NYC elected officials. Take a look at their website for the details about the plan and the campaign.
The event I went to yesterday was outside City Hall where people joined the hunger strike of drivers and others that had been going on for 12 days. Taxi drivers told their stories and the stories of their co-workers who had taken their own lives under the crushing weight of this economic crisis.
Here's the main point of this message: There is a strong, solid plan for dealing with this crisis and one person has the power to move it forward, and that's Mayor Bill de Blasio. It is outrageous that the man who was elected on a platform of "ending the tale of two cities" has yet to take the steps needed to resolve this.
These drivers, their families, their communities and their union need our help. And they need it today:
Show your support by going to their 24/7 protest at City Hall - Broadway and Murray St - take pictures and tweet them to @NYCMayor, tag the union @nytwa .
Please share this memo widely! Let's make sure the Mayor knows that New Yorkers stand with the taxi drivers in their fight for economic justice!
 
in solidarity,
Leslie Cagan
How to Strike and Win: A Labor Notes Guide (Labor Notes)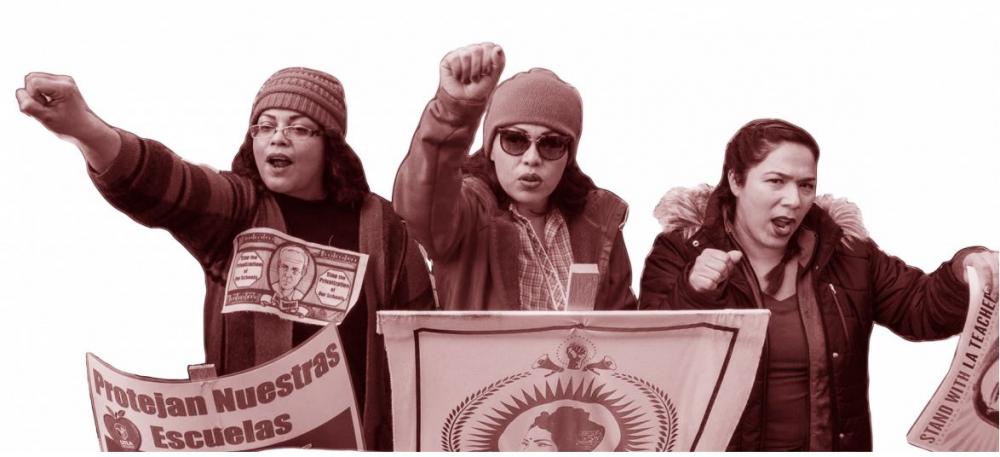 After a long absence, the strike seems to be making a comeback in the U.S. The teacher strike wave of 2018-19 caught everyone off guard—but showed that workers' most powerful tool can still win. As we finished this pamphlet, 49,000 GM workers were on the picket lines and 32,000 Chicago Teachers and school employees were about to walk out.
We decided to put together this special expanded issue of Labor Notes—a manual on how to strike. We're betting that's info that more and more unions are going to need in the near future.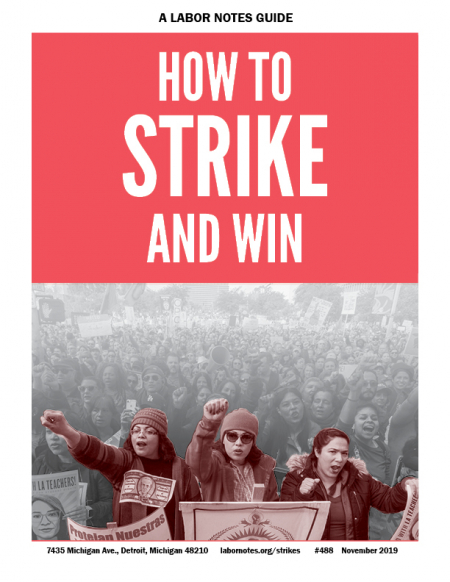 Click here to download the whole guide as a PDF.
Labor Notes
7435 Michigan Ave
Detroit, MI 48210
(313) 842-6262
Beloved Children of the Holocaust (Mary Burkett)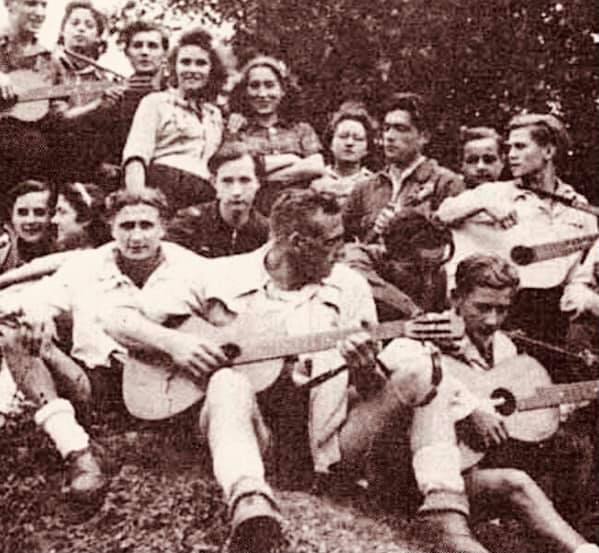 They wore their hair long because the Hitler Youth wore theirs short. They wore traditional German attire, refusing the dreaded brown shirts. They irritated the Nazis in countless small ways, pouring sugar into gas tanks and stealing bicycles. They simply weren't buying what the National Socialists were selling; the vision of a totalitarian Utopia was not for them. 
They were German teens who stood against the greatest evil of the 20th century. They left school at age 14 to avoid mandatory participation in the Hitler Youth. At age 18, they would be forced into compulsory military service, but in those 3 years, they STOOD. They scribbled graffiti, protected Jews,  delivered explosives to resisters. 
Who were these incredible kids? They gave themselves a name - the Edelweiss Pirates. Many would pay a price of course. At the least, their heads were shaved. At worst, they were beaten, imprisoned, tortured, and on the morning of November 10, 1944 in Cologne, six of the them we're publicly hanged without trial. And remember, these were kids, the high school students of today. One can anticipate bravery among grown men and women, but this? Heroism is indeed found in the most unexpected places. I salute you.
Beloved Children of the Holocaust
Mary Burkett is just an ordinary person called to extraordinary circumstance. She is a wife, mother and grandmother. Having had no artistic training, in January 2017, she began to create a living memorial to precious children killed in the in the Holocaust. In seven short months, Beloved: Children of the Holocaust, a collection of beautiful portraits, was complete. Since that time they have been viewed across the United States and in countries throughout Eastern and Western Europe and have received recognition from the Congress of the United States.​
In December of 2017, Mary was inspired to begin a new collection honoring the lives of children, both enslaved and free, in the second half of 19th Century America. This collection is now comprised of 14 portraits, known as Beloved: Legacy of Slavery.
Mary continues to draw, honoring the lives of children forgotten by time and history. Her work has been described as "An inspired initiative with a precise purpose: that mankind knows the atrocities of the historical past and never repeats them."
The Activist Files - The Power of Art: Talking Disability Justice and Movements for Liberation (Center for Constitutional Rights)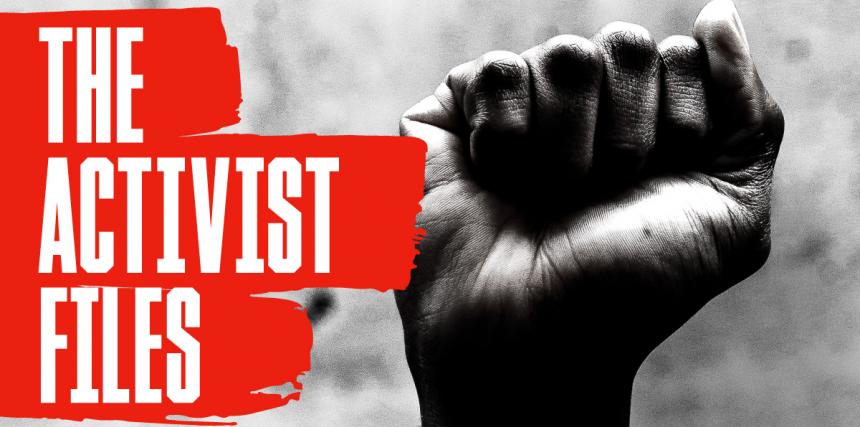 The Activist Files is a podcast by the Center for Constitutional Rights where we feature the stories of people on the front lines fighting for justice, including activists, lawyers, and artists. We interview movement partners, our clients, and people using storytelling to create change, and look to highlight lesser known aspects of the work. Listen to our latest episode here, or subscribe through your iPhone podcast app, or directly on iTunes or Spotify!
The Power of Art: Talking Disability Justice and Movements for Liberation
How do organizers and advocates use art to promote and demystify the struggle for disability justice and its connections to other liberation movements? On the 43rd episode of the Activist Files, Senior Legal Worker Leah Todd speaks with Britney Wilson, a poet and writer who was featured in the Brave New Voices documentary series, attorney, and Associate Professor of Law and Director of the Civil Rights and Disability Justice Clinic at New York Law School, and Lucy Trieshmann, an educator and writer, third year law student at New York University School of Law, co-founder of the Breaking Point Project, and treasurer of the National Disabled Law Students Association, about using art, storytelling, advocacy, and litigation as tools to move towards a world beyond ableism, criminalization, and other forms of discrimination. The podcast coincides with the observation of National Disability Employment Awareness Month in October.
Britney and Lucy discuss the ways that art can help to share important narratives and open up space for difficult conversations on controversial issues, how disability justice is situated within a larger liberation politic that includes racial, economic, LGBTQIA+ and gender justice and abolitionist frameworks, the necessity of moving beyond concepts of access and compliance towards understanding everyone's role in interdependence in order to get towards freedom, and lessons those working for justice must commit to learning in order to move beyond an ableist conception of "normalcy."
For further information:
Center for Constitutional Rights
666 Broadway
7th Floor
New York, NY 10012
Main: 212-614-6464
Fax: 212-614-6499
Book Presentation: The Young Lords with author Johanna Fernández - November 11 (Vito Marcantonio Forum)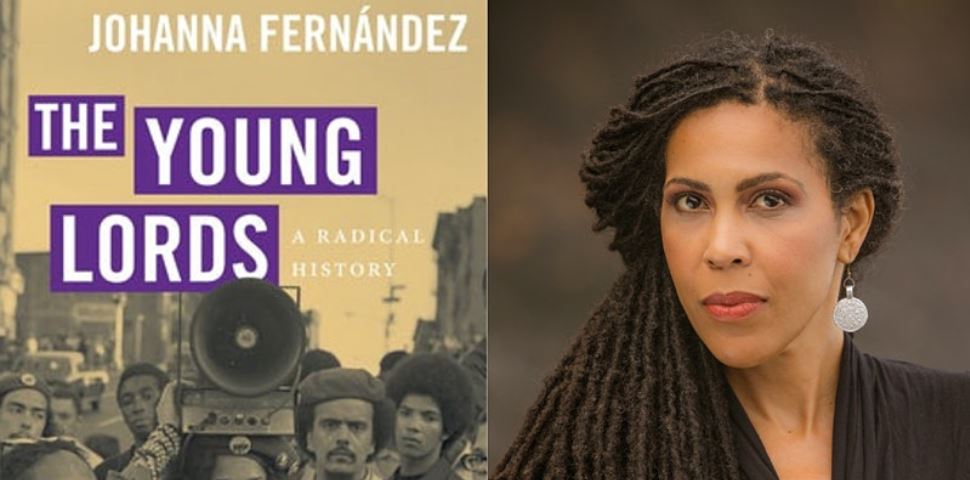 Please join us for our upcoming Zoom book presentation and Q&A with award winning author Johanna Fernández. Thursday, November 11th, 2021 at 7PM. 
If you are interested in attending, please please use the following link (no more than 15 min before start):
https://bit.ly/3GFzJR0
Against the backdrop of America's escalating urban rebellions in the 1960s, an unexpected cohort of New York radicals unleashed a series of urban guerrilla actions against the city's racist policies and contempt for the poor. Their dramatic flair, uncompromising vision, and skillful ability to link local problems to international crises riveted the media, alarmed New York's political class, and challenged nationwide perceptions of civil rights and black power protest. The group called itself the Young Lords.
Utilizing oral histories, archival records, and an enormous cache of police records released only after a decade-long Freedom of Information Law request and subsequent court battle, Johanna Fernández has written the definitive account of the Young Lords, from their roots as a street gang to their rise and fall as a political organization. 
Vito Marcantonio Forum
381 2nd Street
Brooklyn, NY 11215
CARRY IT ON: The Radical Imagination - Past & Present - Tribute to Stanley Aronowitz with Cornel West - November 19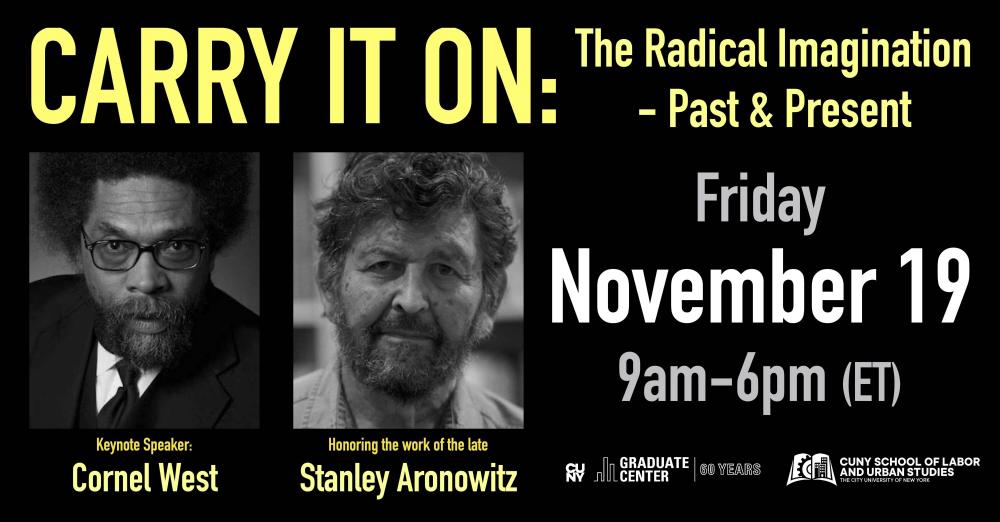 CARRY IT ON:  THE RADICAL IMAGINATION - PAST AND PRESENT
Friday, November 19, 2021
9:00am - 6:00pm (U.S. Eastern Time)
A virtual event -- please register for live stream information.
Featuring Cornel West, Barbara Ehrenreich, bell hooks, Henry Giroux, Kristin Lawler, Ruth Milkman and many more, this virtual conference will examine the broad scope of the work of Stanley Aronowitz, especially with regard to the labor movement and class consciousness, science and technology, cultural matters, and educational theory and practice. At the heart of Aronowitz's wide ranging scholarship and activism was his commitment to the liberation of the working class and the oppressed.
About the Conference:
This conference will examine the broad scope of Stanley Aronowitz' work, especially with regard to the labor movement and class consciousness; science and technology; cultural matters; and educational theory and practice.? At the heart of Aronowitz' wide ranging scholarship and activism was his commitment to the liberation of the working class and the oppressed.?
About Stanley Aronowitz:
Stanley Aronowitz was a towering figure on the American Left over the past sixty years. Beginning with early contributions to the Port Huron Statement in 1962, weekly commentary for the U.S. Guardian, and the publication of the provocative False Promises: The Shaping of American Working-Class Consciousness in 1973, Aronowitz remained engaged throughout his career as a militant union organizer, social and political theorist, and mentor to hundreds of graduate students.
Before his passing, Aronowitz was Distinguished Professor at The Graduate Center and the School of Labor and Studies at the City University of New York.
Click here to learn more and register.
CUNY School of Labor and Urban Studies
25 West 43rd Street, 18th Floor
New York, NY 10036