film
Did You Know That 'Long Hours & Dangerous Conditions' On The Frankenstein Sets Led Legendary Actor Boris Karloff To Get Behind The Movement To Unionize Screen Actors?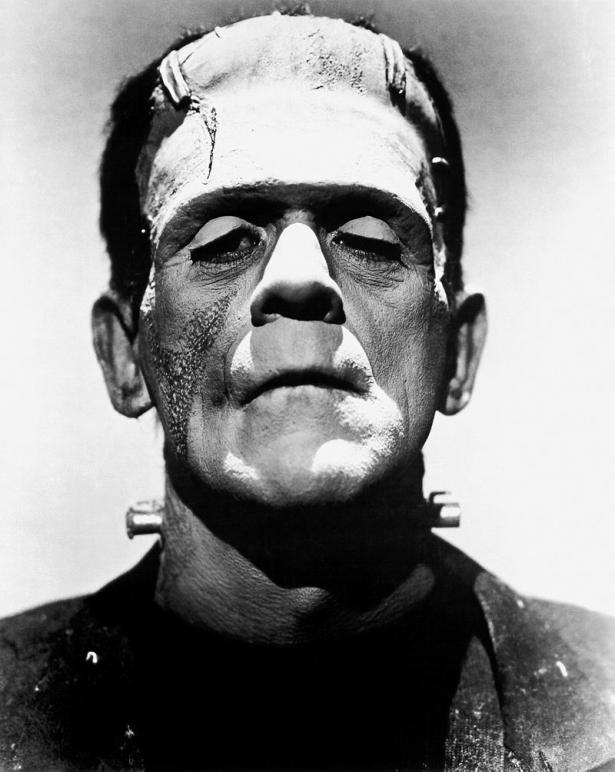 WNYLaborToday.com Editor's Note: Your On-Line Labor Newspaper is republishing this Labor News Story that it originally published back on October 29th, 2015.  In celebrating Halloween 2021 during this continuing Coronavirus Pandemic, WNYLaborToday.com thought it was important to underscore and recognize - once again - what Actors Boris Karloff and Bela Lugosi did to organize their fellow Actors in Hollywood.  Please be aware that WNYLaborToday.com has slightly updated its contents to reflect the year and time.  WNYLaborToday.com also asks that you take the time to share this Labor News Story with others across the Labor Movement this Halloween.
Several years ago, in fact a couple of weeks after Halloween, I ran across this small blurb somewhere on the Internet concerning the late and legendary Actor Boris Karloff, who starred in Universal Pictures' immortal Horror Films: Frankenstein in 1931; Bride of Frankenstein in 1935; and Son of Frankenstein in 1939, among many others (However, Karloff might even be better known by many television viewers who grew up in the 1960s as the narrator in the animated television special Dr. Seuss's How the Grinch Stole Christmas!):

The long hours and dangerous conditions on the Frankenstein sets led Boris Karloff to get behind the new movement to Unionize Screen Actors.  It was not uncommon to see Karloff (pictured above as Frankenstein) in full monster makeup, handing out applications to join the Screen Actors Guild (SAG).
Sure I'd watched and loved Karloff (pictured below, without makeup) playing all those scary roles growing up as a kid.  He made Halloween that much more special for me and for so many others and the memories that I've kept are making this and many other Halloweens over the years so special.  
But in all my years working with the Labor Movement - I did not know Boris Karloff was a Union Organizer!   
So I filed it away to use for a story that I planned to write for WNYLaborToday.com for Halloween 2015.  As October 31st was getting closer, I did a little digging on the Internet and found that Charles Starrett, who was known in the Motion Picture Industry as a founder of SAG and to moviegoers as the Durango Kid in scores of low-budget Westerns back in the 1930s and 40s, had died in March 1986.  
In his Obituary that appeared in The Los Angeles Times (http://articles.latimes.com/1986-03-25/local/me-127_1_charles-starrett), it stated: Starrett, along with 17 other Actors, met secretly in Boris Karloff's garage one day in 1933 and helped shape the Charter of the Screen Actors Guild.  It was said to be an era when Actors, Writers and Directors were trying to wrest some of the creative control over their pictures from a small group of Studio Bosses who'd vowed to fire or blacklist Union Organizers.  It also said Starrett carried Card Number 10 with SAG-American Federation of Television & Radio Artists (AFTRA).
Met in Boris Karloff's garage to start forming their Union? 
Wow, I did not know that - I thought to myself. 
How interesting - and fantastic! 
This Horror Movie Hero of mine was not only a great Actor, he was a Union Guy!
So, I sent an e-mail to the Screen Actors Guild‐American Federation of Television and Radio Artists (SAG-AFTRA), the Los Angeles-headquartered Labor Union that represents more than 160,000 Film and Television Principal and Background Performers, Journalists and Radio Personalities worldwide.  
At the time, SAG-AFTRA Chief Communications & Marketing Officer Pamela Greenwalt replied and put me in touch with a wonderful woman by the name of Valerie Yaros, who served as the Union's Historian/Archivist Consultant.
Yaros and I spoke over the phone and she was kind enough to send me a follow-up e-mail with an array of background information on Karloff, the role he played in the Union he was part of forming and his extraordinary efforts to educate and convince his fellow Actors that Going Union was the only way to go on the movie set.
But as I read through the materials, it was then that I learned that the late and legendary Actor Bela Lugosi (pictured below as Dracula), who in fact made Dracula famous on the Silver Screen - like Karloff, was also a Founding Member of the Screen Actor Guild!
Wow, I didn't know that – too! - I thought to myself.
So with Halloween upon us, and in honor of two great Union Guys - who should be remembered for what they did for their fellow Actors and Actresses outside of wearing those scary costumes, here's what Yaros sent me from the SAG-AFTRA Historical Files, as well as some background on both Karloff and Lugosi:

Karloff (pictured above) and Lugosi (pictured below) are household names as Horror Film Stars, but few know them as Union Activists and Founding Members of the Screen Actors Guild.  Both men actively recruited Actors and Actresses to join our as-yet-unrecognized Union (between 1933 and 1937).
Boris Karloff was Member Number 9.  He joined the Guild July 19th, 1933 and is warmly remembered as one of the most beloved Board Members in Guild History.  Those who knew him, called him Dear Boris.  He served as Board Member and Officer from 1933 through 1949, completing his tenure by serving as a Board Alternate in 1951.  
A native Englishman, he arrived in Los Angeles in 1919 after spending nearly a decade traveling in Canadian and American Theatrical Companies.  Over a decade later, he garnered his first rave reviews, for his performance in the 1931 film The Criminal Code.  By year's end, he hit stardom, playing the creature in Universal Studios' Frankenstein.  
One unforgettably grueling shoot day on Frankenstein, over September 28th-29th, 1931, he put in over 25 hours of work at one stretch – an outrage he never forgot.  
In response, he notified the Academy of Motion Picture Arts & Sciences - the only organization at the time that could arbitrate grievances between Actors and Producers (but both parties had to be Members of the Academy to take advantage of this service).  
In May 1933, at the annual dance of the Hollywood Cricket Club, Karloff was invited by Actor Kenneth Thomson to attend one of the small, regular meetings of determined, dissatisfied Actors, at his home.  
From these meetings, the Screen Actors Guild was born on June 30th, 1933.  
On November 20th, 1951, Karloff was awarded a Gold Card, bestowing an honorary Life Membership in the Screen Actors Guild.  
Karloff wrote the Board of Directors a heartfelt Thank You: "Ladies and Gentlemen, you have just done me the greatest honor that any Actor could receive from his fellows, and I am humbled and deeply grateful.  I was only luckier than most in that I happened to be around when things got started.  My best love to those who are serving now, but most of all to those who have gone ahead and those who will follow on... for Actors.  God bless you all."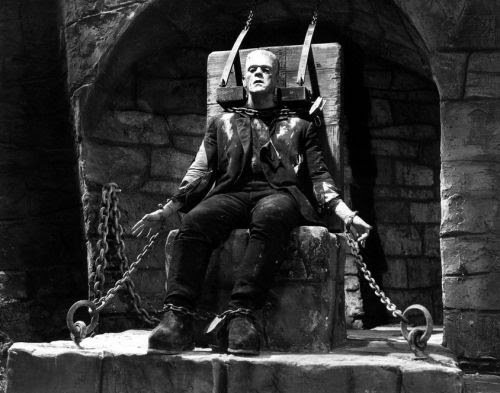 Bela Lugosi (pictured below) was Member Number 28.  He was accepted into the Guild on July 31st, 1933 and served on its Advisory Board from 1934 to 1936.  During this formative period of the Guild, he attended 14 Board meetings and offered suggestions to the Guild Leadership.  
A native of Hungary, Lugosi had a long and distinguished stage career with the National Theatre of Hungary.  In 1918, after the end of World War I, he founded the Free Organization of Theatre Actors.  In Budapest, on March 31st, 1919, Lugosi led a mass demonstration of Actors to call for the government to reorganize the Hungarian Film Industry and limit profits of distributors who were growing rich while Actors and other Workers suffered.  The success of the protest allowed Lugosi to add Film Workers to his organization of Stage Actors, uniting them in the National Trade Union of Actors.  
Forced to flee his native land, due to changes in the political regime, Lugosi eventually arrived in the United States in the early 1920s.  
In 1927, he won the title role in the Broadway production of Dracula, which made him a star and, in 1931, starred in the now-classic Universal Studios' film version.  
Over the course of time, Lugosi and Karloff appeared in several classic Horror Films together, including The Black Cat in 1934, The Raven in 1935, The Invisible Ray in 1936, Son of Frankenstein in 1939 and The Body Snatcher in 1945.
SAG-AFTRA Historian/Archivist Consultant Yaros also sent WNYLaborToday.com the following from her Timeline of Guild History, plus a letter from Karloff's Member File:
July 29th, 1933: Karloff on an AMPAS Committee on Actors' Working Conditions: The Academy of Motion Picture Art and Sciences' Bulletin reports "Actors Working Conditions To Be Subject of Study:" "The enforcement of the 12-hour rest period for Actors and a sweeping investigation of Working Conditions of Actors under the Academy Minimum Contract will be the first project of a Special Committee on Working Conditions just named by the Actors Branch of the Academy.  The first meeting of the new committee, which has Lewis Stone as Chairman, has been called for Monday evening, July 31st, at the Academy offices."  Members were "Dewitt C. Jennings, Pernell B. Pratt, David Landau, Jack Mulhall (who, in later years will join the Guild Staff), Hobart Bosworth, Claude King, Boris Karloff, Jean Hersholt, Lionel Atwill, J. Farrell Macdonald, Antonio Moreno, Warner Oland, Dell Henderson, William V. Mong and Henry Kolker." (Academy Bulletin, July 29th, 1933 Volume, No. 17, Page 3.)
July 31st, 1933: Karloff added as part of the Guild's five-Member Membership Committee.
October 2nd, 1933 (Monday): Karloff withdraws his Academy Membership.  That morning, the Academy of Motion Picture Arts and Sciences receives a telegram from a number of Actors resigning from its Membership, because "an organization only for Actors can produce better results."  Fourteen resign (from a Membership of 319): Adolphe Menjou (AMPAS' First Vice-President), Fredric March (AMPAS' Second Vice President), Ken Thomson, Paul Muni, Chester Morris, George Bancroft, James Cagney, Boris Karloff, Warren William, Robert Montgomery, Frank Morgan, Gary Cooper, George Raft, and Ralph Bellamy.  Additional Actors who are listed as not being AMPAS Members (Otto Kruger, Eddie Cantor, Charles Butterworth, Groucho, Harpo, Chico and Zeppo Marx, Ralph Morgan, Lee Tracy, Spencer Tracy and Miriam Hopkins) join those above in signing a telegram to the NRA's Sol Rosenblatt, declaring "unqualified opposition to Articles 9 and 10 of the producers' code and any form of salary control board as being in direct violation of the principles of the NRA" (NOTE: the Academy's May 1933 member roster lists both Miriam Hopkins and Spencer Tracy as Academy Members.  So, either the paper is wrong or Hopkins and Tracy had withdrawn from the Academy earlier.  Or, The Times is simply wrong, as sometimes occurs in news reporting!  Source: Los Angeles Times, October 3rd, 1933)
January 17th, 1934: Karloff appointed to a Screen Actors Guild Committee to encourage AMPAS Members to resign, along with Claude King and Ivan Simpson (all members of the Hollywood Cricket Club).
October 4th, 1934:  Karloff was appointed to a Guild committee chaired by Ralph Morgan, to meet with Frank Gillmore, head of Actors' Equity, concerning a Guild-Equity affiliation plan.
January 19th, 1935: Kenneth Thomson writes a letter to Karloff who is working on Bride of Frankenstein.  Excerpt: I don't suppose with that make-up you get much chance for conversation while you are working, but according to The Reporter the following members of your cast are not Guild Members: Colin Clive; Valerie Hobson; O.P. Heggie; E.E. Clive; Ernest Thesiger.  We are making a determined effort to increase our Membership, and if you can do anything we would appreciate it.  I am enclosing a few membership blanks just on the chance.
March 25th, 1935: Bela Lugosi to the Guild's Secretary, Actor Kenneth Thomson: My Dear Kenneth - Enclosed you will find the addresses of four film performers whom I as a star in 'The Raven' as such was able to persuade for our cause.  Please send them literature and (application) blanks.
October 22nd, 1935: A letter from Karloff to the Kenneth Thomson: Dear Ken, Enclosed is the signed application of Frances Drake.  I am happy to report that with the addition two weeks ago of Frank Lawton this makes 'The Invisible Ray' company 100% (Union-represented).  I have found no resistance at all from the people I have worked with and I believe that by studying the casts as published in The Reporter, selecting some real member of the cast who is also in the Guild, firing them up & arming them with applications for immediate action, we can make each working unit 100% by working from within.  Sincerely, Boris.

Finally Yaros sent the following column, written by Karloff, that was printed in the October-November 1960 Edition of Screen Actor.  It was headlined: Oaks from Acorns: Just What Was an Actor Who Didn't Play Cricket Doing at a Cricket Club Dance?  It read as follows (The photo above includes Karloff - in the middle - with the Founding Members of the Screen Actors Guild):
So far as I am concerned, it all started at a Hollywood Cricket Club dance at the Hollywood Roosevelt Hotel in May, 1933.  Every year at the start of the cricket season, we used to stage something of the sort to promote interest in the club and raise funds for the season just beginning.  For some extraordinary reason, Ken Thomson was there.  As he is not too well known for his prowess as a cricketer, I supposed he had been lured there in the hope of knocking him over for a small financial contribution to the cause of cricket - to be rewarded, of course, with a fancy card proclaiming him to be a non-playing associate, non-voting, dues-paying member of the Hollywood Cricket Club.
Anyhow, as the evening advanced, and I was circumnavigating the floor in my customary slow and stately manner, Ken dropped anchor alongside me and muttered in my ear the magic words: 'Would you be interested in an autonomous organization for Film Actors with an affiliation with Actors' Equity?' 
Hastily scrambling off my unfortunate partner's foot, I practically yelled: 'How… when… where?'  At which he hissed, 'Next Thursday, 8 p.m., my house… don't park too close to the house,' and practically vanished in a puff of smoke… his pocketbook intact, I trust.
Well, I went, I listened and I was conquered. 
Dear Ralph Morgan was presiding over a crowded meeting of perhaps half a dozen people.  Ken Thomson, of course, and his wife Alden, Jim and Lucile Gleason, Noel Madison, Claude King and perhaps one or two others I dare not mention for fear I get the names wrong after so long a time.  Anyhow, from then on it was a regular weekly event with one or two new recruits coming in… a rather thin trickle, but still a trickle.  Amongst that trickle were Sir Aubrey Smith, Ivan Simpson, Murray Kinnell – all members of the Cricket Club.  Perhaps they were rewarding Ken Thomson for the shocking trick they had played upon him earlier in the year.  Among others who joined the group before the actual formation of the Guild were Leon Ames, Bradley Page, Charles Starrett, Lyle Talbot, and Alan Mowbray, whose personal check paid for the Guild's incorporation.
From time to time various well known luminaries in the film world came to listen and admire but not to enlist.  But in the meantime, Ralph and Ken and the rest, with the invaluable aid and counsel of Larry Beilenson, plugged away. 
The general idea was to set the skeleton of an organization for Film Actors with a constitution and the machinery for making it work, but in the meantime sit back and hold the fort and wait for the producers to make the inevitable booboo that would enable us to interest the stars, without whose support we knew the Guild could not hope to function successfully.
Well, the months ticked away and our growth was hardly phenomenal and sometimes, in spite of coffee and sandwiches so generously supplied by Ken and Alden, our spirits flagged a bit - but never our firm belief that the producers would do the job for us by putting the cat among the pigeons and getting everybody into an uproar. 
Well, sure as fate they did just that, although for the life of me I can't remember what it was at this distance (It included an attempt to limit Actors' Salaries under the National Recovery Administration's Code of Fair Competition for Motion Pictures, compiled by the producers). 
The producers chose the moment when our evening quota of visiting nobility and gentry consisted of Groucho Marx and the late Charlie Butterworth.  They, of course, knew what the row was about and we told them what we had been up to.  Proudly, we dangled our skeleton before them and trotted out the proud roster of our members… all fifty or sixty of them.  That did it.  They sent telegrams to every important star in the business and they all convened at Frank Morgan's house the following Sunday and the Guild was off to the race sat last.
What followed, of course, is history, and there is no need to rehash all of it. 
But how fitting it was that the crucial meeting should have been held at Frank Morgan's house, for it was his brother, Ralph, who had planted the acorn.
Early in 1933 when all the banks had closed, the producers had announced unilaterally that, regardless of any trifle like contractual obligations, all Actors and Writers would immediately take a fifty percent cut in salary for the "duration" -whatever that meant. 
Ralph had just come out to Hollywood from the orderly world of the theatre and Equity, and when he felt a strange hand in his pocket, he automatically hollered "Cop," but to his astonishment he found that there was no cop, and so he went to work and here we all are. 
What a pair those two brothers were! 
As unalike in appearance and temperament as any two human beings could possibly be, but united in one thing at least… their devotion to the cause of their fellow Actors, great or small. 
I remember a special board meeting called by telegram for a Sunday afternoon for some reason or other.  In the middle of the meeting the door was flung open and Frank Morgan, hot, breathless and disheveled, burst into the room yelling: "What's the beef?  When do we Strike?"  On being told that nothing like that was in the wind, he retired in a fury, muttering something about having been dragged away from his pool and a cold drink on a hot afternoon under false pretenses. 
But when the real heat was on in the frantic week in 1937 leading up to the Sunday night deadline in the classic halls of the Hollywood Legion Stadium - when we either had the producers' written agreement to a contract or we struck the next day - I don't believe that either Frank or Ralph saw their beds, let alone their pools.
And that Sunday reminds me of another quieter, less voluble, but no less determined fighter of those days… the late Henry Stevenson, one of the most dignified men I ever knew.  He inquired of a mutual friend what I proposed to do on the Monday in the event of a strike.  On being told that the plan was to go to Universal as a picket, Henry snorted: "Really?  Well, then I shall have to do the same… but I assure you that I will feel like a fool."  Henry shuddered at the thought, but he would have been there and one of my great regrets is that I didn't see him in action – if only for one incredible morning!
What days – what fun – what excitement - what glorious results and what leaders: Ralph Morgan, Bob Montgomery, George Murphy, Jim Cagney, Ken Thomson.
If one may be permitted to paraphrase Wordsworth - They were the Happy Warriors that every man in arms should wish to be.
So on this Halloween 2021, I and WNYLaborToday.com ask that you respectfully take a moment to remember both Boris Karloff and Bela Lugosi - and not necessarily for the great and immortal horror roles they played that literally gave life to Frankenstein and Dracula - but for the roles they played making their workplace better and making sure their fellow Actors and Actresses had a Voice on the Job.